Harry Styles Will Go Nude In LGBT Drama My Policeman & Twitter Is Freaking Out
"It's a love story ffs. Haven't you ever seen love stories where there's sex scenes?"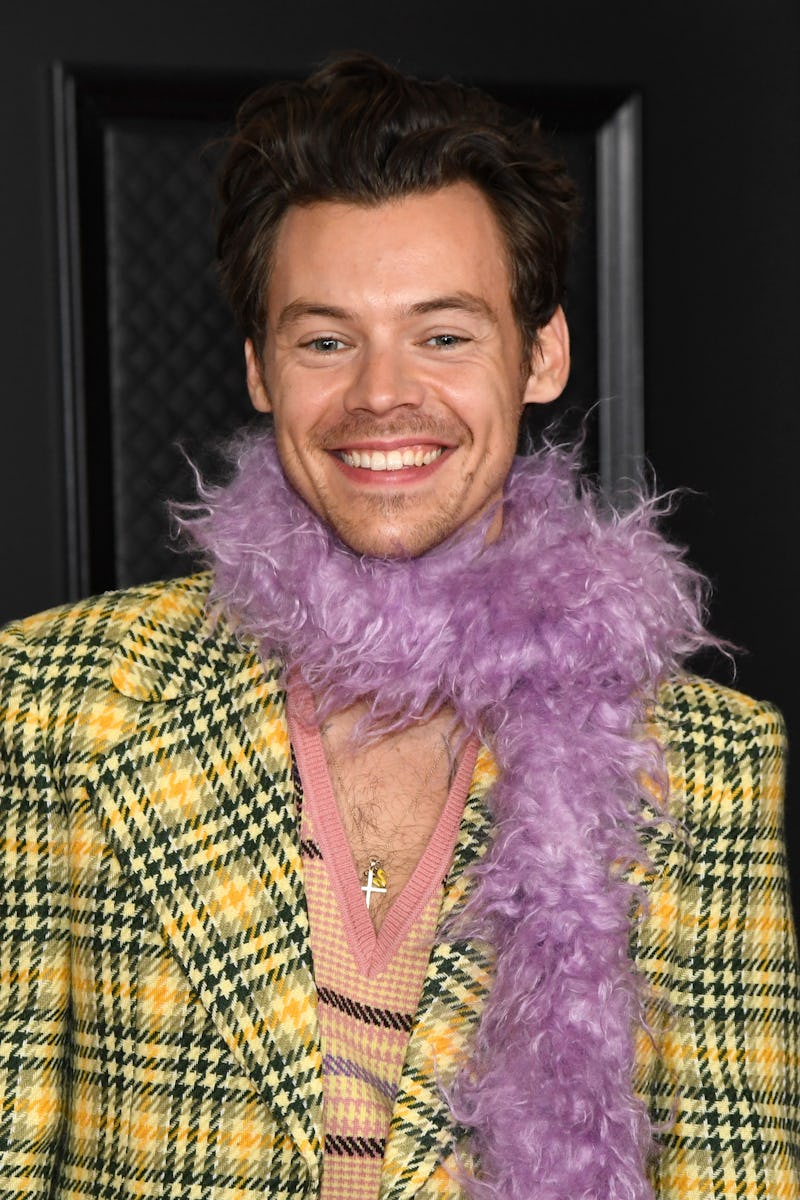 Kevin Mazur/Getty Images Entertainment/Getty Images
Harry Styles fans have a lot to look forward to because the Grammy-winning pop star will go nude for three scenes in the upcoming LGBT romance drama, My Policeman, reported The Sun on Wednesday, April 21. The former One Direction star will reportedly strip down alongside co-star David Dawson for two of the scenes, and the other sequence will be solo. "Not much is going to be left to the imagination," an insider told the outlet. "Harry is throwing himself into this new role and is really excited about the challenge, even though it's a daunting task."
The film, which is based on a 2012 novel of the same name by Bethan Roberts, is set in the 1950s when it was still illegal to be gay in Britain. Styles will play the role of policeman Tom Burgess opposite The Crown's Emma Corrin, who is set to star as his wife Marion. However, things take a dramatic turn when Marion discovers that her husband is having affair with Dawson's character, Patrick, who she then tries to get arrested.
Filming has already begun in Brighton, a town on the southern coast of England. And if The Sun's insider is to be trusted, producers want the sex scenes between Styles and Dawson to look "as real as possible." Upon finding out about these scenes, fans immediately took to Twitter to react. And while some people want the focus to be on the movie's plot, others can't seem to suppress their thirst for nude scenes of the "Watermelon Sugar" crooner.
As excited as fans are for the movie, there are some devoted members of the singer's fanbase who have valid concerns. Among them is that My Policeman is just one of two movies Styles has lined up in which he will be going nude. The singer will also strip down for Olivia Wilde's Don't Worry Darling, and some fans think they simply won't be able to handle it all. "Harry Styles going nude in both DWD and My Policeman will be the death of me," someone tweeted. Others, however, aren't concerned about the nudity at all and are instead worried that they'll have to watch Styles cry on the big screen.
Fans are also seriously concerned that Styles' sex scenes may overshadow the true meaning of the film. "From people's reaction to the sex scenes in My Policeman, you'd think it's going to be a porn movie," one fan wrote. "It's a love story ffs. Haven't you ever seen love stories where there's sex scenes? Patrick and Tom loved each other." Several other Twitter users echoed that sentiment.
Despite the mixed reactions on the internet, it seems as though Styles is looking forward to trying something different and challenging people's perceptions of who he is. "He always wants to do things that people wouldn't expect and challenge what people think about him," The Sun's source added, "and this film will really do that."