Harry Potter Cast Leads Tributes To Late Dumbledore Actor Michael Gambon
Daniel Radcliffe called him "one of the most brilliant, effortless actors" he's ever worked with.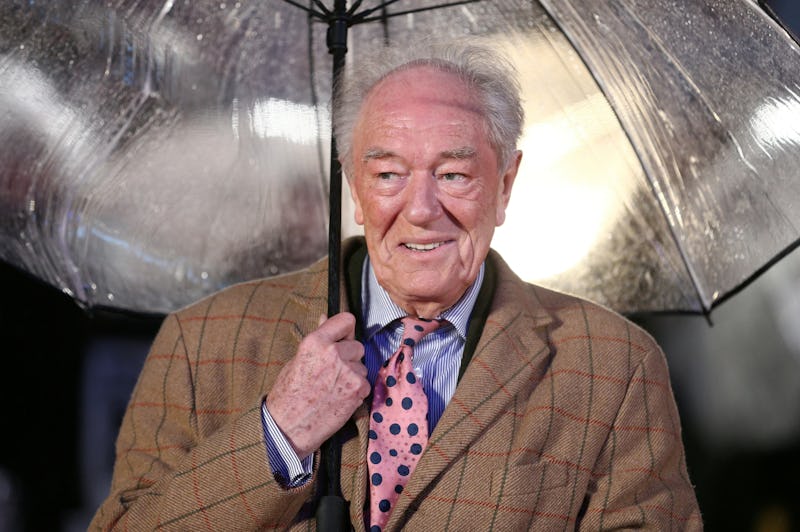 JUSTIN TALLIS/AFP/Getty Images
Sir Michael Gambon, who Harry Potter fans remember as Albus Dumbledore, has died at the age of 82. The actor's family announced his death in a statement on Sept. 28, saying he died after a bout of pneumonia. "Beloved husband and father, Michael died peacefully in hospital with his wife Anne and son Fergus at his bedside," his family said in a statement.
Gambon played the Hogwarts headmaster in the franchise's latter six films, replacing Richard Harris after his 2002 death. Prior to that role, he'd built an enormous portfolio of stage and screen work, which included playing two British monarchs: King Edward VII in the 2003 film The Lost Prince; and his son, King George V, in the Oscar-winning 2010 film The King's Speech.
Shortly after the news of his death, Gambon's peers and co-stars flooded social media with tributes, led by Daniel Radcliffe, who shared an emotional statement with Variety. "With the loss of Michael Gambon the world just became considerably less fun," he wrote, calling him "one of the most brilliant, effortless actors" he's worked with. "The thing I will remember most about him is how much fun he had doing his job. He was silly, irreverent and hilarious."
"The sixth film was where I got to spend the most time working with Michael and he made the hours spent in front of a green screen together more memorable and joyous than they had any right to be," Radcliffe added. "I'm so sad to hear he has passed, but I am so grateful for the fact that I am one of the lucky people who got to work with him."
Rupert Grint, who played Ron Weasley, shared a photo of Dumbledore standing at the Hogwarts podium on Instagram. "So sad to hear about Michael," he wrote. "He brought so much warmth and mischief to every day on set. He captivated me as a kid and became a personal role model of mine for finding the fun and eccentricities in life."
Jason Issacs, who played Lucius Malfoy, wrote on Twitter that "the greatest thrill of being in the Potter films was that he knew my name and shared his fearless, filthy sense of fun with me." James Phelps, who portrayed Fred Weasley, shared a special memory on Twitter from filming the sixth Harry Potter movie, while Stanislav Yanevski, who played Viktor Krum, wrote in an Instagram Story that he "will treasure all the great lessons, laughter, and memories forever."
Richard Harris' son Jared, an actor himself, called Gambon a "brilliant actor" on Twitter and shared his father's fondness for him. "I saw him on stage several times, and he lives unforgettably in my memory," he wrote. "He took over Dumbledore from my father, which was fitting as he over took Brando as my father's favourite actor." Damian Lewis, whose late wife Helen McCrory played Narcissa Malfoy, called Gambon "one of the greatest ever" on Twitter.
Many actors outside the Potterverse paid their condolences to Gambon as well. His Path to War co-star Alec Baldwin said he's "never worked with a better actor" on Instagram, and Richard E. Grant called him "The Great Gambon." Michael Imperioli shared a story of when Gambon and Brian Cox visited his London bar in 2006. "We drank lots and laughed long into the wee hours," he wrote. "I will never forget his kindness, his warm spirit and his wonderful wonderful work."