Michael Peterson & Sophie Brunet's Relationship Timeline
How did the subject of The Staircase and the woman who edited it wind up falling in love?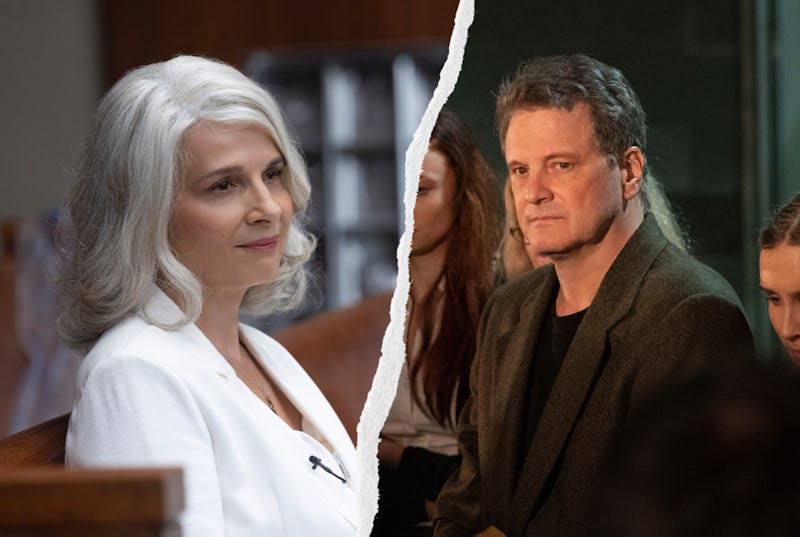 HBO Max
When Jean-Xavier de Lestrade's docuseries The Staircase first premiered in 2004, it asked thought-provoking questions about guilt and innocence, interrogated the American criminal justice system, and provided enough of drama to keep people arguing for years to come. The story followed the trial of Michael Peterson, who was accused of murdering his wife Kathleen, after she was found dead at the bottom of a staircase in the couple's home. At the trial, the prosecution dug into Peterson's sex life (which involved correspondence with a male escort), the Petersons' wobbly finances, and a family friend of Petersons' who'd died in eerily similar circumstances to Kathleen decades earlier. Later episodes, which were filmed during Peterson's appeals process and aired in 2013 and 2018, continued to document the case. But they left out perhaps the juiciest morsel of all: the fact that Peterson embarked on a romantic relationship with the editor of the documentary, a woman named Sophie Brunet, in the wake of his conviction.
Now, HBO Max is airing a fictionalized version of the series, also titled The Staircase, starring Colin Firth as Peterson and Juliette Binoche as Brunet. Unlike the docuseries, it delves deeply into the relationship between documentary editor and documentary subject. Last week, de Lestrade expressed his distress at the depiction of the documentary process, and Brunet's role in it specifically, to Vanity Fair, saying, "I feel that I've been betrayed in a way" by Antonio Campos, who directed the new limited series. HBO Max's series suggests that Brunet was editing episodes of the original The Staircase while she was involved with Peterson — but did this really happen? To find out more about the real relationship between Peterson and Brunet, read on below.
How did Sophie Brunet and Michael Peterson meet?
While Jean-Xavier de Lestrade and his production team filmed Peterson's trial in Durham, North Carolina, Brunet worked on The Staircase from Paris. There, according to Le Monde, she watched 750 hours of footage, and in the process became increasingly familiar — and even intimate — with Peterson's mannerisms, relationships, and emotional struggles. She was, she told Le Monde, touched by his generosity, his obvious love for his children, and his grief at the loss of his wife. Watching him weep over Kathleen's death persuaded her that he hadn't killed her. She was also, by this point, deeply entrenched in Peterson's world: As she told the paper, she was "passing the majority of my waking life in Michael's kitchen" while working on editing the documentary. (Quotes from Le Monde have been translated from French.)
Peterson's conviction came as a shock to Brunet, and she decided to reach out to him. Le Monde reports that she mailed him an English-language edition of Marcel Proust's In Search of Lost Time and a letter in which she explained, "this strange phenomenon of my work that means that you finish by knowing a man you've never met." Peterson, who had previously been unaware of Brunet's developing interest in and concern for him, told the paper, "First, I thought she was making a kind of Pygmalion out of me, looking at me for hours in the dark. And then, I accepted this moment as a miracle. As proof that I was still a part of humanity."
Between 2004, when Peterson was imprisoned, and 2008, when the article was written, Le Monde reports that Brunet traveled to Durham 17 times to visit Peterson in prison. Brunet got divorced and Peterson kept photos of her and Kathleen in his prison cell. But their relationship wasn't public in America, although the Raleigh News & Observer noted in 2018 that it had "long been rumored around Durham." The News & Observer even pointed out that Brunet appears in Episode 10 of The Staircase, sitting with Peterson's family in the courtroom during one of his hearings. (That episode was filmed in 2011.)
What is the status of Brunet and Peterson's relationship now?
According to an interview de Lestrade gave to French weekly magazine L'Express in 2018, Brunet and Peterson "fell in love" but separated in 2017. "I had great times," Brunet told Vanity Fair about their relationship. "I took care of someone. I learned many things about myself and about others. I made friends, I became familiar with many wonderful aspects of the U.S."
"This is one of the incredible things that happened during those 15 years. Life is really full of surprises. They had a real story, which lasted until May 2017," de Lestrade explained. The Greensboro News & Record reported that Michael Peterson lived with his first wife, Patricia Peterson, from 2019 to her death in 2021.
In his 2018 interview, de Lestrade made sure to clarify that Brunet "never let her own feelings affect the course of editing." Now, his ire at the HBO series seems to have stemmed largely from the suggestion that Brunet was involved with Peterson during the initial shooting of The Staircase, in 2003 — which isn't true. But Brunet did edit all five of the episodes of The Staircase that de Lestrade shot after 2003, which chronicle Peterson's appeals process. According to Vanity Fair, she was romantically involved with Peterson during the editing of the first three of these episodes, but not the final two.
"My relationship with Michael never affected my editing," Brunet told Vanity Fair. "I never, ever cut anything out that would be damaging for him. I have too big an opinion of my job to be even remotely tempted to do anything like that. And Jean would never let it happen anyway … I had absolutely no dog in the fight for the first eight episodes." Perhaps Brunet intended to edit the documentary as objectively as possible. But even during the initial editing process, she become so fixated on Peterson that she embarked upon a romantic correspondence with him after he was convicted, and after they knew each other, it would have been impossible for her to approach the documentary as an objective observer.
Most importantly, as The Atlantic points out, the later episodes of the documentary do not include Brunet and therefore fail to disclose the fact that there was a potential conflict of interest in the production. HBO's The Staircase may take liberties with the truth — but do the documentary filmmakers who did the same thing have any grounds to criticize them for it?
What does Brunet think about HBO Max's The Staircase?
In an email to Vanity Fair, Brunet discussed her thoughts on the new series. She did take issue with a couple of plot points, including how she was depicted as an editor on the docuseries. "I just need to make sure that our professional behavior is not misrepresented," Brunet said. "I did not put any bias in my editing of any of the episodes of Staircase."
In addition, she was upset that the series implied she'd advised Michael on how to handle his case during their relationship. "I know, for instance — because [director] Antonio [Campos] told me so — that in the series, Sophie pushes Michael to take the Alford plea in order to start a new life. This is disturbing to me: I would never have done this. First because what was at stake was too serious for me to give any advice. I was not the one who could end up in jail for the rest of my life. And second because I felt, on the contrary, that Michael could and should fight to prove his innocence," she said, adding, "I did not try and influence him this way either."