Michelle Young Wants A Relationship Just Like Her Parents'
"I'm not going to settle until I have a love as powerful as theirs."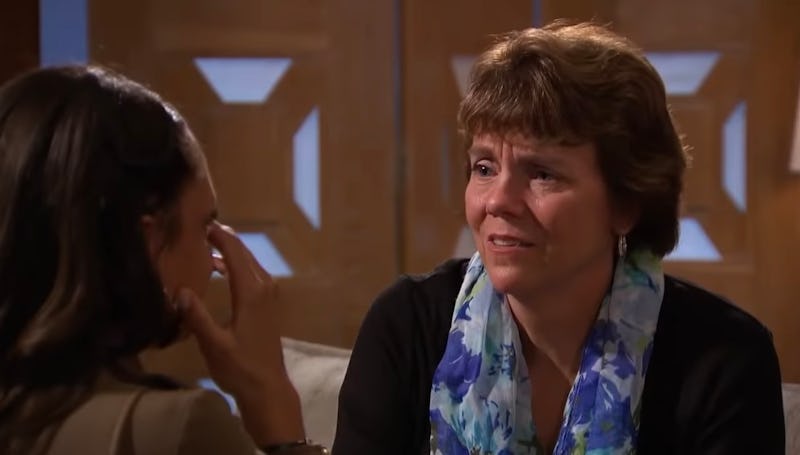 ABC/screenshot
Michelle Young's parents are her standard for romance, and they've set the bar high. As the fifth grade teacher explained in the premiere episode of her Bachelorette season, the two have been married for more than 30 years, and they're the benchmark for what she wants in her own relationship. "I'm not going to settle until I have a love as powerful as theirs," she said.
Her parents want the same for her in return, so expect them to put the men through the wringer when Michelle brings them home. "I want you to have someone like your dad," her mom, LaVonne, said in the episode. "Your dad couldn't be a kinder person, a more giving person." Michelle's dad Ephraim responded, "Now you're gonna make me cry," to which LaVonne said, "He is my everything."
Michelle echoed these sentiments in an interview with Extra, explaining that she's looking for a partner with qualities she sees in her parents' relationship. "[I want] somebody I can laugh with, somebody that is going to stick in it and get through the difficult times, somebody who is a goal setter and supportive."
Whoever that person ends up being, they'll need to have her parents' stamp of approval. When Michelle first introduced Lavonne and Ephraim on Matt James' season of The Bachelor, she said their "opinion means a lot," and it's clear that she's close with them offscreen. In a March Instagram post, she celebrated her mom for molding her into the woman she is today. "'STRONG women raise STRONG women. Huge shout out to my mom on International Women's Day for showing me the ropes!" Michelle wrote.
She also surprised her mom with a set of yard signs for Mother's Day in 2020. "Michelle thank you for the wonderful surprise this morning!! I love all the Mother's Day signs!! I Love you to the moon and back too!!! The flowers are beautiful too!!!" LaVonne wrote in a Facebook post with a picture of the signs.
Her Facebook page also has several other shows of support her daughter. "Michelle, you have taught me so much about staying positive, even when things get difficult," she captioned a 2015 post announcing one of Michelle's NCAA basketball awards. "I'm so happy that you are being recognized for all your hard work. You are going to be an AWESOME elementary school teacher! We love you so very much honey!!"
As for Michelle's dad, he's been watching along during her the Bachelorette season. During the premiere episode, Michelle posted videos of them watched the show together on her Instagram stories. "How ya feeling dad?" she asked him, to which he responded, "OK so far." She later added that he was "feeling slightly stressed from watching all the kissing."
We'll see how he handles it when he has to see her with her men IRL.