Nailed It! Season 6 Could Include Another New Twist
The newly released fifth season put a fresh spin on the show.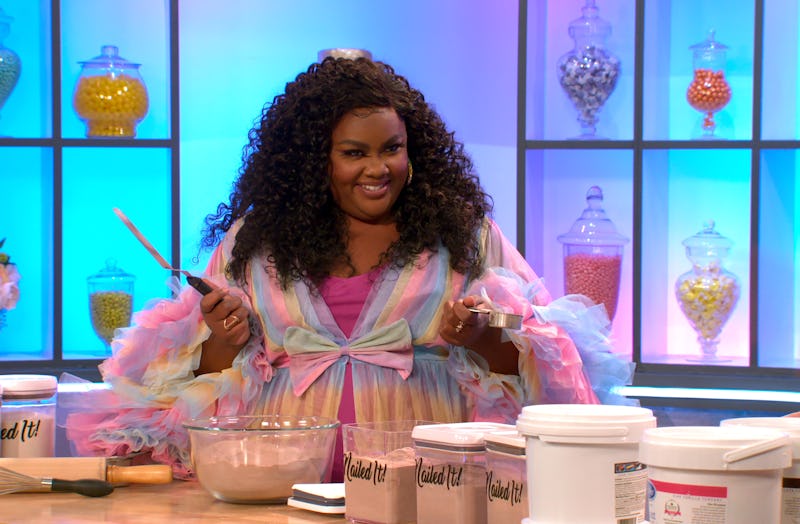 Netflix
Nailed It! is back, and if you're already craving more episodes after making your way through Season 5, there's some good news. Though Netflix has yet to officially announce that Nailed It! will return for Season 6, there's no reason to believe the show is going anywhere. Since the U.S. premiere in 2018, the Nailed It! universe has not only expanded to include an annual Nailed It! Holiday special, but also international versions of the show in Mexico, France, Germany, and Spain.
Plus, the series has been adored by fans and critics alike. So far, Nailed It! has received three Emmy nominations: two for Outstanding Competition Program and one Outstanding Host for a Reality or Competition Program nod for Nicole Byer, making her the first Black woman ever nominated in that category.
After receiving her Emmy nomination last summer, Byer explained why she believes Nailed It! resonates so much with audiences. "On social media, you're just kind of bombarded with people's perfect lives — people doing this, and vacationing and whatnot — but on our show, it's like you don't have to be the best to win," she told Deadline. "You just have to be slightly better than somebody else, and I think people can really relate. I think everyone in their life has made something really ugly and been like, "I worked really hard, and I made that for someone," and then a loved one eats it, and they're like, "Mmm, that's good." [Laughs] You know? So, I think people see a lot of themselves in a lot of the contestants."
Which is all to say that the chances of Netflix not bringing back Nailed It! are extremely slim. As far as when a sixth season might make it to screen, Netflix has released a new Nailed It! season each spring for the past few years. Assuming they'll continue to follow that schedule, viewers can likely expect Season 6 to premiere in spring 2022. (There should also be an end-of-year holiday special to look forward to before then, though Netflix skipped the 2020 installment.)
Netflix announced its six-episode fifth season only a few weeks before the premiere, so news about Season 6 may not be coming anytime soon. But there could be a new twist to look forward to. While the show's underlying premise — amateur bakers hilariously attempting to re-create elaborate confections — remained the same for Season 5, it included an interesting spin. For the first time ever, the home bakers paired up in teams of two to take a shot at a $10,000 prize and the "nailed it" trophy. Nicole Byer and Jacques Torre returned as hosts, sharing the screen with Season 5 guest judges including Andrea Savage, Ron Funches, Lil Rey Howery, Bobby Lee, Brian Posehn, and A$AP Ferg.
Actor Joey King and her sister Hunter King also appeared as contestants this season. "From best buds to brothers and sisters, these bakers are twice as bad," Netflix's logline for the new season, subtitled subtitled Double Trouble, read. "This season, we go far and wide for inspiration, ranging from delicious baked treats inspired by Greek mythology to sugary desserts from dear old Grandma."
Rest assured they'll be cooking up even more treats for Season 6.