This Too Hot To Handle Contestant Likes To "Stimulate The Senses"
Male entertainer Nathan describes himself as the love child of James Bond & Dolly Parton.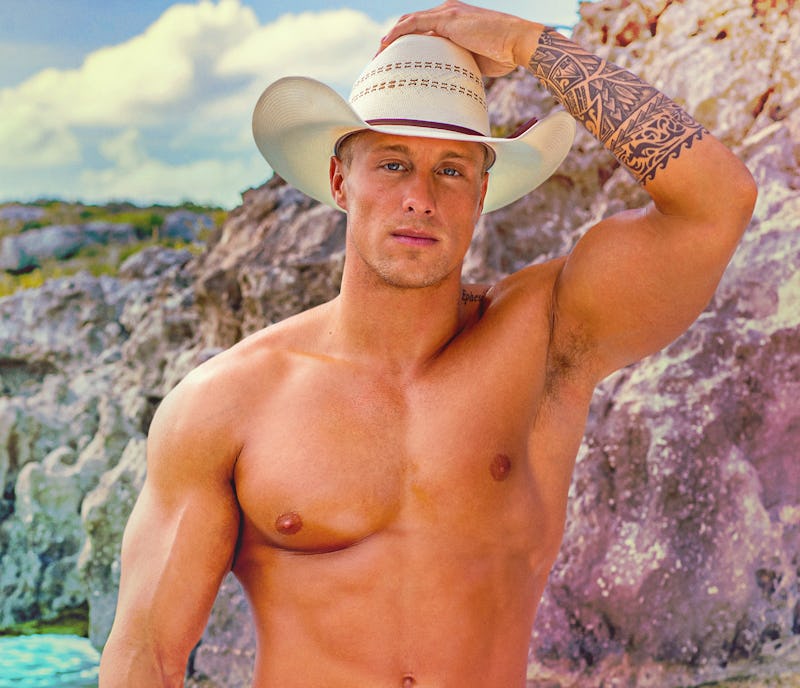 Netflix
Too Hot To Handle season two drops reaaaal soon and Netflix has finally revealed more details about the contestants that'll be doing their utmost to refrain from any kind of sexual activity in order to win a cash prize. With rising social media stars from all across the globe (think New Zealand, Canada, America, the UK and France) taking part, you may be interested to get to know the newbies in preparation for series two. Below are all the details you need on season two contestant and former Magic Mike man Nathan Webb.
While Nathan's Instagram page makes it very clear he's embraced American life since moving to Texas, the 27 year old is actually an Englishman, hailing from the UK originally. He moved to the U.S. to pursue his work (more on that later), and his social media bio reads "Englishman Chasing the American Dream."
What Is Nathan's Job?
As mentioned, the new Too Hot To Handle (THTH) star moved to America and became a male entertainer. He's also happy to be described as a "hot sexy male stripper" and, to explain his job, he says, "Have you ever seen Magic Mike? That's what I do."
Nathan's Instagram
Like many of the show's biggest stars, Nathan is super active on the 'gram, particularly when it comes to sharing his life in the U S of A now he's moved there. The rising star is regularly spotted at football games and hanging around Texan hot spots. He also seems to be quite family orientated, often sharing snaps of his little brother and sister, who he said he only sees every few years.
What Else Is There To Know About Nathan?
In a promo shot for THTH, Nathan described himself as the "love child" of James Bond and Dolly Parton. So we know he has confidence. Plus he seems to have a passion for country music, from the looks of his Instagram, and loves spending time with his rottweiler Holly.
Nathan says he tends to be "very sexual" with girls and likes to "stimulate their senses." That doesn't bode well for the challenge ahead, then...
The first four episodes of Too Hot To Handle season 2 will be available to stream on Netflix on Wednesday, June 23, and the remaining six episodes will drop a week later on Wednesday, June 30.