Marvel's New Black Widow Trailer Takes Fans "Back To Where It All Started"
Natasha will have some "unfinished business" to attend to.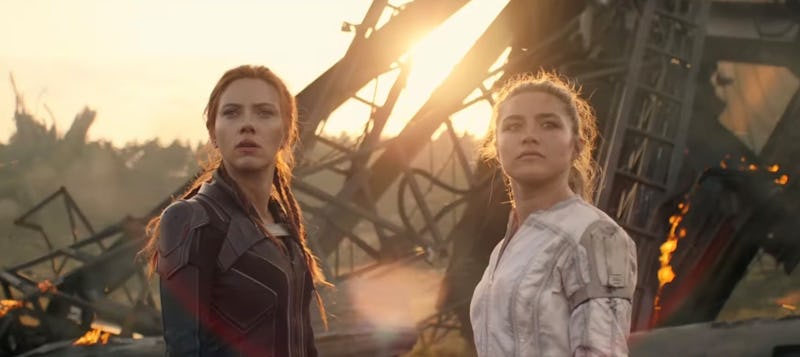 Marvel Studios/screenshot
You think you know the superhero, but you have no idea. In the new Black Widow trailer, which Marvel Studios dropped on Saturday, April 3, Scarlett Johansson's titular character (aka Natasha Romanoff) prepared fans for a history lesson. "You don't know everything about me," she says in a voiceover. "I've lived a lot of lives. Before I was an Avenger, before I got this family, I made mistakes, choosing between what the world wants you to be and who you are."
The two-minute teaser — which included Black Widow's new July 9 release date — previews the movie's deep dive into Natasha's past. The trailer marks the first time fans have seen Natasha's childhood and teenage flashbacks, as Polygon pointed out, giving a glimpse at a younger version of the assassin-turned-Avenger (played by Ever Gabo, Milla Jovovich and Paul W.S. Anderson's 13-year-old daughter). The Cate Shortland-directed film also stars Florence Pugh as Yelena Belova, William Hurt as Thaddeus Ross, Rachel Weisz as Melina Vostokoff, and David Harbour as Alexei Shostakov and the Red Guardian.
Set after the events of Captain America: Civil War but before Avengers: Endgame, Black Widow shows the character going "back to where it all started." She not only reunites with her family, but is also forced to confront her past and deal with some secret unfinished business.
"I thought it was interesting to explore this part of her life before she rejoins the Avengers, before she makes that ultimate sacrifice," Johansson told Entertainment Weekly of the film in March 2020. "How does she become this full person from all these broken pieces?"
Marvel Studios President Kevin Feige echoed those sentiments, explaining to the magazine that a "prequel that simply filled in the blanks of things you already know is not very exciting." He elaborated that finding out how she gets her Widow stingers for the first time or how she learned to do a flip "doesn't matter."
With the upcoming film marking the beginning of the Marvel Cinematic Universe's Phase Four, the trailer also shows plenty of action sequences, including a mid-air battle with the villainous Taskmaster (played by O. T. Fagbenle). Filming the intricate high-octane scenes is something that Shortland said took a physical toll on Johansson and Pugh, who both became ill with pneumonia when they wrapped in 2019. "It was like being in the army," she recently told The Gentlewoman in Johansson's spring/summer cover story.
Black Widow faced multiple delays and was most recently scheduled to debut in May. At last, fans have the new July 9 date to look forward to. The movie will hit theaters and simultaneously begin streaming on Disney+ for an extra $30 "premier access" price. For MCU stans, it looks like the latest franchise installment will surely be worth the wait.