Niall Horan's Feel-Good Philosophy
The Irish superstar has survived the ups and downs of fame by learning to enjoy the ride.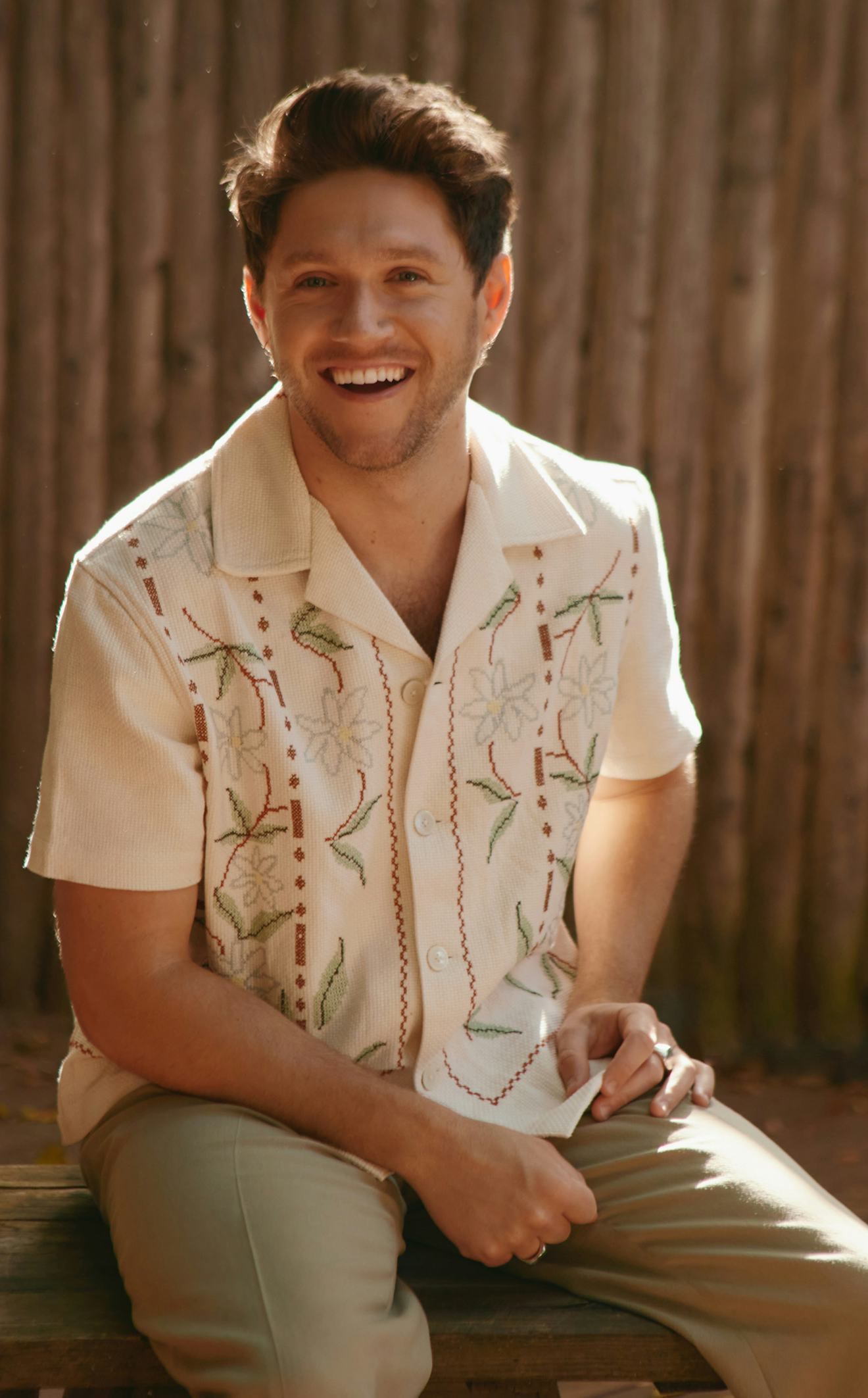 Niall Horan tends to greet strangers with a compliment — which would be charming enough even if it weren't delivered in a rich Irish accent and from the smiling mouth of an international pop star. "Love the glasses!" he cheers over Zoom, before eyeing my jacket: "And that, too!" I'm far from the only recipient of such warmth: In videos archived across the last 14 years, Horan greets loyal fans like old friends, eager to see them again, and treats journalists with a reverence that never comes across as hollow. Return the favor and he'll hit you with cheeky bashfulness, like an exemplary student of the music industry's best media training.
In 2023, Horan is far from his bottle-blond days spent in the world's biggest boy band, One Direction, but the honest wholesomeness that made him America's onetime favorite member and inspired some equally deranged and delightful memes (like the one that goes, "Imagine Niall Horan crawling inside your ear. You tell him to stop but he is in there") still remains. And lately, everyone seems to want a piece of it, from world leaders — in March, he performed for President Joe Biden and Taoiseach Leo Varadkar at a White House event — to the millions of people who watch The Voice, where Horan serves as a coach and recently guided his mentee Gina Miles to the top prize. The Voice marks his first time working as a competition-show judge, but not his first time appearing on such a program: One Direction famously finished third on the United Kingdom's X Factor in 2010 before going on to forever reshape boy bands as we know them.
For Horan — who will release his third album, The Show, on Friday — joining The Voice meant reconnecting with his 16-year-old self: the ambitious and courageous teen who toldThe X Factor judges back in 2010 that he was "ready to fill arenas around the world" before having sung a note. No wonder he was the first one selected for 1D after the boys were put together following their solo eliminations. (On the recent dearth of big pop groups, Horan thinks the future is all about the ladies: "I love Blackpink. All four of them have such individual personalities. That's what made people love them.") "I didn't have anxieties then," Horan laughs. "I was just having a great time." That informs the advice he gives contestants. "On The Voice, you see a lot of technical singers who are very serious about what they do," he says. "I'm just trying to get them to enjoy what they're doing. You're on one of the bigger shows in the country. Millions of people watch every night. Enjoy it."
If there was any hesitancy in joining The Voice, an arena so similar to the one that kick-started it all for him, it was that he "wasn't sure [if] it was going to be an overproduced thing where I get told what to do, say, and when to turn." He smiles. "It's absolutely not."
Who can blame him for wanting some semblance of control? In the 1D days, cleanliness clauses threatened career consequences for any unsavory behaviors, and the band's sheer popularity meant limited freedoms, a life of stalling in vans or rolling deep with security. "I couldn't really go many places," he says. "So I try to keep my private life as private as I possibly can. There's a tendency in the world to take your arm off when you offer a handshake, you know what I mean?" He pauses. "But I'm not hiding."
Niall Horan's story is a master class in manifestation. The first voice in the 2013 documentary One Direction: This Is Us is his: "When I was small, I had a desk. It was weird because I wrote on it, 'When I grow up, I want to be a singer,'" he says. "I scribed it in! It's still on the desk." Born and raised in Mullingar, Ireland, the only member of his group not from England, Horan describes his childhood self as both a prankster and a natural performer — he'd get in trouble for singing traditional Irish songs in the back of geometry class, embodying the same kind of irreverent playfulness that came to define 1D. (There's a moment in the doc where Horan reveals he recorded "What Makes You Beautiful," One Direction's breakout hit, in his boxers, and another where he puts on prosthetics to disguise himself as arena security, unbeknownst to fans.)
One Direction sold 70 million albums and filled arenas and stadiums around the world before going on hiatus in 2016, but solo success wasn't preordained. Horan's first single, "This Town," an acoustic slow burn, performed modestly but didn't make it past the Top 20 in the United States. The funky follow-up "Slow Hands," inspired by Eagles member Don Henley's solo work, righted the ship. (Horan now calls Henley a close friend: "He's always been very big on me being myself, not trying to chase anything that doesn't exist — and he's always there if I want to send him something and get a reaction," he says.) Horan talks about the song with an air of relief. "The success of 'Slow Hands' and the first album felt like a big moment," he says. "And the first tour — learning I can go around the world and still play to thousands."
"I love Blackpink. All four of them have such individual personalities. That's what made people love them."
Another curveball came three years later, when he released his second album, the synth-pop-flavored Heartbreak Weather, on March 13, 2020 — the day the United States declared COVID-19 a national emergency. It was "a kick in the stomach," as he describes it. "I was, like everyone, angry at the world for allowing this to happen," he says. "And then the stillness took over for a second."
Today, it's hard to fight the impulse to eye-roll when celebrities talk about the pandemic, but Horan believes he, like everyone else, has been irrevocably changed by it. "I think I might be the eternal optimist," he says. "I hadn't had any time off in 10 years. I [thought I] might as well get fit and put the suitcase away in the closet for a little bit. Because at that point, my life was so rat race-y." He spent his days working out, playing golf, and getting really into Formula 1. (Ask for his favorite driver, and he'll give you the most Niall response of all time: "I'm a fan of nearly all of them.") "The pandemic was horrific," he says, but also: "It was boring! As a guy that travels the world on a regular basis, I was so bored."
So he got to work on a new album sooner than he planned, writing the majority of The Show in Joshua Tree, without the kind of illicit substances musicians may be inclined to experiment without in the desert. ("No, jeez! No. Thankfully not," he laughs.) The Show is Horan at his most adventurous, a kaleidoscope of pop-rock sounds of decades past, amped up for arena-sized grandeur. "I'm not just the fella with the acoustic guitar all the time," he laughs. "I put my neck on the line." The lustful track "On a Night Like Tonight," for instance, starts off with a dreamy singer-songwriter intro before detouring into anthemic prog-rock — like Muse doing '90s Britpop. "If you asked me to release a song like that seven years ago, I would've laughed in your face," he says. "I've grown into it a bit. I gave myself permission. It's probably not what people are expecting of me — and here's my fingers crossed as tight as you can possibly get them."
"I'm here to write what's on my brain, and love happens to be one of those things that's flying around me."
He describes the album as tackling "big life thoughts," not just the kind you have after history-altering world events but also the ones on your mind as you approach your 30s. The first song he wrote for The Show was the title track, an ode to the gratitude he felt in a time of deep unrest. "You have to swim through the sh*t water to get to the clear stuff," he explains. "Everything will be OK if you just see it out." During the pandemic, he couldn't help but think about how much better life was before, and how he should be thankful for it — or, at the very least, that he's got to learn to take the good with the bad. The chorus goes like this: "If everything was simple, how would we know / How to fix your tears / How to fake a show / How to paint a smile / Yeah, how would we know / How good we have it, though?" "There's a façade to most people," Horan says, addressing the "how to fake a show" line. It's not about going through the motions at a concert, but about the everyday performance of being a person. "I'm not saying we're all going around faking everything, but there are parts of yourself you don't give away." He pauses. "I'm finding it hard to explain… In some ways, you're always trying to be the best version of yourself."
When Horan talks, he often punctuates vulnerabilities with a joke or a folksy aphorism. "The phrase in Ireland is 'if you don't laugh, you'll cry,'" he laughs. But he doesn't veer away from the hard stuff in song. "Meltdown," the second single from The Show, was written as a balm for someone having an anxiety attack: "When it all melts down, I'll be there," he sings to the sufferer in the song's chorus. "It's at 180 BPM, which is a good representation of the heart rate [when beating fast]," he says, "but I also like to have a silver lining in my music." (While he says he experiences anxiety on occasion, contrary to previous reports, he does not have severe OCD. "That got misconstrued," he clarifies. "I'm not saying I'm fully OCD. [...] I've definitely had overwhelming moments.")
When he does experience anxiety, he has a few grounding tactics. "I literally say to myself, 'It'll all be over in a few minutes. It'll all be over in a few minutes.' The thing to do in that scenario is try and keep yourself as calm as possible, and tell yourself that it will all be OK," he says. "And weirdly enough, most of the time, it turns out OK." Get this man a Calm app endorsement deal, stat.
That unrelenting optimism is a core facet of his personality. "I've always been like that: 'This is sh*t, but I'm sure it'll be OK soon,'" he says. But it perhaps accounts for just how well-adjusted he seems after going through the boy-band ringer and half a lifetime in the spotlight. He's never been at the center of controversy, with the exception of dropping a curse here and there as a teen, which he does so now judiciously. (Recently, Horan enjoyed a pint of beer in a Guinness-branded documentary with singer Lewis Capaldi and was shown getting into a car and driving. His mum came to his defense, saying it was a nonalcoholic beverage. The debate ended there.) Even when I half-jokingly ask for his opinion on cults, a nod to The Show ballad "You Could Start A Cult," he laughs. "It definitely worked as a metaphor for me! I don't… no strong views on cults. At least, no public ones."
That song, as he tells it, is about being so in love with someone that if they started a cult, you'd follow them into it. Is he madly in love right now? "That's dead right." He doesn't mention his longtime girlfriend, account manager Amelia Woolley, by name because "if everyone knew everything, [my songwriting] wouldn't be as candid, would it?" he says. "There'd be all these theories, and I'm not in town for that. I'm here to write what's on my brain, and love happens to be one of those things that's flying around me."
Horan is staying accessible to fans in other ways, fully embracing the expectations of being a very famous person: He's dropping skin care routines and goofing around on TikTok. This summer, he's making his way across the festival circuit — good practice for 2024, when he'll launch into the biggest solo tour of his career to date, which includes a headlining spot at Madison Square Garden, 12 years after 1D did the same. After a few disruptive years, he's returned to the lifestyle that feels like home, now as a veteran professional and soloist in his own right. He's the same nice guy, just with some life experience. And he's enjoying the ride: "Looking at arenas full of people — it's the best view in the world."
Photographs by Raul Romo
Talent Bookings: Special Projects
Photo Director: Alex Pollack
Editor in Chief: Charlotte Owen
SVP Fashion: Tiffany Reid
SVP Creative: Karen Hibbert