Nick Kyrgios Wants To Marry His Girlfriend & Start A Family "Soon"
He and Costeen Hatzi have helped fuel engagement rumors.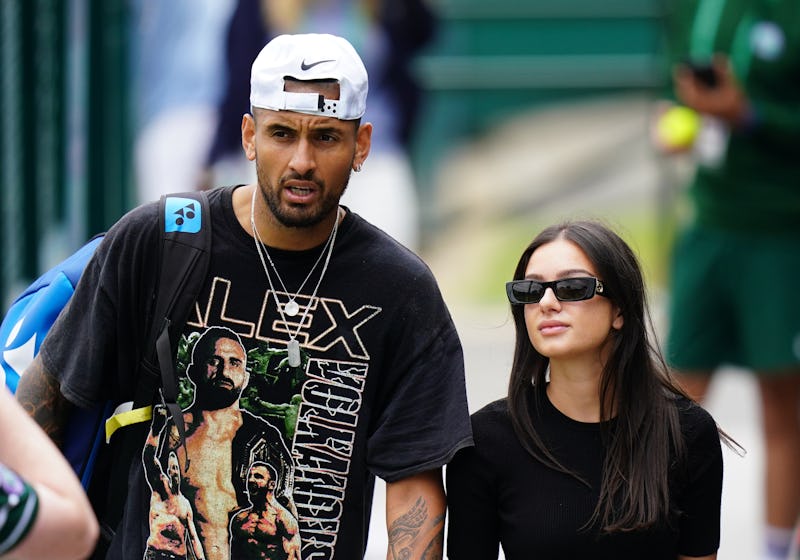 Adam Davy - PA Images/PA Images/Getty Images
When tennis player Nick Kyrgios' private jet landed in Melbourne for the 2022 Australian Open, his girlfriend, Costeen Hatzi, was at his side. "We've been together about two and a half months. We met online and we've been hanging out every day since," Hatzi explained at the time, in a clip that's included in the new Netflix docuseries Break Point. "I never really watched a tennis game in my life, so yeah, this is all new for me." When the first episode highlighted Kyrgios' "bad boy" reputation, Hatzi stepped in to assure viewers that "he's not as crazy as everyone thinks."
Within months of that tournament, the couple sparked engagement rumors, fueled in part by Hatzi, who frequently uses a diamond ring emoji on Instagram photos. (In a photo from January 2023, which is saved in Hatzi's highlights folder titled "Queen," Kyrgios commented "our wedding soon.")
So far, the couple hasn't confirmed an actual engagement. In March 2022, Kyrgios' manager denied they were engaged, and a few months later in May, the Australian athlete refused to comment on a possible proposal, saying he wanted to "keep that quite private." But he has spoken about seeing a future with Hatzi. "She is definitely the one, I am in love with her and she is an amazing person," Kyrgios, who's 27, told The Daily Telegraph in May 2022. "We go through ups and downs together but I love her to bits."
In July 2022, he spoke to reporters about how Hatzi had positively impacted his tennis game. "Being just at peace with your life definitely helps," he said at the Citi Open in Washington, D.C. "Everything around me right now is amazing. You know, I'm fortunate enough to be in a really healthy relationship that's loving, she supports me, and we just have fun." The same month, the tennis pro also revealed in an Instagram Q&A that he and the 22-year-old influencer plan to try for a baby in 2023, according to the Daily Mail.
In the meantime, they've been enjoying "going around the globe together," visiting places like Saudi Arabia, Italy, Germany, New York City, Miami, Los Angeles, Montreal, the Bahamas, London, Spain, and Dubai.
Last month, the couple celebrated their one-year anniversary, which Hatzi referred to on Instagram as the "best year of [her] life." Shortly after, Kyrgios announced that he'll play in the 2023 French Open for the first time in six years thanks to her. "My girlfriend wants to see Paris, so why not?" he said at Saudi Arabia's Diriyah Tennis Cup, per the New York Post.
The tennis player added a heartfelt comment on his girlfriend's New Year's Eve post: "[It] was such a surprise having this amazing connection with you. To think how much we built together, explored, and laughed," he wrote. "Best year of my life. To many more years of success, health and laughter."