Our All-Time Favorite Rugrats Moments, Just In Time For The New Rugrats Revival
"I got 'sponsibilities now."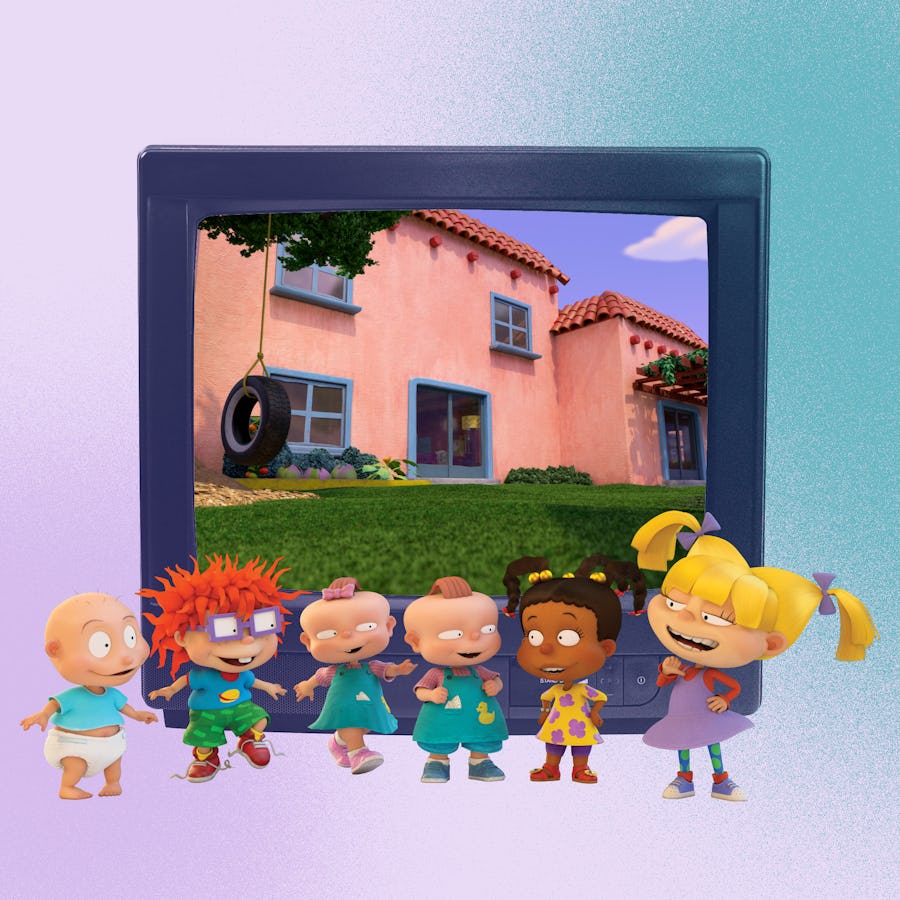 A baby's gotta do what a baby's gotta do. And for Tommy, Chuckie, Susie, Phil, Lil, Angelica, and the whole Rugrats gang, that means returning to television.
With a Rugrats revival series streaming now on Paramount+, it's time for a whole new generation of kids to bust out of their playpens, put their overactive imaginations to use, and go on adventures near (under the bed) and far (ever heard of Ice Cream Mountain?!). And they're not just in 2D anymore.
The original cast is returning to voice the babies as they embark on a brand new set of adventures, which means you'll once again hear the familiar tones of E. G. Daily as Tommy Pickles, Cheryl Chase as Angelica Pickles, Cree Summer as Susie Carmichael, and Kath Soucie as Phil and Lil DeVille.
And a star-studded group of actors will lend their voices to the parents, including Tony Hale as Chuckie's father, Chaz; Natalie Morales as Betty DeVille; Anna Chlumsky and Timothy Simons as Angelica's parents, Charlotte and Drew; Nicole Byer and Omar Miller as Susie's parents, Lucy and Randy; Ashley Rae Spillers and Tommy Dewey as Didi and Stu Pickles; and Michael McKean as Grandpa Lou.
In so many ways, it feels like we grew up alongside these lovable, troublemaking cartoon babies. (Except I'm still afraid of swallowing a watermelon seed... so did I really grow up?) To get psyched for the new episodes, we're revisiting some of our all-time favorite moments from the original Nickelodeon series, from the hilarious, to the terrifying, to the genuinely moving.
Chuckie Visits His Mom's Grave
OK, we're getting the emotional one out of the way first. Just because Rugrats was a show about misbehaving babies doesn't mean it shied away from the tough stuff, like death. While Chuckie's mom wasn't around, Chaz kept her memory alive for Chuckie in sweet ways, like telling him about how they met and reminding him of how much she loved them. Fine, I'm crying.
Meeting Susie Carmichael
Every Angelica needs a counterbalance, and for that we had the great Susie Carmichael. She may not have made a perfect first impression (screaming, "I want my sucker!"), but her chill nature was quickly revealed as she forgot all about her plight while meeting Tommy. (Also, all the personalized neighborhood Jell-O molds in the Carmichaels' fridge really unlocked another memory for me.)
The Watermelon Seed
It's like the chicken or the egg: Were we terrified a watermelon would grow in our stomachs because of Rugrats, or did the show just know all of our deepest fears? We'll go with the latter. When Chuckie swallows a watermelon seed and Grandpa Lou casually remarks that it might, er, take fruit, it kicked off an anxiety spiral I can still feel to this day.
Angelica's Got 'Sponsibilites Now
Not to be all, "Angelica Pickles is all of us," but like... feeling dejected over a birthday? Complaining that you've "got 'sponsibilities now," which means you're "not allowed to have fun anymore for the rest of my life"? This famous speech truly predicted our adult ennui. "The only thing that would make me happy is to never get another year older as long as I live," she says, wisely... and then discovers the benefits of regression. (Bonus: Remember Angelica's cookie addiction? Yeah, can't relate...)
The Babies Discover Ice Cream Mountain
This scene is a near-perfect encapsulation of what it feels like when your dream and your reality don't match up: The babies travel to Ice Cream Mountain, only to find that it's a hollow structure — not real ice cream. But when Angelica unwittingly uncovers the owner's hole-in-one scam... the mountain kind of becomes real after all! (And we all learned an important lesson about not trusting mustachioed villains.)
Reptar On Ice
A star was born the day Reptar first appeared on Rugrats. The babies got to see the scaly icon live at Reptar on Ice with the noble aim of reuniting him with his "baby," but we were treated to a surprisingly memorable show-within-a-show... as well as some incisive commentary on the life of a working actor, who shifts seamlessly into improv when the babies end up on the ice. (Until, of course, they present him with the lizard.) I've had these lyrics in my head for over a decade, and I'm really not mad about it.
Tune in to Rugrats on Paramount+, streaming now!