Everything You Need To Know About Starz' Party Down Revival
The Hollywood catering team is returning, with Jennifer Garner and James Marsden joining.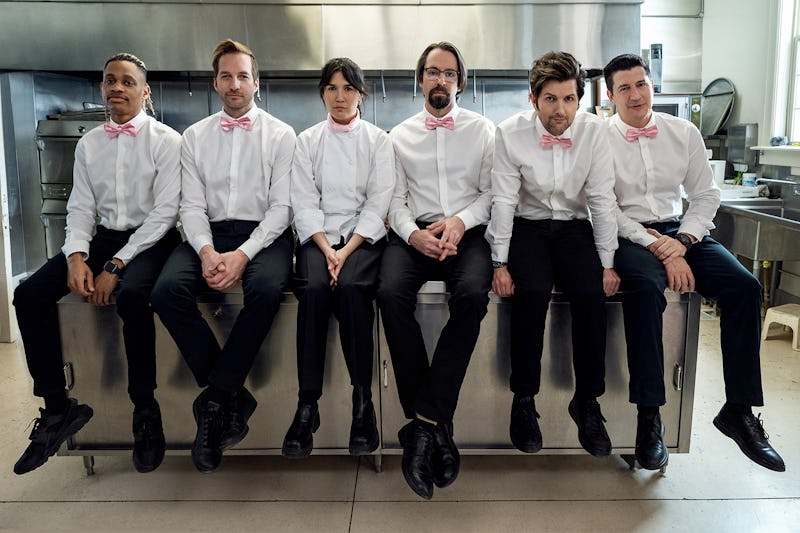 Starz
The creators of Party Down are ready to party once again. Starz announced in March 2021 that the network is developing a revival of Party Down, the cult-classic series that ran for two seasons from 2009 to 2010. Not only is nearly all of the original cast set to return — including Adam Scott and Jane Lynch — but a few surprising A-list stars will also be joining the new show.
"Before the cast of Party Down became well-known television and movie actors and award winners, they were all wearing the same pink bowties as part of a less than competent team of Los Angeles cater-waiters while chasing their dreams of stardom," Christina Davis, president of original programming for Starz, said in a statement sent to Bustle. "Fans have been waiting more than 10 years for this revival to happen and we're thrilled to be in development with Rob, Paul, Dan and John at the helm."
The revival will be a six-part limited series that will premiere on Starz in 2023. Here's everything we know about the Party Down revival so far.
Who Is In The Party Down Revival Cast?
The original series starred an array of stars from your other favorite shows, including Adam Scott, Ken Marino, Jane Lynch, Martin Starr, Ryan Hansen, Lizzy Caplan, Megan Mullally. and Jennifer Coolidge (yes, there's a lot of Veronica Mars overlap). Co-executive producer Rob Thomas promised to do whatever it takes to reunite the original stars: "The cast is so busy these days that finding a window where we can do it may require trigonometry, but we're determined to make it happen," he said. And he made good on that promise.
In November, the main cast — Scott, Marino, Lynch, Starr, Hansen, and Mullally — confirmed that they would reprise their roles in the reboot, with the exception of Caplan, who cannot join due to scheduling conflicts with Paramount+'s Fatal Attraction TV series.
But there are also some very famous new faces who will be part of the cast. In January 2022, it was announced that Jennifer Garner and James Marsden were joining the show, along with Tyrel Jackson Williams and Zoë Chao. Garner will portray Evie, a successful movie producer who is reevaluating her life choices after a sudden breakup, while Marsden, who joins in a recurring capacity, is set to play Jack Botty, the lead actor of a Hollywood superhero franchise. Williams will play Sackson, an influencer who knows everything about the internet but not about life. And Chao joins the team as Lucky, a food artist who aspires to become a professional chef.
When the revival was announced in 2021, the stars also hinted at their returns on Twitter. Lynch confirmed her return ("We're coming back"), while Scott also posted about the revival ("We will have fun yet"). Marino and Mullally also shared the news, with the Will & Grace star writing, "It's happeningggggg."
During a 2019 reunion at Vulture Festival to celebrate the 10-year anniversary of the series, the cast made it clear that they would be willing to reprise their roles again. "I'd do anything with this group," Mullally said. "I mean, this is really the nicest, funniest, best group of people that I ever worked with. It really is a great group."
What Is The Plot Of The Party Down Reboot?
Original executive producers Thomas, John Enbom, Paul Rudd, and Dan Etheridge are onboard for the revival, with Enbom also serving as showrunner. Producers are remaining tight-lipped about the story the new series will tell. But Starz teased a short blurb on what the new season will be about:
Ten years later, most of the Party Down catering team have moved on, including actor/bartender Henry Pollard (Adam Scott, "Severance," "Parks and Recreation"). After a surprise reunion, the gang find themselves once again stoically enduring the procession of random parties and oddball guests all over Los Angeles.
The original series followed a Los Angeles catering team made up of aspiring actors working for tips while pining for their big breaks. Each episode focused on them planning a new soirée, as they try to impress high-profile clients while their lives get increasingly intertwined — and messy.
How To Watch The Party Down Revival
The Party Down revival will premiere on Starz on Friday, Feb. 24. With the third season only a few weeks away, it's easier than you think to catch up on the first two seasons. Party Down is now streaming on Starz for subscribers. Amazon Prime Video users can also watch the series if they sign up for a Starz subscription.
This article was originally published on