Pete Davidson's Verbal Knockout Of Jake Paul Was So Brutal, It Got Censored
He also called the YouTube star a "piece of sh*t."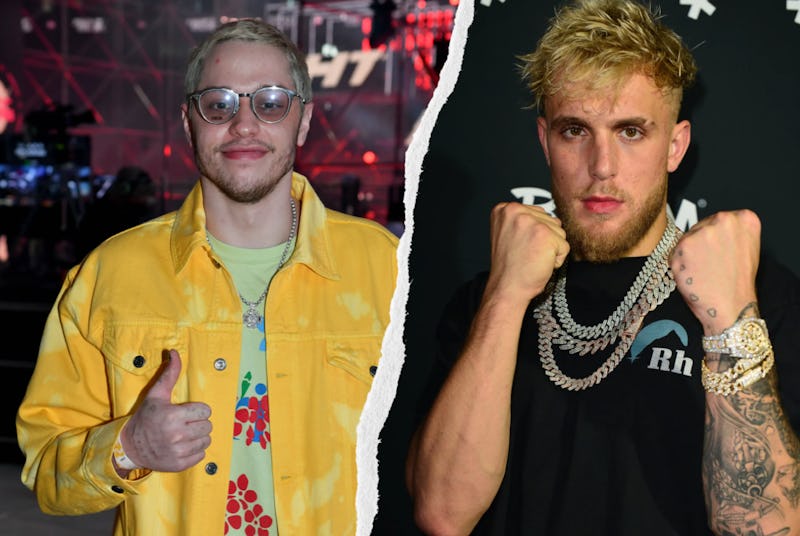 Jeff Kravitz/Johnny Louis/Getty Images
The person who delivered the most painful blows during the viral Triller Fight Club match wasn't even in the ring. Pete Davidson had some fighting words for Jake Paul after the former YouTube star's boxing match with former UFC fighter Ben Askren on Saturday, April 17. You could say that Davidson delivered more verbal TKOs backstage than the single knockout that Paul did in the ring.
While serving as backstage reporter for the pay-per-view fight, the Saturday Night Live star bashed Paul both behind his back and to his face, as an honest person does. "You remind me of Charlie Sheen when he went on his winning tirade," he told Paul. In fact, Davidson went in so hard on Paul that one of his questions was censored from the broadcast. "You can't joke about that," Paul responded, to which Davidson quipped, "No, I'm not."
While the question hasn't been confirmed, BuzzFeed reported that Davidson was referring to TikToker Justine Paradise's sexual assault allegations against Paul. In a YouTube video posted on April 9, Paradise alleged that Paul forced her to perform oral sex on him, even after she had said no. "He didn't ask for consent or anything," she said. Paul denied the accusations, claiming that he never had a sexual relationship with her.
The incident apparently only fueled Davidson's hatred. In an interview with Paul's opponent Askram, the two bonded over their dislike of Paul, with the comedian saying he's "not a good person" and referencing a July raid where the FBI seized weapons from Paul's home. "Didn't he get busted by the feds with like AKs and a bunch of machine guns?" he asked. "Like why isn't he in jail?" He went on to leave a very blunt "message to the kids" who follow Paul: "He is a piece of sh*t." With that said, he wouldn't have been impressed no matter who won the match. "They both suck, but at least somebody's gonna get hurt," he jabbed.
Davidson went on to comment on the state of boxing as a whole, poking fun at Paul's social media career in the process. "You can tell how professional this event is by them having me here," he joked. "Today is a really wild day for boxing because it shows just how low it's truly sunk. I think today proves the fact that if you have enough followers, you can truly f*ckin' do whatever you want. I mean, maybe PewDiePie will cure cancer and Charli D'Amelio will become a surgeon. Who knows?" Paul has yet to respond to Davidson's zingers, and he may never, given how a good clapback would be tough to come up with.
If you or someone you know has been sexually assaulted, you can call the National Sexual Assault Telephone Hotline at 800-656-HOPE (4673) or visit hotline.rainn.org.