Pete Davidson & Phoebe Dynevor Have Reportedly Broken Up
Distance was a major factor, according to The Sun.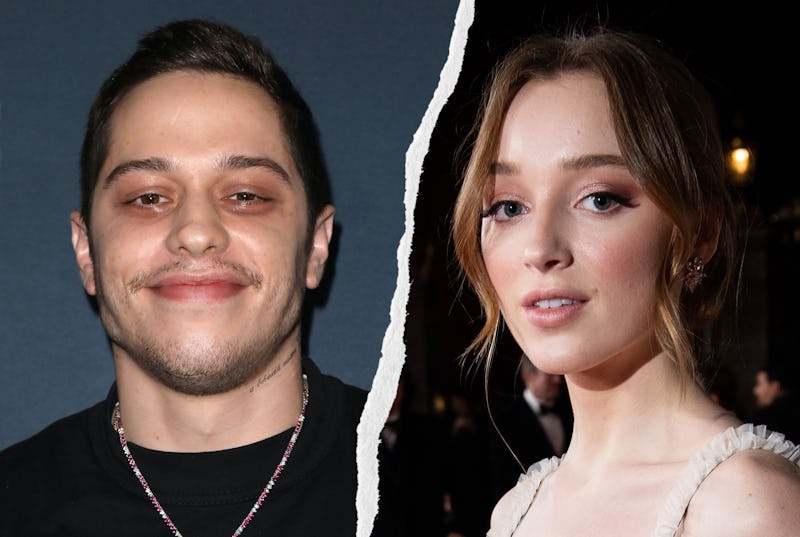 Kristina Bumphrey/StarPix/Scott Garfitt/BAFTA/Shutterstock
Ever since Bridgerton landed on Netflix last year, viewers of the romantic drama have become highly invested in the personal lives of the show's two stars, Phoebe Dynevor and Regé-Jean Page (AKA Daphne and The Duke, respectively). While it appears they don't hold a candle for each other IRL (sigh...), some fans have linked Phoebe Dvynevor to comedian Pete Davidson together after alleged sightings of the pair together in the UK and a few other clues, including a set of matching necklaces. But are these two actually dating?
After weeks of speculation, a source confirmed the relationship to People on April 21, noting that Davidson and Dynevor are "really into each other." Per the source, "Pete is telling friends he's serious about her." The couple's official status was further confirmed on April 25, as the Daily Mail published photos of the pair out for a supermarket run and a playful and affectionate park stroll in the UK's Greater Manchester Area. Prior to the official confirmation, the 25-year-old Bridgerton actor was said to be "spending time" with the SNL star when working on comedy-drama series Younger in New York. Back in February, she posted scenic pictures in the city to her Instagram page, alongside the caption: "Grateful I got to be here for a hot sec."
On March 22, Page Six reported that Davidson was spotted in Dvynevor's hometown of Manchester at the popular Altrincham market. A fan posted a selfie with Davidson to Facebook with the caption "Bizarre Altrincham spot of the day … he's staying over in Altrincham with friends."
And it seems the Bridgerton star has given Davidson the full UK tour. Per StokeonTrent Live, a local schoolgirl recalled the incredibly unexpected moment she saw the pair walking past her house "holding hands" in Caverswall, Stoke-on-Trent. She managed to grab a photo with Davidson and said of him and Dynevor, "it looked like they were in a relationship."
However, it seems the couple called it quits sometime in August. According to the Sun, the pair were struggling with the distance between them due to filming commitments. "Phoebe has had back-to-back filming dates with Bridgerton in the UK," a source told the newspaper, "Meanwhile, Pete has been back in the U.S. filming Saturday Night Live" as well as the film Meet Cute with Kaley Cuoco.
According to the source, the last time Dvynevor and Davidson saw each other was in July, following their public appearance at Wimbledon. "It was pretty telling when Phoebe headed to Croatia with her mates this week rather than going to see Pete in America," they said, adding that the distance between the two "has put a strain on them" and has reportedly made their relationship "completely unworkable".
This article was originally published on