A Previously Unseen Photo By Kate Middleton Honours Prince Philip In The Sweetest Way
The photo was taken by the Duchess of Cambridge at Balmoral in 2018.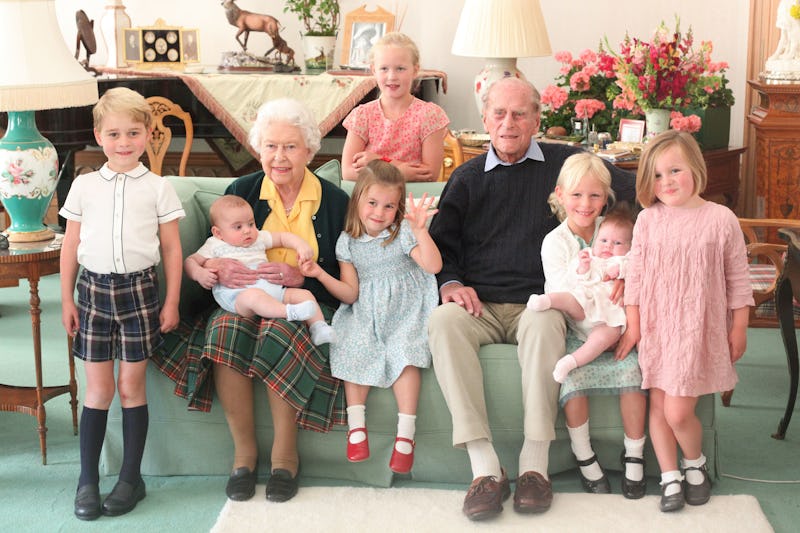 The Duchess of Cambridge via PA Wire/WPA Pool/Shutterstock
Following the death of Prince Philip, the royal family have released a series of photographs via social media that celebrate his life as a father, grandfather, and great-grandfather. The latest, taken by the Duchess of Cambridge, sees the Queen and the Duke of Edinburgh surrounded by seven of their great-grandchildren.
Taken at Balmoral in 2018, the Queen can be seen holding baby Louis with Prince George and Princess Charlotte on either side of her. Peter Phillips' daughters Savannah and Isla are next to Philip, as are Zara and Mike Tindall's children Mia and a newborn Lena, who's being held by Isla.
Another image shared on the Kensington Royal Instagram page yesterday (April 14) sees the proud great-grandparents together at Balmoral with the Duke and Duchess of Cambridge and two of their children. In the photo, which was taken in 2015, the Queen can be seen looking lovingly at a baby Charlotte while a young George is on her left holding on to Prince William's hand.
Other photographs posted yesterday include one of a young Prince Charles and his father playing polo, and a young Princess Eugenie being patted on the head by her grandfather.
The latter included a heartfelt tribute from Eugenie, in which she wrote "I will remember you in your children, your grandchildren, and great-grandchildren. Thank you for your dedication and love for us all and especially Granny, who we will look after for you."