Everything To Know About Poker Face Season 2
Peacock's going all-in on their case-of-the-week murder mystery.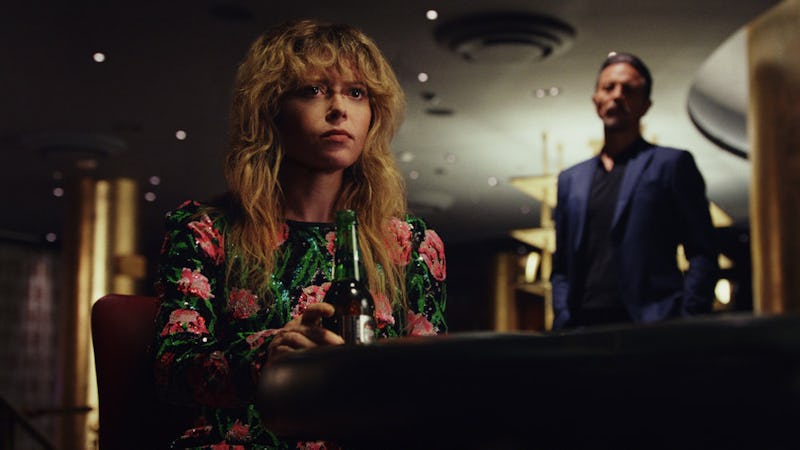 Peacock
In Peacock's Poker Face, human lie-detector Charlie Cale (Natasha Lyonne) has called bullsh*t on deceitful murderers across the country — all while she was on the run from a vengeful Las Vegas casino boss herself. A modern-day Murder She Wrote meets Columbo, the mystery series largely follows a throwback case-of-the-week format, rather than serialized storytelling, meaning the show could technically go on for years. And Peacock wasn't bluffing when they renewed Poker Face for Season 2 on Feb. 15, almost a month before the first season finale dropped.
Knives Out and Glass Onion filmmaker Rian Johnson, who created the series, envisions Poker Face as continuing well beyond Season 2, too. "Natasha and I keep talking about getting old doing this. I can imagine her Jessica Fletcher-ing it. And I would be thrilled," he told The Hollywood Reporter in January, referencing the sleuthing Murder She Wrote author Angela Lansbury played for 12 seasons. "But, we'll see. I've learned: One step at a time... But this is something that's obviously built with an engine to keep on going."
First up is Poker Face Season 2, though — here's everything to know.
The Poker Face Season 2 Cast
Though Lyonne's Charlie and Benjamin Bratt's Cliff LeGrand have a through line, each episode otherwise features a new cast of murderers and victims, with the series' first season boasting an impressive list of guest stars, including Adrien Brody, Brandon Micheal Hall, Cherry Jones, Chloë Sevigny, Clea DuVall, Dascha Polanco, Ellen Barkin, Jameela Jamil, Joseph Gordon-Levitt, Judith Light, Lil Rel Howery, Luis Guzmán, Nick Nolte, Rhea Perlman, Ron Perlman, Simon Helberg, Stephanie Hsu, and Tim Meadows.
Though Johnson teased to THR that he's "drooling over what new actors we can lure in for guest star parts," co-showrunner Lilla Zuckerman also hinted that some of the Season 1 guest stars could still return — even the ones whose characters already died. "I would love to do that. It's like they did in the old Columbo episodes where they would have these guest stars come back and play a completely different role, a completely different killer," she explained in a separate THR interview on March 9. "Maybe this time they're the victim instead of the killer. Maybe they are Charlie's sidekick. I like the idea of having a core group of actors who can come back and play."
Lyonne already has fellow Orange Is the New Black alum Samira Wiley in mind to guest star in Season 2. (OITNB's Polanco appeared in the Season 1 premiere.) "Samira came to the premiere and then we went out with friends after and it was just me and her and a few other people. And she was like, 'Just so you know, I would do one of these,'" the star and producer told Variety on March 9. "And I was like, 'Oh, yeah?' She was like, 'Yeah, I know sometimes [you] ask me to do things, maybe I don't, but just so you know, this, I would do one of these.' And I was like, 'OK, Samira!'"
The Poker Face Season 2 Plot
The Poker Face Season 1 finale, which dropped on March 9, laid the groundwork to repeat the basic setup of Charlie being on the run from a new casino boss: Beatrix Hasp (Rhea Perlman), traveling between different locations and using her "bullsh*t" detector to solve a new murder in each episode. After introducing Charlie's sister, Emily, in the finale, the series will likely dive into more of the protagonist's backstory. "By the end of the season, you get a glimpse into her life and her past," Johnson added. "That's something that we'll explore judiciously along the course of the show."
Zuckerman, for her part, revealed that her team already has "so many ideas" of where to take Charlie next. "We have ideas for episodes, we have ideas for characters. We have storylines in our heads. So I'm so glad we are going to be able to go there with her," she said. "Will Charlie ever settle down in a city? We might find her there, but I always think that she's going to be on the move. She's like a shark that's always moving forward. So the prospect of going on this journey with her for another season, and hopefully seasons to come, is thrilling."
The Poker Face Season 2 Potential Premiere Date
Though Peacock is a relatively new streaming service, several Season 2 returns have dropped almost exactly a year apart. Because Poker Face reportedly filmed from April through October 2022, the series could reasonably follow suit with another January drop date in 2024.
This post will be updated as more Poker Face Season 2 details become available.