Yes, Queen Charlotte Really Had 15 Children Within 21 Years
The Bridgerton prequel is "definitely not a historical retelling," though.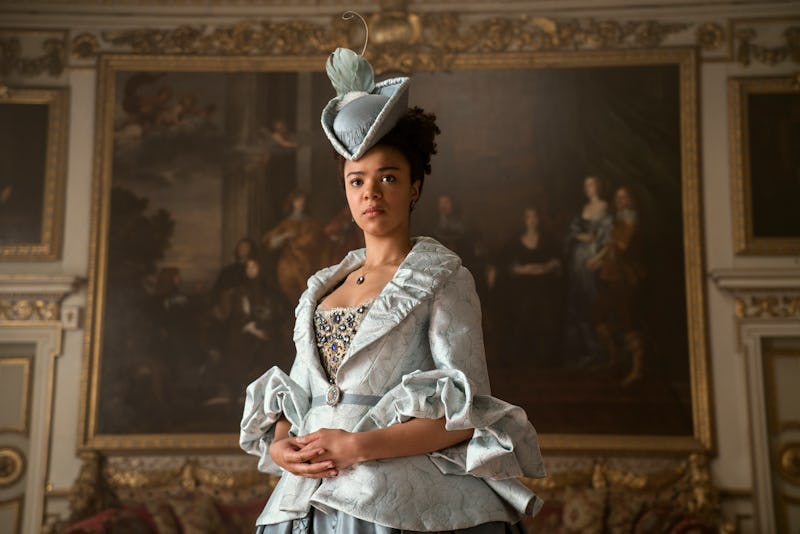 Liam Daniel/Netflix
In Queen Charlotte: A Bridgerton Story, the titular monarch's mother-in-law has an early demand. "Make as many babies as possible for my son," Princess Augusta (Michelle Fairley) commands young Charlotte (India Amarteifio) in one scene from the Netflix Bridgerton prequel. She followed orders, too: Queen Charlotte ultimately had 15 children with King George (Corey Mylchreest) — a historically accurate number for the real-life Regency Era royal couple.
Less than a year after she married King George III, the real Queen Charlotte gave birth to her first child, who would later become King George IV, in August 1762, according to the royal family's official website. Between then and 1783, The Queen had 14 more children (in birth order): Prince Frederick; Prince William; Charlotte, Princess Royal; Prince Edward; Princess Augusta Sophia; Princess Elizabeth; Prince Ernest; Prince Augustus Frederick; Prince Adolphus; Princess Mary; Princess Sophia; Prince Octavius; Prince Alfred; and Princess Amelia. All but one of the children were born at what's now known as Buckingham Palace.
However, only 13 of Queen Charlotte and King George's 15 children lived to adulthood. Princes Octavius and Alfred died from smallpox at ages 4 and 2, respectively, and Princess Amelia succumbed to tuberculosis at age 27.
Despite that real-life parallel, the Shonda Rhimes-produced series still takes plenty of creative liberties. "It's definitely not a historical retelling — it's a reimagining of history, so that gave us a lot of freedom," Amarteifio explained to British Vogue in April. "But also, there are nods to the real history, too: we see Charlotte traveling from Germany, her relationship with her brother, her dogs, the snuff. I did as much research as I thought was sensible. I read Janice Hadlow's book about Georgian history [The Strangest Family: The Private Lives of George III, Queen Charlotte and the Hanoverians], and I went to Kew Gardens, where they lived, and saw her cottage. We got to have a private tour and I even saw the armchair Charlotte died in. Being there, I felt such a connection to her."
One aspect that historians continue to debate is whether or not Queen Charlotte was really the first mixed race or Black British royal. Born Sophia Charlotte of Mecklenburg-Strelitz to a German duke and princess, the eventual British monarch is believed to be directly descended from Margarita de Castro y Sousa, a Black branch of the Portuguese Royal House.
"I don't think it's ever going to be proven or disproven to be honest with you," Bridgerton book series writer Julia Quinn told Oprah Daily in May 2021. "But let's say she was Black. And what if that was accepted at the time and people acknowledge that, and then she used that position to lift other people of color to higher positions in society. What would society look like?"