Peacock's New Queer As Folk Reboot Will "Re-Imagine" The Groundbreaking Series
The gay agenda is going as planned.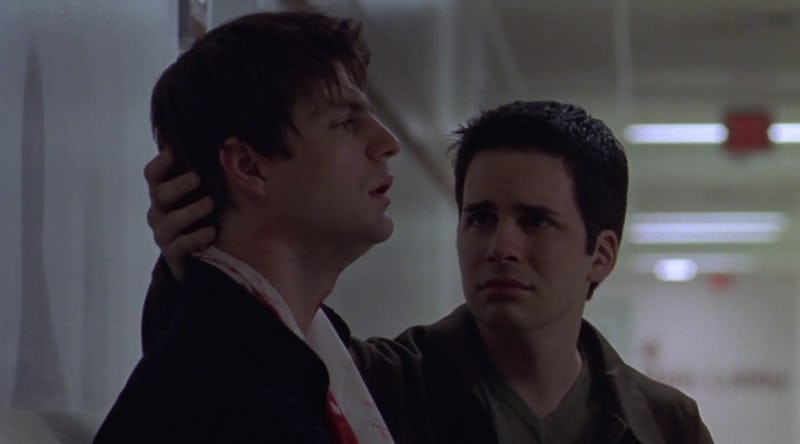 Warner Bros. Television
A groundbreaking LGBTQ+ series is making its grand return. A Queer as Folk reboot is coming to Peacock, as announced on Thursday. Peacock has officially given a straight-to-series order for the reboot, which was originally in the works for Bravo in 2018 before switching to NBC's streaming service.
According to Entertainment Tonight, the new show will be a "re-imagining" of the original series and focus on a group of LGBTQ+ friends in New Orleans whose lives are interconnected and forever changed by an unexpected tragedy. In a statement, reboot creator and executive producer Stephen Dunn shared his hopes for newer LGBTQ+ viewers who are discovering the series for the first time.
"When the show originally aired, the idea of unapologetic queer stories on TV was so provocative that I felt I could only watch Queer as Folk in secret," Dunn said. "But so much has changed in the last 20 years, and how wonderful would it be if the next generation didn't have to watch Queer as Folk alone in their dank basements with the sound muted but with their family and friends and the volume cranked all the way to the max."
The original British series starred Aidan Gillen, Charlie Hunnam, and Craig Kelly as three gay men living in Manchester. It ran for just one season in 1999, but its American counterpart, set in Pittsburgh, lasted five seasons before ending in 2005. As noted by The Hollywood Reporter, the American Queer as Folk marked the first hourlong U.S. drama series centered on gay men, paving the way for much more LGBTQ+-oriented fare to follow.
No casting details have been announced, including whether stars from the British or American shows will return for the reboot. However, original series creator Russell T. Davies will return as an executive producer. Previously, in a March interview with THR, Davies said he was not interested in re-visiting his beloved show. "We've read the scripts and I gave a few notes ... but it's not my show anymore, and I'm happy to hand it over," he said. "I don't think I should be, sitting here at my age, revamping my old property." Instead, Dunn will also handle the writing with Davies' blessing, calling it an "surreal honor" to adapt the series.