Shiva Baby's Rachel Sennott Finds The Profound In The Perverse
The star of the new indie film isn't afraid to say, "Here I am, I'm being horny."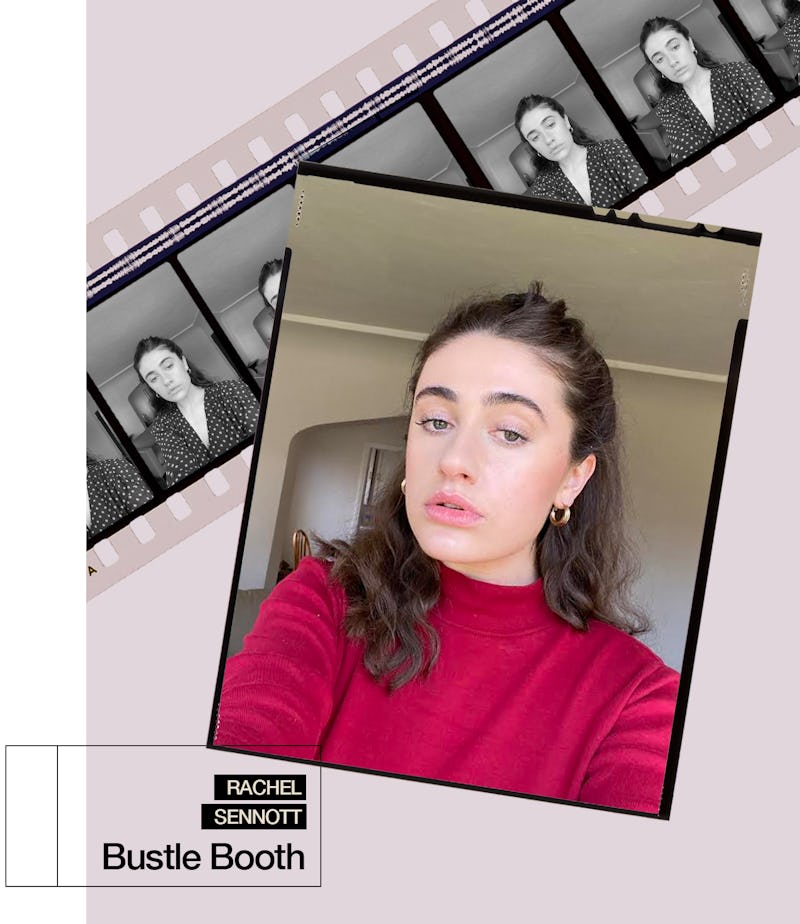 So there Rachel Sennott was, completely covered in shaving cream. "I was sitting on this little apple box, naked, then they sprayed me with the cream and placed the bagels on me," Sennott tells Bustle of the poster shoot for Shiva Baby, her feature length film debut. Perhaps predictably, there were complications ("The bagels started sliding down the dress and the cream was dissolving, so there would be people running in, creaming me, and moving the bagels up"), but the resulting image doesn't betray any bagel slippage. And Sennott herself is arresting, almost passing off her schmeared-up frock as a haute couture gown — until, upon closer inspection, the abject comes to the fore. It's glamour meets gross-out, much like the brand Sennott has cultivated on social media.
On Instagram, Sennott goes by the handle "Treacly Child" — a nod to what a "sticky" and "wet" kid she was growing up — and her grid is a menagerie of perverse, campy images. In one, the comedian licks a banana iced with the words "happy birthday Rachel"; another shows her in a wheelchair with a heart emoji covering her exposed crotch. "I wasn't really comfortable in my sexuality or my body when I was growing up. So I faked it until I felt it," the 25-year-old says. "Now on Instagram, I'm trying to play with being sexual. I feel like so much of the time you have to pretend you're not aware that you're being sexual. But I'm fully like, 'Here I am, I'm being horny.'"
Sennott's Shiva Baby character Danielle is also experimenting with how to harness her sexuality. The film — an expansion of writer-director Emma Seligman's college thesis project, which also starred Sennott — takes place almost entirely at a Shiva in a claustrophobic, canonically Jewish home. Imbued with what fans have labeled as an Uncut Gems-like level of anxiety, the story follows Danielle as she runs into her more successful ex-girlfriend Maya, her sugar daddy Max, his shiksa wife Kim... and their newborn child. It's half haunted house horror film, and half grittier, more misanthropic Broad City.
"Danielle cannot leave. She's stuck there and it's nightmare after nightmare of things happening to her in this house," says Sennott. "Emma is such a great director and we'd break down each scene to see what level of anxiety Danielle was at. And we'd also talk about who has the power in each scene." For Danielle, that power comes entirely from her sexuality — how desirable she can seem to Maya, Max, and even Kim, to an extent. Or as Sennott puts it, "With Danielle it's that feeling of, 'I still need to know this guy wants to f*ck me' [to feel powerful]."
It's a sentiment Sennott isn't ashamed to admit is rooted in her own experiences with men. "I've come to a good place in my journey, but there was a long time where I thought I was in control in my relationships with older guys. But it was really just all about how I could show a guy I didn't care about him so he'd care about me," she says. "It feels good [when you think] you're in control, but it's exhausting and you're actually just miserable." It's an ugly, not-so-romantic side of sex and relationships — exactly what inspires Sennott's best art.
Get to know more about Sennott — including her love of Jennifer Coolidge — in her Bustle Booth below.
In The Bustle Booth
What's your coffee order?
Large iced oat latte
What are the saved weather locations on your phone?
Los Angeles, Burbank, Santa Monica, New York, Toronto, My hometown, Boston, Budapest
What's your sign?
I'm a Virgo sun, Scorpio rising, and Cancer moon
Favorite overused movie quote?
"Girls, time for your Adderall!"
What was your favorite cartoon as a kid?
The Powerpuff Girls
What's one movie or TV show you're currently obsessed with?
Barb and Star! Perfect campy comedy!
Who is your celeb idol?
Jennifer Coolidge
If you had to be on a reality TV show, what would it be?
If I had to be on a reality show, I would want to be Kid Nation when I was kid. I think it would be the perfect amount of traumatizing.
Go-to karaoke song?
"Hopelessly Devoted to You" by Olivia Newton-John
What's something that's inspiring you lately?
I have been following a lot of '80s runway accounts on Instagram, and they're making me so excited to wear outfits when this is over. I want to wear a full outfit everyday! Realistically this will last for nine days tops.
What is something you would want people to say about you?
HUGE FAT TITS, teeny tiny little girl body, kind
This interview has been edited and condensed for clarity.