DMX Is In The Hospital After An Overdose
The rapper is reportedly in "grave condition."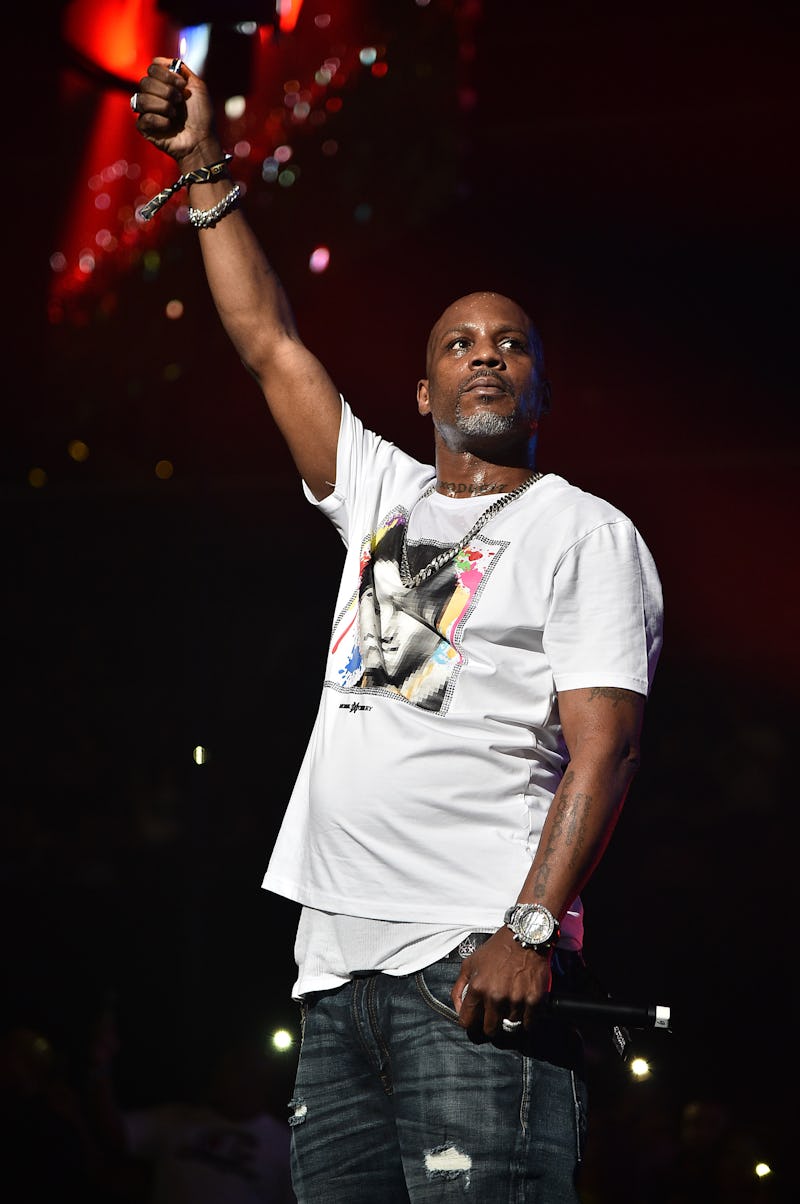 Theo Wargo/Getty Images Entertainment/Getty Images
In a tragic turn of events, DMX has been hospitalized after a drug overdose on Friday, April 2. TMZ reports that the rapper, whose real name is Earl Simmons, suffered a heart attack due to the overdose and is in "grave condition." He is currently in the critical care unit of a hospital in White Plains, New York.
The prognosis is a scary one: DMX is in a "vegetative state," according to a TMZ source. While doctors are said to have measured "some brain activity," they have warned that he may not recover, per the outlet's sources. Information is still very limited.
The three-time Grammy nominee has battled addiction over the years, tracing it all the way back to his adolescence. During a November 2020 interview for People's Party with Talib Kweli, DMX recounted how he first used crack at just 14 years old, after a man he saw as an "older brother" gave him a blunt that he later found out was laced with the drug. Incidentally, the man was also responsible for getting him interested in rap, so DMX saw him as having introduced him to both "the best part of [his] life" and his "curse."
DMX checked himself into rehab in 2019 after multiple previous stints. At the time, he had to cancel several concerts, and a statement posted to his Instagram explained that he had made the move "in his ongoing commitment to putting family and sobriety first." He apologized to fans and thanked them for their support.
His fans continue to show him love. After news of his OD broke, DMX began trending on Twitter as countless people shared that they were keeping him in their thoughts and prayers. They were even joined by celebrities like Missy Elliott, Viola Davis, and Gabrielle Union.
Fans also made sure to share how much the rapper means to them, calling him "a hero" and a "cultural icon."
DMX came to fame in the '90s with collaborations with the likes of Jay-Z, Ja Rule, and LL Cool J, after a decade of trying to make it. His debut album for a major label was 1998's It's Dark and Hell Is Hot, which brought hits such as "Ruff Ryders Anthem" and "How's It Goin' Down." The album established him as a "voice for the voiceless," record executive Irv Gotti told GQ in 2018. He went on to release six more studio albums, with the most recent being 2012's Undisputed, despite his ongoing struggles with substance abuse as well as legal problems.
Returning to the stage in December 2019, the rapper had some words of wisdom for his fans: "When you fall down, get back up, everyone here has been through some sh*t and you never know what God is willing to do for you until you need him to do something for you," he said, per TMZ.
If you or someone you know is seeking help for substance use, call the SAMHSA National Helpline at 1-800-662-HELP(4357).