What To Know About Riley From The Bachelorette
He revealed the truth behind his name to Tayshia.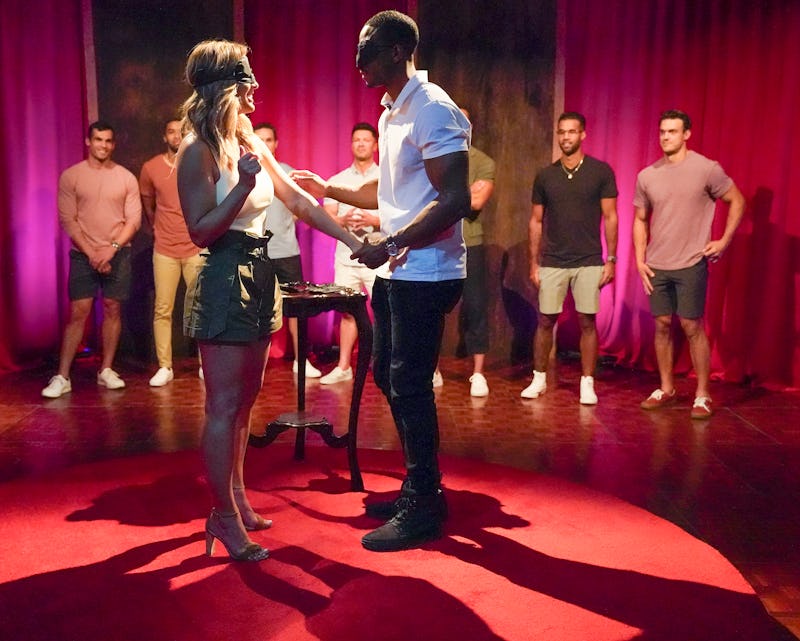 ABC
After ending his journey with Clare Crawley, Riley is falling for new Bachelorette Tayshia Adams — but a group date polygraph test revealed he's been hiding something huge. When guest host JoJo Fletcher asked him if his name was actually Riley, the lie detector buzzed red to indicate deceit. Another question prompted him to admit that he may not be ready for Tayshia to meet his family during the upcoming hometown visits. When Tayshia asked him about it later, the attorney got emotional and revealed why he changed his name and how his relationship with his father has changed over the years.
Riley's Name & Family
During his date with Tayshia, Riley admitted he was originally named Dwayne Henderson Jr. at birth, after his father. "He was my best friend for 22 years," he told Tayshia. However, when he got older, they fell out after Riley reconnected with his mom and learned more about his dad's personal character. "I figured things out," he said, explaining that his dad wrongfully took full custody of him as a child, which permanently damaged his relationship with his mom. "My mom, she deserved so much," he added. "We missed so much time." Riley then said that he got to the point where he wanted to be a better person but "couldn't look at himself anymore," so he legally changed his name to Devon Riley Christian to start over.
As you can see, Riley's family dynamic is a little complicated, so that explains his uneasiness about a possible hometown date. But despite his hesitation, Tayshia appreciated his honesty, told him that he is "stronger than hell," and said she still sees potential in their relationship.
Riley's Job
In college, Riley played Division I and Division II baseball after being drafted by the Philadelphia Phillies out of high school. He then went on to attend Syracuse School of Law and found a way to combine his passions: he's now an attorney and baseball agent for Reberth, an organization he founded that specializes in sports representation. According to the agency's official site, Riley "continues his baseball passion by helping players on their journey to the Majors."
Riley's Instagram
The Detroit native's Instagram bio reads, "Always be yourself." His latest posts are a mix of promo for The Bachelorette and wise words of motivation for his followers. On Oct. 15, he shared a photo of himself in a suit with the caption, "I just try to remind myself to keep it humble and keep it clean. You never know what tomorrow has in store." On Sept. 29, he shared a park bench selfie and wrote: "Enjoy life. Chase your dreams. Live with passion."
Clearly, Riley works hard for what he wants — including Tayshia.
This article was originally published on