Romeo Beckham Looks Exactly Like His Dad In New Shoot For YSL
"Like father, like son," one fan wrote.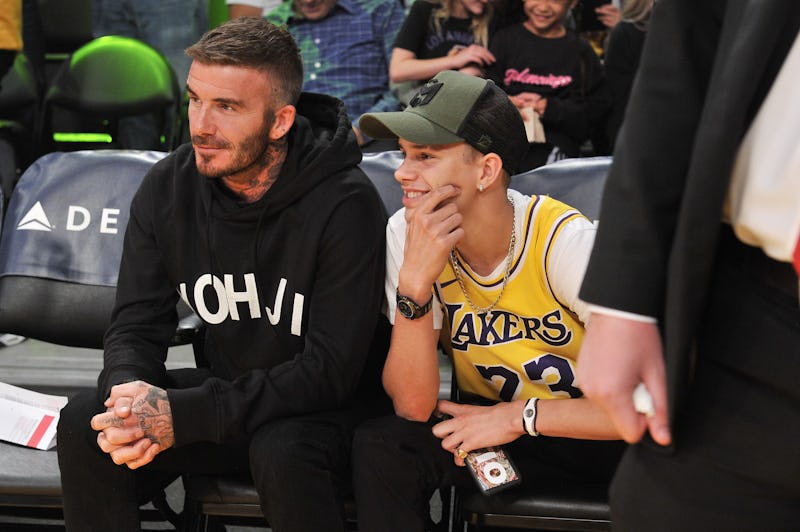 Allen Berezovsky/Getty Images Entertainment/Getty Images
Romeo Beckham has been compared to his dad a fair bit thanks to his skills on the football pitch, but you'll be drawing links between the pair for other reasons when you see Romeo's latest fashion shoot.
The brooding black-and-white shot for YSL's fall/winter 2021 collection sees Romeo pouting to the camera, his blond hair flopping in his face, in a seriously hot new look. In short, it has all the makings for a retro David Beckham shoot.
Romeo shared the picture on his Instagram and wrote, "Honoured to be part of @ysl fall winter 21."
David, who is no stranger to a fashion photo shoot, re-shared the image of his son and said, "So cool, so proud @romeobeckham."
David Beckham's followers started to draw comparisons between the legendary footballer and his son pretty quickly. One wrote, "Like father, like son," while another said, "He is a replica of you." However other's joked that he may get his chiseled good looks from elsewhere. "How amazing. Defo gets his good looks from Mum though," one said.
And while Romeo may be channeling the energy of his dad, fashion is definitely Victoria Beckham's area of expertise. Posting the image of Romeo to her Instagram, she said, "WOW! @romeobeckham for @ysl Fall Winter 21."
Romeo is currently dating Mia Regan — another fashion star in his life. Regan is a model and in the past has worked with brands like Gucci, Marc Jacobs, and Coach. She wrote under his post, "Gorgeous."
This certainly isn't the first fashion shoot that Romeo's been part of, though. In March 2021, he had his first cover shoot with men's magazine L'Uomo. And I'm hoping for plenty more in the future...
This article was originally published on