5 Dramatic RuPaul's Drag Race Reunion Moments That Left Us Gooped & Gagged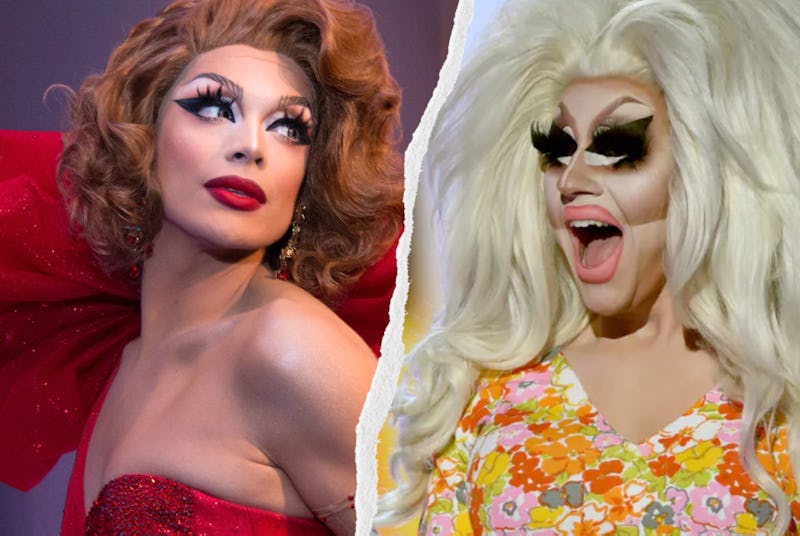 Santiago Felipe/Kevin Winter/Getty Images
The Real Housewives franchise is perhaps best-known for giving fans intense reunions every season, but nobody serves more glamour at reunions than RuPaul and her queens. The RuPaul's Drag Race reunions (aka Reunited specials) always deliver over-the-top drama and sickening looks every season.
Much like their Housewives counterparts, Drag Race reunions have it all: unforgettable feuds between the queens, expert shade across the board, and witty comebacks about something as simple as a contestant's contour. And unlike Housewives honcho Andy Cohen, host RuPaul isn't afraid to give her queens a verbal lashing if required, reminding us why she is the supreme of the drag coven. Leading up to the Drag Race Season 13 reunion on Friday, April 16, we've compiled some of the most dramatic moments from previous Drag Race reunions, plus a bonus Season 13 video at the bottom of this list. Will the queens in 2021 bring it like these queens of yesteryear did? It's a tall task, but never doubt a drag queen's shade.
Trixie Mattel vs. Acid Betty
Note to all aspiring Drag Race contestants: what you say on Untucked can come back to haunt you. In the Season 8 reunion, Trixie Mattel, a famous queen from the previous season, came back to confront Acid Betty: "Did you or did you not come for me?" It turns out the contestant's name comes from her acid tongue. "If I was coming for you, I would burn your wigs and you'd be fully aware of it darling," she sniped back. "And you still haven't fixed that nose contour." Oh, to be a fly on the wall of that parking lot showdown.
"You Don't Love Me"
After taking home Season 9's Miss Congeniality prize, Valentina was challenged by nearly everyone, including Farrah Moan, who moaned about the loss of their friendship. "I respect you and love you," Valentina told her, to which Farrah fired back with "You don't love me," shocking their fellow queens. The fight ended with Valentina's title being disputed by basically all the queens as they believed it should be called Fan Favorite in this instance. One thing is for certain: Valentina is no Sandra Bullock.
Miss Vanjie's Breakup
Season 11 gave viewers the first-ever onscreen RuPaul's Drag Race romance — and the reunion took it away. Vanessa "Vanjie" Mateo and Brooke-Lynn Hites forged an adorable relationship over the course of the season, before revealing that they broke up during the reunion. "We dated for about four months after the show, and we tried to make it work, but our schedules were just very different," Brooke told RuPaul. "We never really saw each other, and it was scary for me."
The Vixen's Walk Off
The queens can fight each other all day long, but if you mess with the Mutha, you're doomed. No one knows this better than The Vixen when she went head-to-head with RuPaul (and almost everyone else) on the Season 10 reunion, resulting in an epic walk off. And Ru wouldn't tolerate any defense of her. "Look at me g*d dammit!" she told Asia O'Hara, who defended The Vixen's behavior. "I come from the same g*ddamn place she comes from, and here I am! You see me walking out? No I'm not walking out. I f*cking learned how to act around people and deal with sh*t." She certainly did.
Phi Phi O'Hara Interrupted
Every Drag Race fan can agree that Season 4 was perhaps the most dramatic, riveting, and shady season ever, which made for a no-holds-barred reunion. The feud between finalists Sharon Needles and Phi Phi O'Hara was unpacked more than your luggage after a trip to Milan, and everyone had something to say about it. But no one got a better reaction than Willam, who simply coughed "bullsh*it" around the same time an audience member yelled the same thing when Phi Phi tried to say she respected Sharon, proving that Drag Race contestants should run all lie detector tests from now on.
BONUS: The ABCs of Season 13
To prepare you for the Season 13 reunion special that airs on Friday, April 16, watch this new "ABCs" video filled with some moments that will likely be brought up at the reunion. RuPaul's Drag Race will crown the Season 13 winner during the April 23 finale 8 p.m. ET/PT on VH1.