Sacha Baron Cohen & Isla Fisher Are Low-Key Couple Goals
The comedic actors have been together for nearly 20 years.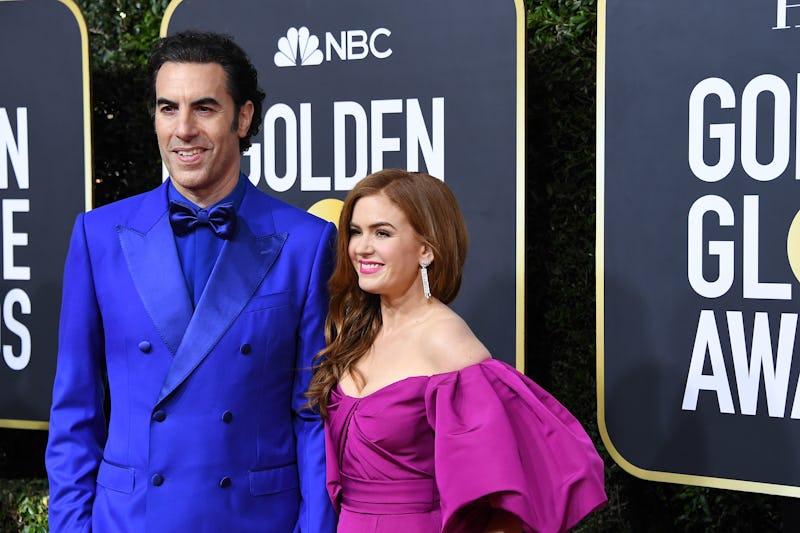 Steve Granitz/WireImage/Getty Images
When thinking about the longest-lasting Hollywood couples, Sacha Baron Cohen and Isla Fisher might not be the first pair that comes to mind. But though they've kept their relationship largely out of the public eye, the couple has been together for almost 20 years and shares three children.
Borat star Cohen encouraged Fisher to pursue comedic acting more seriously, which led to her landing one of her biggest roles. "I was losing confidence in my abilities when he recommended that I do comedy," Fisher explained in a 2009 interview. "He felt I was really funny, so when someone as funny as him recommends that, I listened and actually auditioned for Wedding Crashers, which ended up being my big break."
Below, a look at the relationship history of the very funny couple.
2001: Their First Meeting
Cohen and Fisher first met at a party in Sydney, Australia, in 2001, not long before Fisher's breakout role in the live-action Scooby-Doo film would put her on the map. Soon afterwards, they began dating.
Cohen was immediately taken with Fisher. "She was hilarious," Cohen told the New York Times about their first meeting. "We were at a very pretentious party, and me and her bonded over taking the mick out of the other people in the party. I knew instantly. I don't know if she did." He added jokingly, "It's taken her about 20 years to know."
2004: Engagement
After a few years of dating, the couple got engaged in 2004. But before their marriage, Fisher spent three years studying and converted to Judaism. "I will definitely have a Jewish wedding just to be with Sacha," she said. "I would do anything — move into any religion — to be united in marriage with him."
2007: Birth of Their First Child, Olive Cohen
The couple's first child, daughter Olive Cohen, was born on October 17, 2007. You won't see many — if any — photos of the couple's kids on their social media profiles, nor is it common for them to get spotted in paparazzi snapshots or walking the red carpet for their parents' projects.
During an interview with Today, Fisher explained their reasoning behind the choice to keep their kids' lives private. "If you speak about your children or if you take them to a red carpet event, you can't be litigious later on where there is a picture of them in something and say, 'Hey, they deserve anonymity,' but they do. They have rights, too," she said. "It's a very conscious decision and truly I would feel really disgusting about myself if I used my family to sell something. It wouldn't sit right with me. It doesn't line up with my values."
2010: Private Wedding
After a six-year engagement, Fisher and Cohen got married in a small private ceremony in Paris, with only six guests in attendance. Keeping their wedding intimate was important to Fisher, she explained to Allure before the wedding. "It [was] very important to me to have a beautiful ritual celebrated with my family and friends. And when you are in the public eye, to keep that private and to make it happen without it being really visible is really difficult."
In 2020, Cohen revealed that in order to keep the paparazzi away from the ceremony, he had his father pose as a famous chef celebrating his birthday. "We had a secret wedding in Paris. And the ruse was that it was my father's 70th birthday and that he was a famous chef in England," Cohen told The New York Times in 2020. "That was how we avoided having photographers at the wedding. I trained him up to be in character. He said that his favorite dish that he created was L'oeuf Scrambled."
2011: Birth of Elula Lottie Miriam Cohen
Fisher and Cohen were just as private about their second child, taking six months before revealing her name, Elula (which means "August" in Hebrew). "Motherhood is my favorite topic but I never talk about it publicly," Fisher said, according to Us Weekly. "As much as I love what I am doing, and I am so fortunate to have the opportunities that I have had, my responsibility is to my family."
But that certainly doesn't mean the people Fisher is close with don't hear about her family. On the contrary, she told Today in 2017. "If you were my friend and we went for coffee, you would be like 'Oh my god. All she talks about are her kids.'"
2015: Birth of Montgomery Moses Brian
Their third child, Montgomery, was born on March 17, 2015.
2016: First Movie Together
The couple co-starred together in The Brothers Grimsby, in which Cohen plays a man from a small English fishing town looking for his long-lost brother. "This is the first time we've worked together," said Fisher during an interview on Lorraine. "He's such a perfectionist. He'll do everything and anything to get the best joke possible into the movie, so it was definitely inspirational. He's so funny on set and it was a lot of fun."
2020: A Move to Australia With The Family
"I have this secret fantasy of slowing down, moving to Byron Bay, getting off the grid and sitting on the sand with a Vegemite sandwich," Fisher said during an interview with Marie Claire in 2018. And a few years later, they made it happen. The couple moved their family to Sydney, Australia in November of 2020.