Jurassic Park Star Sam Neill Shared The Wildest Story About Princess Diana
"It's just amazing the lengths he will go to," said Jeff Goldblum of the tale.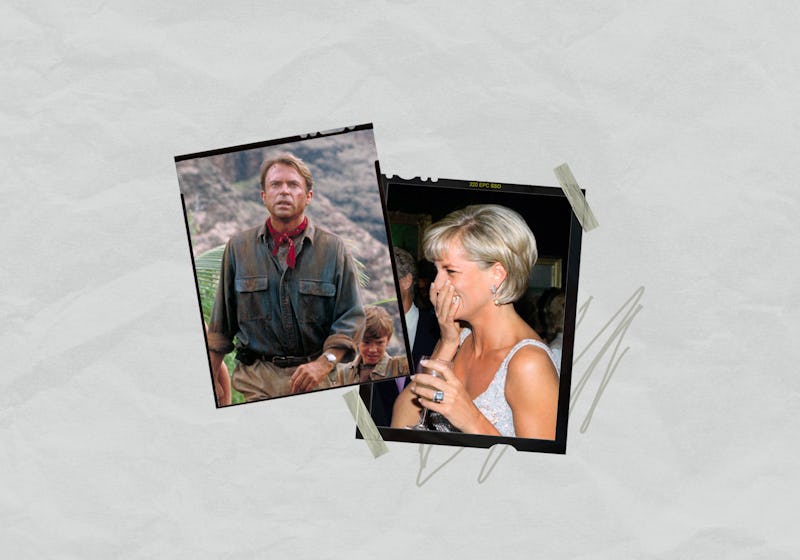 Murray Close/Getty Images, Tim Graham Photo Library via Getty Images)
For some it feels like the end of an era in the Jurassic Park franchise, but for others Jurassic World: Dominion is the perfect opportunity for the original cast to reunite once more. Sam Neill, Jeff Goldblum, and Laura Dern all reprise their roles in this latest offering, which has led to a shared sense of nostalgia between the trio. In a recent interview with The New York Times (via Insider), Neill recalled the last time he saw Jurassic Park was sitting beside Princess Diana at London's Leicester Square.
Described as a "royal screening" by Jeff Goldblum, the Princess of Wales sat between the two actors in the theatre. Sharing popcorn with Goldblum, Neill recalled that she "really loved" the movie to GQ magazine. As he'd seen the film "three or four times" by that point, he kept "half an eye on the screen, and half an eye on her, looking at how she was reacting," Neill explained. "Sometimes she would have her hands in front of her eyes. I mean, she really loved it."
Sitting on the other side of Neill was his 11-year-old son Tim, who was "completely swept away" by the film – so much so that he was unable to contain his excitement. "About the time the T-rex turns up, Tim started to fart," Neill recently told The New York Times (via Insider). "And the draft was drifting across me to royalty!" In another interview with Canadian TV host George Stroumboulopoulos, the actor said he was sure that Diana must have thought he was "the demon farter". He added: "You can't really explain and say, 'I'm so sorry, it's not really me, it's [my son]'. You're just stunned into a sweaty silence."
Neill spent the rest of the film dreading what the Princess of Wales thought of him after being "exposed to the horrors of a little boy's fart", but she never mentioned it. Goldblum, however, wasn't convinced of Neill's version of events. "I've heard him tell that a couple of times, and it's just amazing the lengths he will go to still blame the boy."