Samuel Little's Haunting Sketches Helped Solve Several Cold Case Murders
The investigation is re-examined in Confronting A Serial Killer.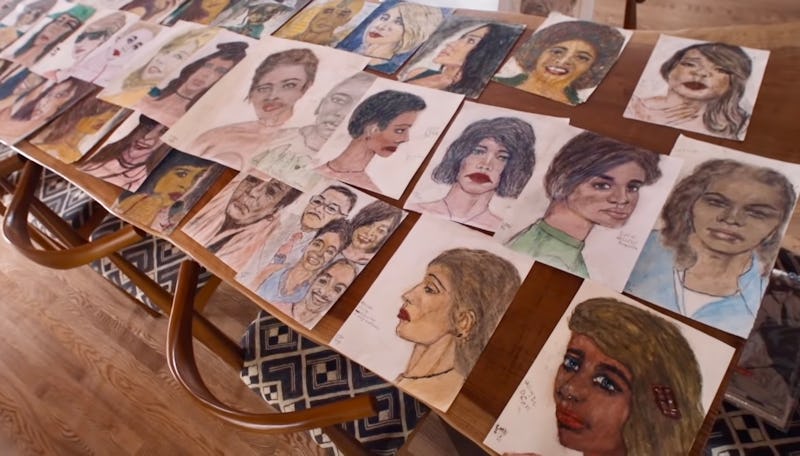 Starz/screenshot
Identified by the FBI as "the most prolific serial killer in U.S. history," Samuel Little created drawings to accompany his confessions to 93 murders between 1970 and 2005. Law enforcement initially verified 50 confessions, though FBI crime analysts believed them all to be credible. As re-examined in Starz's docuseries Confronting a Serial Killer, which premieres on April 18, the FBI first released Little's drawings he made from a California prison cell in November 2018, asking the public for help in identifying several of the other women.
"We are hoping that someone — family member, former neighbor, friend — might recognize the victim and provide that crucial clue in helping authorities make an identification," FBI spokeswoman Shayne Buchwald said in a statement to USA Today in February 2019. "We want to give these women their names back and their family some long-awaited answers. It's the least we can do."
Buchwald noted that each drawing was marked with a possible city and year in which the murder happened, also pointing out that Little's sketches were vividly accurate and had already helped break three cold cases across the U.S. Little, who died in December at age 80, sketched dozens of detailed portraits in chalk pastels of his victims, who were primarily marginalized young Black women, including prostitutes and drug dealers, according to the FBI. Many were estranged from their families and struggling with poverty and addiction, and as such, their cases received little attention.
After authorities arrested Little in 2012 on a narcotics charge, Los Angeles police matched his DNA to three unsolved local murders from the late '80s. After he was charged with three counts of murder, a judge sentenced him to three consecutive life sentences without parole in 2014. The deaths of many of the women he later confessed to killing were originally ruled overdoses or attributed to accidental or undetermined causes, however, and some bodies were never found, per the FBI.
That's where writer Jillian Lauren came in, embarking on a mission to "understand this kind of abhorrent behavior." After she was granted access to Little as part of her research for a book, Lauren made a self-described "deal with the devil," and he confessed to her as well. "He did these drawings for me," Lauren explains in the Confronting a Serial Killer trailer, displaying several of his hand-drawn victim portraits. "I'm determined to help identify them. That's my job."
Confronting a Serial Killer director and executive producer Joe Berlinger told Variety that he was "fascinated" with the revealing confessions Little shared with Lauren. With the information she collected, law enforcement was able to solve multiple cold cases of "forgotten women," per the outlet. "For me, the whole reason to do the show was to do it through Jillian's point of view and to make it a very victim-focused show," he said. "It's shining a light on decades of a system that does not value a certain kind of victim."