Sarah Shahi on Sex/Life, Desire, and Inspirational Cookies
The actor will star as Billie Connelly, the "box of dynamite" lead in Netflix's steamy new series.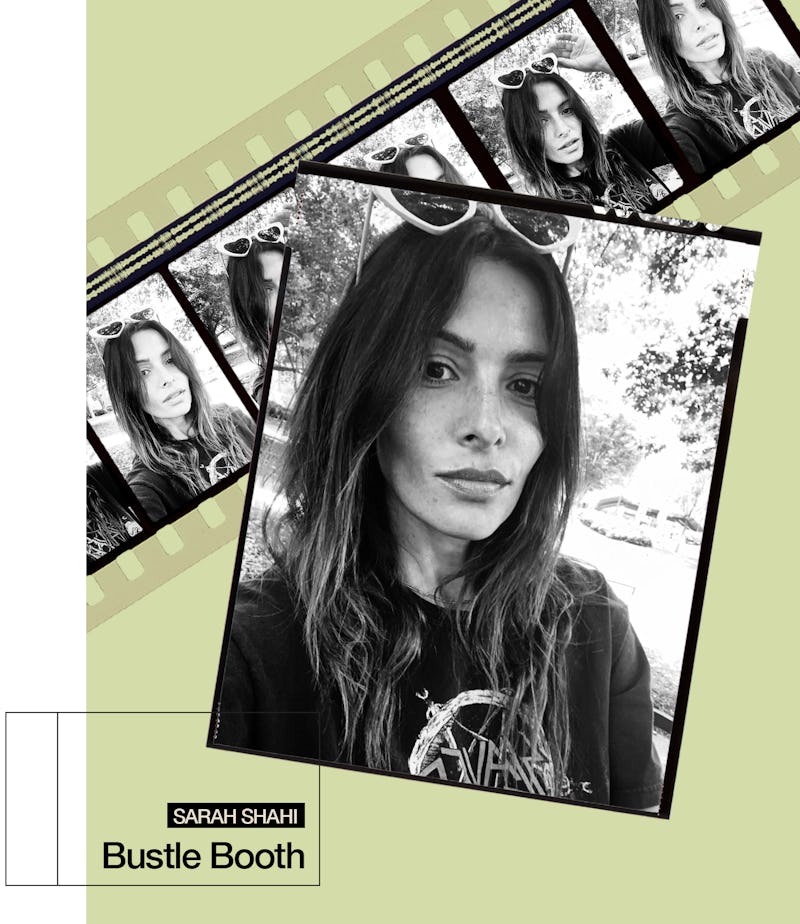 Sarah Shahi really does not want you to settle ⁠— in romance, your career, or even in the pursuit of an absolutely killer cookie.
As the star of Netflix's Sex/Life, available June 25, Shahi has spent much of the last year thinking about desire. The series explores what it truly means to have it all, following the journey of Shahi's character, Billie Connelly, as she wonders if the seemingly perfect home life she's built with her successful husband Cooper is actually what she wants. Despite the white picket fence and adorable children, Billie can't stop yearning for the wild days of her past, which she spent with her "impossibly sexy" ex-boyfriend, Brad. Before wasting a lifetime wondering what if, Billie embarks on a powerful path to self discovery, and it sounds like Shahi had quite the ride, too.
"She is like a box of dynamite," Shahi explains of her character. "I think as women, especially once we settle down and have kids, it's almost like we're told our wants and desires are not important. But the great thing about Billie is she's constantly challenging that stereotype. And she's relentless in her exploration of who she is."
Under normal circumstances, entering the headspace of a character on the brink of changing her entire life would provide some serious food for thought at the least. But doing so in a year that's been anything but normal was transformative for Shahi.
"I look back on the direction that my life has gone within this last year, and I definitely took some punches," Shahi explains. "I feel like in a way, I have finally sort of found my truth, and I'm living that. I'm really proud of where I am right now in my life. I wouldn't trade where I am now for anything."
With a new perspective on life, Shahi is "just so excited to be surrounded by people" again. From live sports to country music concerts, she has big plans. "These days, I'm a very aggressive greeter," Shahi jokes. "It's just a little too much when I say hello and give the tightest hugs ever." That said, filming Sex/Life certainly gave her a chance to get physically intimate. Shahi says creating the series' sex scenes was a "really different" experience than she's ever had in the past.
"A lot of the times, the sex was not just the sex; it was informing the storyline of what was happening with the characters. With Brad, it was magical and it was lustful and pure escapism and passionate. And then with Cooper, the sex was hit and miss," Shahi explains. "As actors, and with our intimacy coordinator, we would talk about every detail. Not just hand placement, or body positions, but the breath… It was really thought about down to the most minute detail."
Although Shahi describes Sex/Life as "the most fantasy-filled ride of [your] life," there are a few familiar elements of the show that her longtime fans will appreciate. (Specifically, The L Word stans who still flood her Instagram comments hoping for justice for Sharmen: the relationship between Shahi's character, Carmen de la Pica Morales and Kate Moenning's Shane McCutcheon.) From its dedication to displaying all kinds of intimacy through the female lens to its themes of identity, Sex/Life is "about having the courage to explore who you are and then owning it without any sort of shame or regret."
Learn more about Shahi, from her borderline dangerous caffeine habit to the reason she's so obsessed with Dolly Parton, in her Bustle Booth questionnaire below.
In the Bustle Booth
What is your go-to coffee order?
I've got a romantic relationship with coffee. Dark roast, black and piping hot. I want it to burn my face off. That kind of hot.
What are the saved weather locations in your phone?
Austin, Los Angeles, Atlanta, and Wollongong (which is in Australia).
What is your zodiac sign?
Capricorn sun, Libra moon, Aries rising
What's your favorite overused movie quote?
I don't know if this is overused but it's a motto in my life for sure: "I don't want to die without any scars," from Fight Club.
What was your favorite cartoon as a kid?
Jem and the Holograms.
What's one movie or TV show that you are currently obsessed with?
Sex/Life. And I'm not just saying that. I have the screeners and I know what's happening and I still watch it. It's so beautifully shot and I'm completely addicted to these characters. It's so raw. It's so emotional. Hands down, I think it's the best show I've ever seen. I know that sounds really egotistical, but I'm saying it from a true place of honesty.
Who is your celebrity idol?
Dolly Parton. I mean, such a trailblazer in so many ways. She gives it to you straight up. She does it with a smile, she's completely unapologetic for who she is. I mean, her talent… there's no point in me even talking to it. Everyone in the world knows how talented she is. And on top of that, she never forgot where she came from. She never forgot that she was a poor girl growing up in the mountains of Tennessee, and she gives back so much to her community and she still has her roots firmly planted in that and I really admire her for that.
If you had to be on a reality show, which one would it be?
Diners, Drive-Ins and Dives, so I could eat everything under the sun with Guy Fieri.
What is your go-to karaoke song?
Depends on how many tequilas I've had. After about four tequilas, I would do "I Touch Myself" by the Divinyls in good old Billie fashion.
What is something that's been inspiring you lately?
Cookies. I know that sounds really weird. I eat cookies … I have to try every single one of them. I just recently found this one place called My Cookie Dealer, they email you when they've got this new drop that's come in. It's just … I had a cookie the other day and inside the cookie was a Twix bar, chocolate chips, and caramel. I'm telling you, cookies right now are getting me through life in a way that I never knew possible. Cookies are my inspiration. No joke.
What is something you would want people to say about you?
The acting thing is great, but I want people to remember me as an awesome mom. I want people to look back and go, "Wow, she worked really hard, but at the end of the day, she was an awesome mom."
This interview has been edited and condensed.