Saved By The Bell Star Dustin Diamond Dies After Battling Stage 4 Cancer
The actor was hospitalized in January.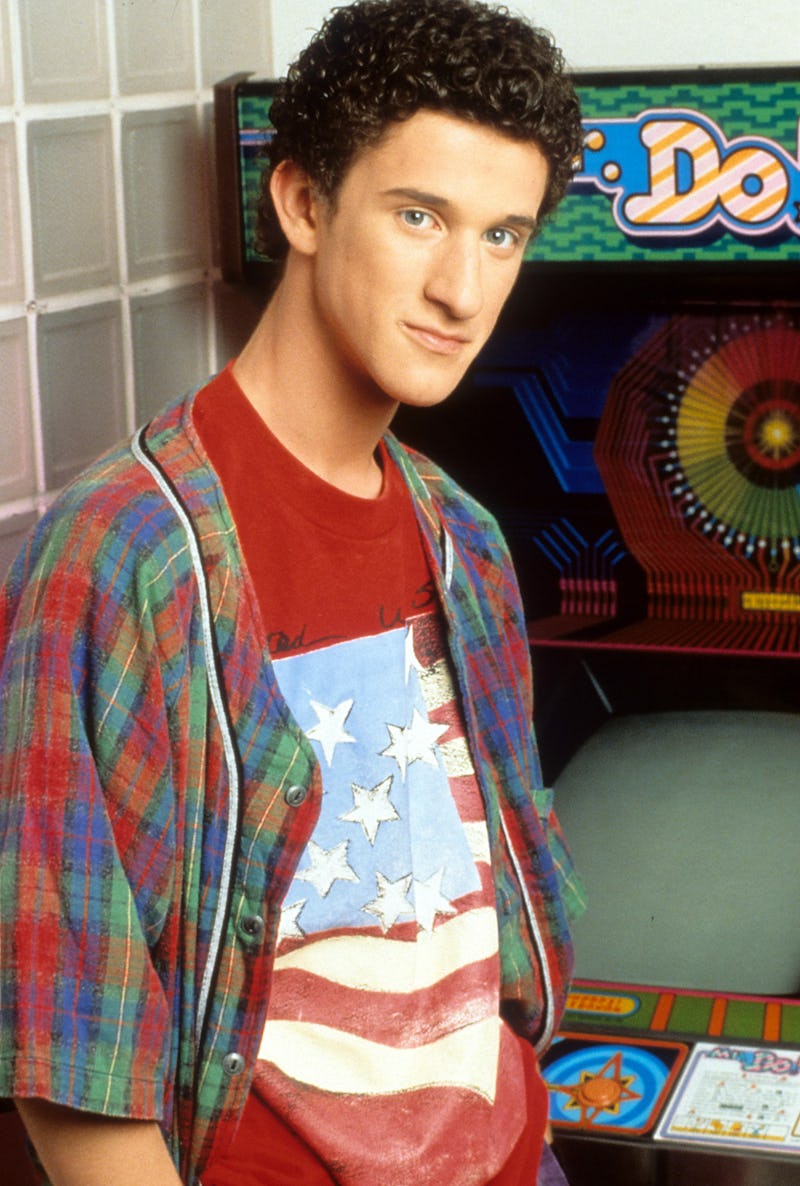 Archive Photos/Moviepix/Getty Images
Actor Dustin Diamond, best known for his role as Samuel "Screech" Powers on the hit NBC sitcom Saved By The Bell, passed away the morning of Monday, Feb. 1, at 44 years old. The news of his death comes after the actor was hospitalized in January, during which doctors reportedly ran a biopsy in addition to other tests to address evident body pain.
Roger Paul, a spokesperson for Diamond, told NBC News that the actor's "condition had greatly declined since last week, and he was taken off of breathing machines in an attempt to get him to hospice care." He also noted that "there were two people very close to him by his side when he passed away." Diamond's stage 4 lung cancer diagnosis was made public by his manager in January when the actor was checked into a Florida hospital for tests and treatment, though details were scarce at the time.
After originating the role of Samuel "Screech" Powers on the 1988 Disney Channel sitcom Good Morning, Miss Bliss, he continued playing the character on NBC's Saved By The Bell from 1989 to 1993, which has gone on to be regarded as one of the greatest sitcoms of all time. Diamond reprised his role on the subsequent spin-off series, Saved By The Bell: The College Years and Saved By The Bell: The New Class.
He went on to appear in feature films such as 2002's Big Fat Liar and the 2008 independent comedy Our Feature Presentation, as well as many more television projects, often as himself, including Celebrity Fit Club and Celebrity Big Brother. Diamond, along with Dennis Haskins (Mr. Belding), was one of only two original cast members not to reprise their Saved By The Bell roles in Season 1 of Peacock's 2020 revival series.
In the wake of Diamond's passing, many of his Saved By The Bell co-stars have expressed their condolences through social media. Mario Lopez took to Twitter, writing, "Dustin, you will be missed my man. The fragility of this life is something never to be taken for granted. Prayers for your family will continue on..."
Actress Tiffani Thiessen posted a photo of Diamond to her Instagram account with the caption: "I am deeply saddened by the news of my old co-star Dustin Diamond passing. Life is extremely fragile and it's something we should never take for granted. God speed Dustin."
Actor Mark-Paul Gosselaar tweeted his condolences, writing, "Deeply saddened to hear of the passing of Dustin Diamond, a true comedic genius. My sincere condolences to his family and friends." He continued, "Looking back at our time working together, I will miss those raw, brilliant sparks that only he was able to produce. A pie in your face, my comrade."
In a statement to Entertainment Weekly, Lark Voorhies shared, "Words cannot express the grief that I am feeling right now. Dustin and I had a warm and special friendship, he was a caring gentleman, and my memories of him will always be cherished." She continued, "I am so very sorry he is gone. But it's exceptionally sad for his close loved ones who have to deal with his tragic death and their own great loss. My heart goes out to them at this trying time."
Elizabeth Berkley posted, "I'm grateful to have gotten to create with Dustin when we were at the beginning of our dreams coming true. I will hold onto those sweet memories and the laughs we shared. He was a truly gifted talent. Rest In Peace."
And costar Tori Spelling wrote about sharing her first onscreen kiss with Diamond. "Dustin was my first on-screen kiss. He welcomed me with open arms onto the set of Saved By the Bell. As one can imagine being the newbie on a hit show was overwhelming for a 14-year-old girl," she posted on Instagram. "He not only showed me around but made sure I was always ok. Such a young gentleman. He was kind, smart, and always making everyone laugh. He was a great scene partner. He was a really good guy. I'm sad after the show we never had much contact aside from occasionally running into each other at events. I'm glad he's out of pain. He's an icon to me professionally and personally. RIP Samuel love, your Violet."
Below, more social media reactions to Dustin Diamond's passing:
This article was originally published on