Scarlett Johansson & Colin Jost's Relationship Timeline Is Decades In The Making
Saturday Night Live played a major role in their love story.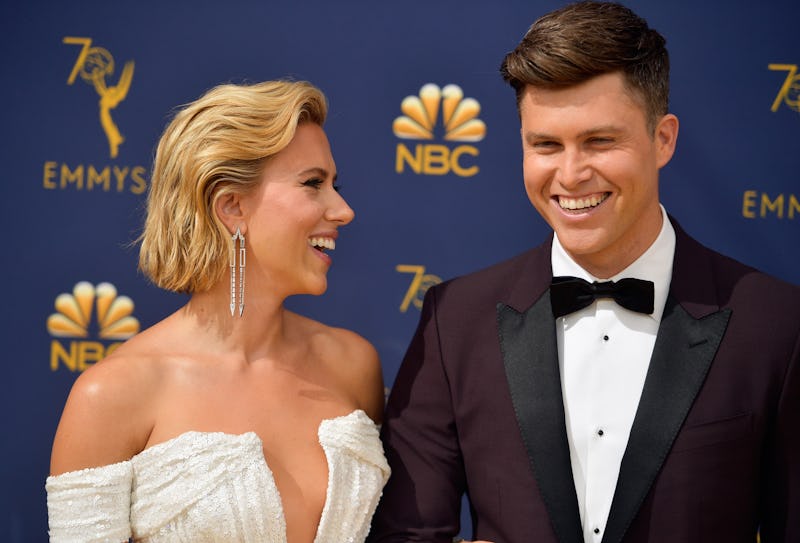 Matt Winkelmeyer/Getty Images Entertainment/Getty Images
It's been five years since they were first rumored to be dating, but now Oscar-nominated actor Scarlett Johansson and Saturday Night Live star Colin Jost are officially a married pair. They've known each other — casually, at least — since 2006, but the stars aligned many years after. That being said, their relationship timeline is definitive proof that good things can, in fact, come to those who wait.
It's pretty safe to assume that Johansson would probably consider herself a "relationship" kind of gal. Over the last decade, she's rarely been single for long, which might be one of the reasons (if not the reason) it's taken her and Jost a while to get together.
In 2005, Jost got his big break when he was hired as a writer for SNL. Shortly thereafter, in January 2006, Johansson made her debut as host on the sketch comedy show. Years later, Jost told Entertainment Tonight that was when he and ScarJo first crossed paths. Alas, he had to wait quite a while to make his move, as she was dating Josh Hartnett at the time. Johansson and Hartnett split in November 2006, but she wasn't single for very long. She was basically in back-to-back serious relationships — two of which led to marriage — from that point on.
Finally, in 2017, both Johansson and Jost found themselves single in the same place at the same time. In May of that year, ScarJo made another guest appearance on SNL, where Jost, of course, was employed. It seems as if this is when things for her and Jost finally clicked, and the rest, as they say, is history... a very long relationship history for Scarlett Johansson and Colin Jost, which you can revisit in all of its decade-plus glory below.
This article was originally published on