Scarlett Johansson & Florence Pugh Reveal How Their Black Widow Characters Have Changed
"This movie would've been so different if we made it ten years ago."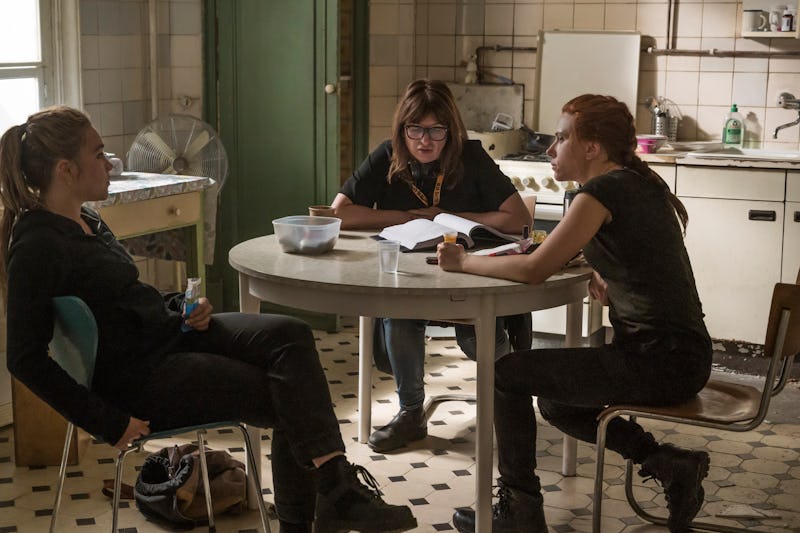 Walt Disney Studios
In less than a month, fans will finally be able to see the much-anticipated Black Widow. It's been over a decade since Scarlett Johansson started playing Natasha Romanoff in Iron Man 2, and this new film will give the character an origin story of sorts (as well as, spoiler alert, a fitting ending after her death in Avengers: Endgame). The film takes place after Captain America: Civil War, and follows Natasha's journey back to Russia to face her past. It also promises to officially "pass the baton" to Yelena (Florence Pugh), Natasha's "sister" and fellow Black Widow operative.
During a visit to Black Widow's set in September 2019, Johansson told Bustle that she was happy her character's standalone film arrived when it did. "This movie would've been so different if we made it ten years ago. It was a duller time, I think we can all agree on that," she said. "I'm actually very thankful that it's happening now, because we can actually make a movie that's about real stuff. I think [audiences] always wanted that, but now, you know, the studio's kinda caught up." She laughed, "Better late than never!"
Pugh's character in particular changed a lot during the development process. Yelena was originally written as an antagonist working against Natasha — but Johansson thought pitting the characters against each other was uninteresting and old-fashioned, so she worked to change their relationship.
"It just didn't feel like what I wanted to explore and I think really what audiences want to see. So as we [were] taking that feeling and running with that instinct, the relationship developed into what it is, which is grounded in a shared experience and a knowingness," Johansson said.
Pugh loves who Yelena became — in her words, "deeply annoying" but "ready to fight" — as well as the relationship she shares with Natasha. "I think that's one of the heartbreaks about this film is that it's eventually about women that have been abused — whether it's about a system, or physical abuse, they've all been, in some way, trapped," she says. "I think this film is the realization of the life that was taken from them."
And though Johansson's Black Widow is a long-established character, she's changed as well. The actor admits that she herself is in a different place from when she began playing Natasha; as the years have passed and she's become a mom, she's developed more evolved, forgiving attitude towards herself. Watching her character change in the same way has been empowering.
"You look back at Iron Man 2 and while it was really fun, the character is so sexualized — really talked about like she is like a possession or a piece of ass... Maybe at that time, maybe that actually felt like a compliment, because my thinking was different. Even my own self-worth was probably measured against that type of comment, like a lot of young women probably feel," Johansson said, adding that times have changed. "It's been incredible to be a part of that shift and be able to come out the other side and not just be a part of that old story but actually evolve."
In her Iron Man 2 days, Natasha's power is in her "sexuality," Johannson said. "And then that changed over time. Her strength was actually her vulnerability."
Black Widow hits theaters and Disney+ with Premier Access on July 9, 2021. Tickets are available now.