Secrets Of A Marine's Wife Explores The Real Life Murder Of 19-Year-Old Erin Corwin
She was killed at the hands of her secret lover.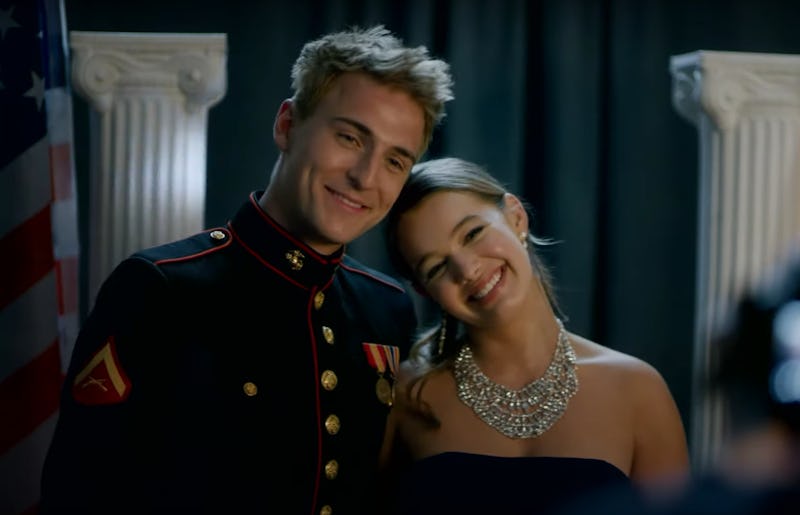 Lifetime
Lifetime is continuing its "Summer of Secrets" lineup with the June 19 premiere of Secrets of a Marine's Wife. The dramatic film is based on the true story of 19-year-old Erin Corwin's death at the hands of her secret lover — Marine Christopher Lee. According to CBS' 48 Hours, Corwin was living at the Marine base in Twentynine Palms, California with her husband, Marine Corporal Jon Corwin, whom she'd married at age 18 in late 2012. While there, she grew close to her neighbor Lee, who was living at the base with his wife Nichole and their 5-year-old daughter Liberty.
Eventually, Lee and Corwin struck up a romantic relationship. Per 48 Hours, Lee told investigators that they never did anything more than kiss, but friends of Corwin claimed that she was pregnant — and that the child was allegedly Lee's. According to Corwin's friends, Lee was excited about the baby, but it wasn't long after her alleged positive test that he killed her.
On the fateful June 2014 day, Lee took Corwin out into the desert of Joshua Tree National Park for what Corwin's friends claimed she believed was going to be a proposal, according to ABC 7. But instead of popping the question, Lee strangled Corwin and dumped her body down an abandoned mine shaft. It took nearly two months for investigators to locate her body in August 2014, but once they did, they found her remains surrounded by DNA evidence that tied Lee to the scene, per 48 Hours. Examiners were unable to determine if she had been pregnant since her body had been missing for so long.
Lee was arrested in Alaska, where he fled with his family after Corwin's disappearance, according to 48 Hours. People magazine reported that Lee initially pleaded not guilty but then recanted that to confess to an impulse killing. ABC 7 reported that Lee testified that he didn't kill Corwin because of the alleged pregnancy, but because Corwin allegedly confessed to molesting Lee's young daughter. "I made the decision to kill her," Lee said in court. "I was controlled by the anger. The hate I felt that day. It was something I never want to experience again."
However, 48 Hours reported that prosecutors rejected Lee's accusation, stating that Lee and his wife never placed a call to police regarding any alleged abuse of their daughter, and they didn't report anything to a doctor. Corwin's mom Lore Heavilin also decried the accusation about her daughter. "I cannot imagine putting your daughter's name into the public record to save yourself," she said, per The Desert Sun.
During his trial, Lee apologized for the crime, but claimed that Corwin's murder was not premeditated. However, the jury disagreed. The Desert Sun reported in 2016 that Lee was sentenced to life in prison without the possibility of parole for "murder and lying in wait," meaning that the jury believed he planned and lured Corwin to her death. Per California inmate records, Lee is still serving out his life sentence at the California Institution for Men in Chino. He's 31 years old.