This Lifetime Movie Tells The True Story Of A Suburban Mom Who Started An Escort Business
She raked in millions before being arrested.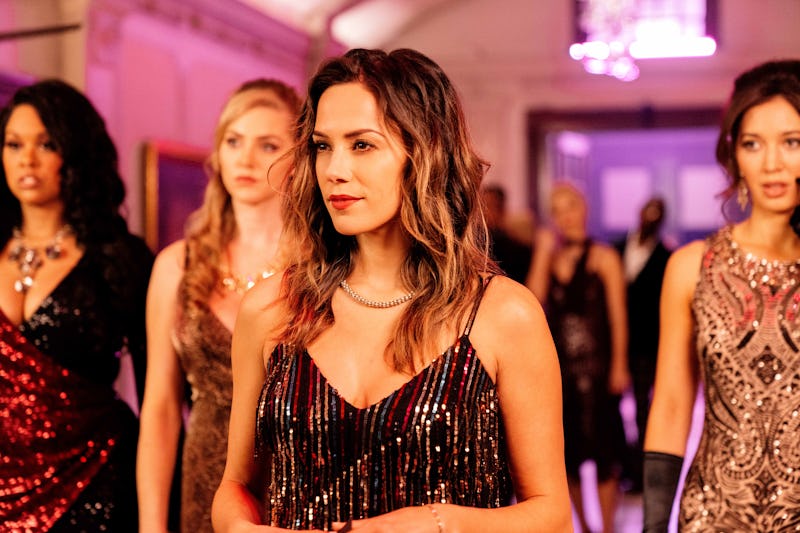 Lifetime
Lifetime's new movie Soccer Mom Madam tells the true story of Anna Gristina, a suburban mom who started a high-end escort service that raked in millions before she was caught. According to the Times Herald-Record, Gristina — who consulted on the film — said that she initially got into the business while working at her cousin's massage parlor and trying to escape an abusive relationship. "I had no choice," she said. "It was that or giving up my children."
At its height, Gristina's escort service was raking in $2,000 an hour. Per the Times Herald-Record, the client base included some of the richest people in the U.S., though Gristina refused to disclose any names after her arrest. According to the BBC, Gristina's operation started to unravel in mid-2011 when she reportedly arranged a meet-up between two escorts and an undercover police officer. She served four months in New York's Riker's Island prison before pleading guilty to one count of promoting prostitution. In late 2012, she was sentenced to time served and five years of probation.
Those five years have now passed, and Gristina has put her life of crime behind her. According to the Herald-Record, Gristina she lives on a pig fam in Monroe, Orange County with her son Nick and her 5th husband Joe. "I have a beautiful life now. I just want peace. I just want to move on," she told the outlet.
Of Soccer Mom Madam, Gristina told the Herald-Record that the movie takes some liberties with her life. For example, the fictional Anna has two kids and had only been married twice, while Gristina has four kids and was married to her fourth husband when she was arrested. The location of the story was also moved from Orange County, California to New York's Westchester suburb. These changes made actor Jana Kramer, who stars as Anna, feel more at ease in her role. "[Initially] I started freaking out as an actor because what if I don't live up to who she is and her mannerisms?" Kramer told the Lake Geneva Regional News. Knowing that the film was only inspired by Gristina's story and not an exact retelling helped to ease Kramer's nerves and allowed her to bring her own ideas to the character. "I wanted people to see that she was just doing the best that she could," Kramer said. "As a single mom, it's like, 'I'm going to do what I have to do to support my kids. It may not be what you like, but you know I have to do what I have to do.'"
Still, the details are similar enough for people who remember Gristina's story from 2012 to recognize it as the basis of the film. Such a public forum naturally puts Gristina back in the spotlight, but it's at least on her terms, and she's she's apparently become very good friends with the movie's executive producer Orly Adelson. "She's very unique, very honest," Adelson told the Lake Geneva Regional News, adding that Gristina often sends her photos of her pig farm. As Gristina put it to the Herald-Record, "I've come a long way."