The Creator Of Suri's Burn Book Never Got Burned
Ten years after the launch of Allie Hagan's infamous Tumblr, the writer reflects on how she found herself at the epicenter of celebrity blogging — and emerged relatively unscathed.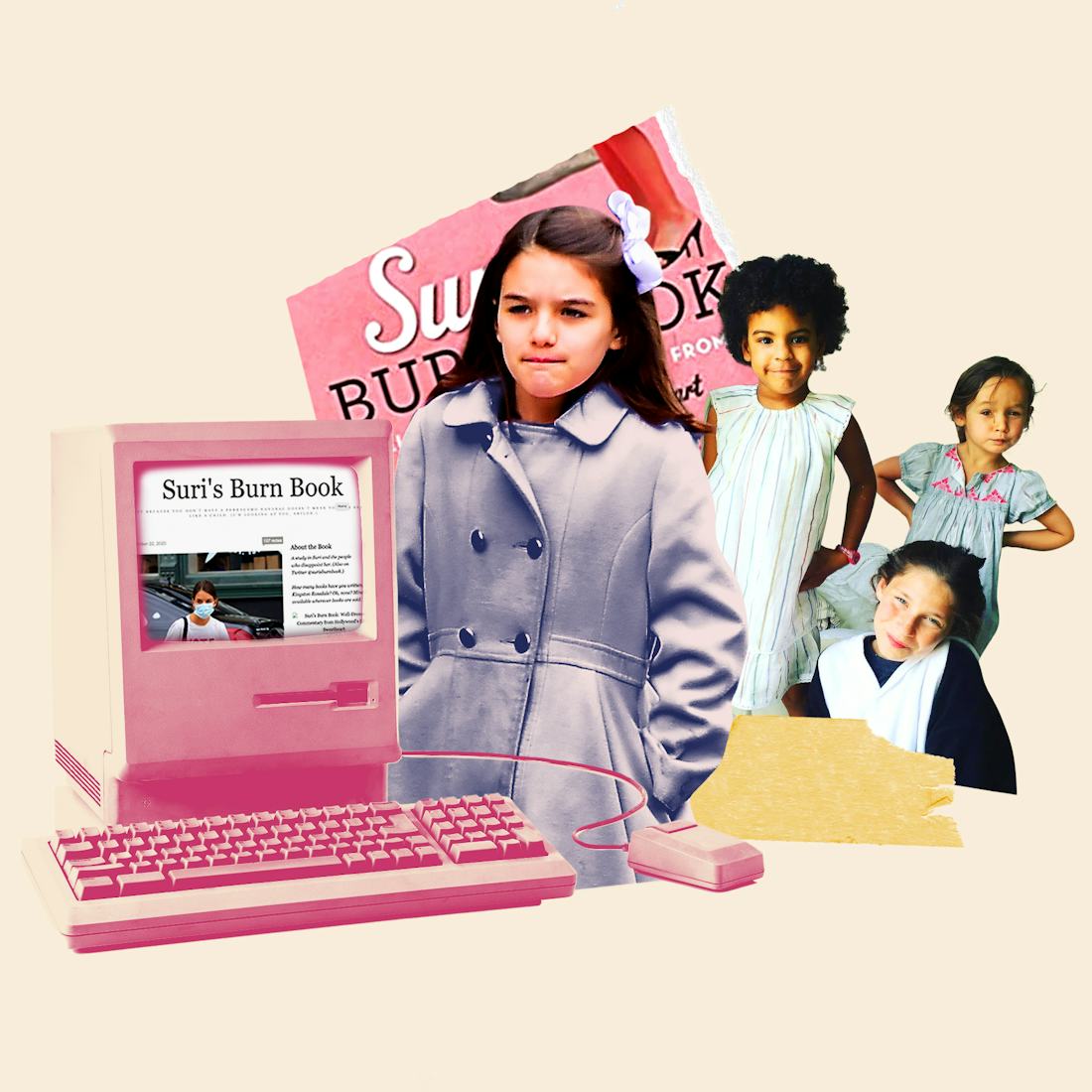 Writer Allie Hagan was a twenty-something policy consultant living in Washington, D.C., in the late aughts when she noticed a new trend among her favorite tabloids. Suddenly, in order to pump more content into their nascent websites, grocery-store-checkout-aisle staples like People and Us Weekly weren't just covering A-list actors and pop stars but the very tiny, very cute children of said A-list actors and pop stars. Photos of Brangelina's twins Knox and Vivienne Jolie-Pitt graced the cover of People in 2008, as did the announcement of J.Lo's twins, Maximilian David and Emme Maribel Muñiz. Hagan was amused by the tabloid's newfound toddler fascination, and she, too, saw the editorial potential. So she started a Tumblr dedicated to the luxurious travails of Hollywood's youngest paparazzi magnets in 2011. There was just one crucial element to figure out. "I knew that if I wrote it from the perspective of myself, it would just be kind of creepy and mean," she tells Bustle. "So I had the idea of like, 'Oh, what if I wrote it from the perspective of one of the [famous] kids?'"
Deciding which celebrity toddler to channel was easy. At the time, there was perhaps no baby more famous than Suri Cruise. The only child of Tom Cruise and Katie Holmes was a star from the moment she was born on April 18, 2006: Her official entrance into the world was shrouded in mystery, as Cruise reportedly insisted on a Scientology-approved "silent birth" for Holmes. Interest in baby Suri only increased when online gossipers alleged that she was a publicity stunt and didn't actually exist, until her baby photos — taken by Annie Leibovitz — made the cover of Vanity Fair. (Others theorized that she was the reincarnation of L. Ron Hubbard.) By age two, Suri was running around New York City with her parents, flashing fake $100 bills to the paparazzi. By three, she was wearing glittery silver high heels for a night at the ballet. By the time Suri turned five in 2011, Hagan had plenty of material to work with. Her anonymous Tumblr, Suri's Burn Book, was born.
Hagan thought her idea could be at least a fleeting success. Celebrity-focused Tumblrs like "Old Loves," which chronicled celeb couples from days past, were big on the platform. "Someone would have a funny idea and their Tumblr would be the biggest thing on the internet for 10 days, and then they would run out of steam because it's really just a quick joke," she says. "When I had that idea, I thought, 'Oh, this will be funny for two weeks.' And then celebrities just kept having babies and doing silly things, and I realized there was a lot more content."
Quite a lot more. As A-listers started playing ball with the tabloids and paparazzi, bringing their young children to movie premieres, dinners out on the town, and their daily coffee runs, there was no shortage of stories about the Jolie-Pitts or the Beckhams or the Parker-Brodericks on which to comment. Hagan began posting daily paparazzi photos of Suri and her famous-toddler peers with imagined commentary from the reigning tabloid princess herself. In Suri's Burn Book, no child of A-list actors was safe: the voice of Suri accused Violet Affleck of wearing hand-me-downs, criticized Harper Beckham's "lowbrow" Facebook birth announcement, and rolled her eyes at Apple Martin's "pattern clashing" beachwear.
In Suri's world, every celebrity child was disappointing: They weren't dressing nicely enough, their names were stupid, or they were taking the wrong kind of paparazzi photos. The tone was in line with other popular celebrity blogs of the day like Perez Hilton and Lainey Gossip — snarky, image-obsessed, and at times, very funny. Much like those gossip juggernauts, Hagan's quippy posts also quickly went viral, with Time naming her blog its "Tumblr of the Week," and Perseus Books Group offering her a book deal. Of course, there are posts and entries in the book that don't hold up. In the 2012 book of the same name — for which, upon publication, Hagan came forward as the author — Hagan-as-Suri details which celebrity families she thinks are "old money" and "new money," which is a class conversation you probably wouldn't have with as much glee in 2022.
Two years after Hagan started the project, the celebrity-baby landscape finally started to change. A-list parents including Halle Berry and Kristen Bell and Dax Shepard launched a campaign to block the paparazzi from taking photos of their children, while also discouraging tabloids from buying such photos. The campaign slowly changed the nature of celebrity baby coverage online and in the tabloids. Now, famous parents like Blake Lively and Ryan Reynolds, Mindy Kaling, and Gigi Hadid have opted out of putting their children in the spotlight, forcing tabloids to blur their kids' faces in paparazzi photos. Bloggers like Perez Hilton, too, have had to apologize for how they talked about those kids on their gossip sites.
"The internet in 2012 was just such a negative place," Hagan says, reflecting on the tone of celebrity gossip at the time. "I don't regret anything, but I definitely wouldn't even do that project now." That's not to say that no one would: writer Natalie Franklin currently runs the Instagram parody account "Nori's Black Book," which follows North West and boasts 1.6 million followers. She told E! last year that she was inspired by Hagan to create the account.
That lack of regret is also bolstered by the fact that Hagan emerged from the blog relatively unscathed. In all her years running Suri's Burn Book, she said she never heard from anyone in Holmes or Cruise's camp. She also says that no celebrity publicists or attorneys ever reached out to her or asked her to take anything down. "Tom Cruise was always known as being litigious. I for sure thought that something would happen there, but it never did," Hagan says. Though she does have theories as to why the blog didn't bother the actor. "Tom and Katie were clearly very, very public about Suri's life. There was definitely a PR strategy going on there, right?"
Even today, Hagan credits the blog, which she stopped posting regularly on in 2016, as the project that launched her into the entertainment world and started her professional writing career. The strength of her writing as Suri got her an entertainment manager in 2011; she went on to co-create the ABC legal drama Notorious in 2016 and made the Black List with her script When In Doubt, Seduce in 2017. She is currently working on multiple projects, including adapting Elin Hilderbrand's novel 28 Summers for the screen.
Hagan is also glad that despite the chaos of the mid-aughts, Suri has emerged relatively unscathed, too. In the years since her parents' divorce, Suri now appears to be a somewhat normal, confident teen. She has two chihuahuas, goes to a private school in Manhattan, and favors jeans and t-shirts over sparkly heels. Every so often, the paparazzi catch her walking to get an ice cream cone with her mom, but the fervor surrounding her every move has significantly subsided as she's gotten older. "I still have the Google Alert for Suri Cruise that I've never taken off," says Hagan. "There were pictures of her and Katie out today, and her life seems much more normal now. I'm glad for that."