Taj Atwal Struggled With The Line Of Duty Acronyms, Too
The star talks about her time in AC-12 and her upcoming role in The Syndicate.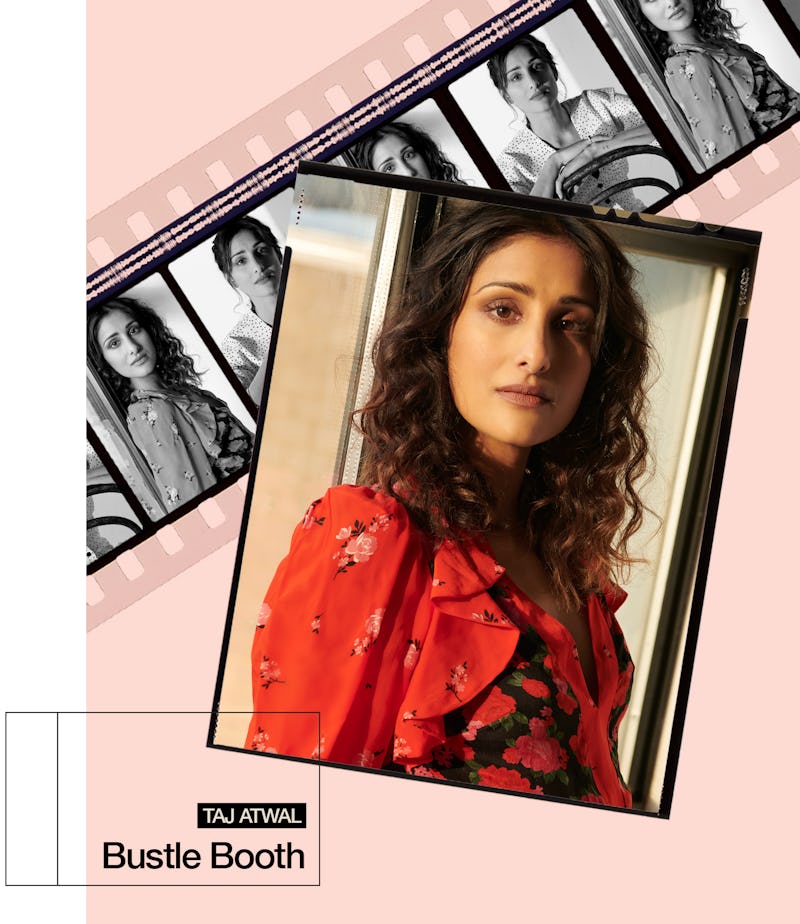 Joseph Sinclair
Taj Atwal always knew she wanted to tell stories. Growing up, she loved Jaqueline Wilson, and would regularly act out some of her favourite stories from the author. In the days since, her performances have progressed from the family living room and into mainstream television, with Atwal taking on roles in the BBC's Miranda and ITV's Van Der Valk, among other prestigious titles.
Atwal's most recent performance can be enjoyed in the fourth instalment of The Syndicate. The BBC drama arrives on our screens following a six-year hiatus, and centres on a group of Yorkshire kennel workers who believe they've been robbed of their winning lottery ticket. The cat-and-mouse chase to track down the culprit sees the group swap God's own county for the glamour of the French Riviera, where the syndicate find themselves in over their heads.
"There's something in it for everyone, it's like a big warm hug," Atwal teases of the forthcoming series, in which she appears as Woodvale Kennel worker Roxie Varma. "[Roxie] is loyal, empowering, warm, generous and fierce," the actor says of her latest role, revealing that what she loves most about the character is her willingness "to take life by the horns and do what's right for her."
Men Behaving Badly's Neil Morrissey and Strictly's Joe Sugg join Atwal in the cast of the returning drama. Despite a string of COVID-induced lockdowns throughout filming, the cast and crew managed to "knuckle down" and get the job done, Atwal says, adding that forming a work "bubble" made the team so much closer. "There was a lot more camaraderie than any experience I've ever had on-set."
Line of Duty fans might recognise Atwal as PC Tatleen Sohota from the show's hugely successful fifth outing in 2019. Reflecting on her AC-12 days, she recalls having a wonderful but "challenging" time on set, especially when getting to grips with the drama's script (in other words, all those pesky acronyms). "I found the dialogue very hard because there were words that I've never even said before." She continues, "I don't think I realised how big [Line of Duty] was until after it came out. People dissect every single bit of your character and the show. It was definitely an eye-opener for me."
Atwal recently revealed to Radio 5 Live that she had to step away from Line of Duty to join the Syndicate cast. "It was not an easy decision ... [but] I just wanted to play something different," she explained.
In between her days on set for The Syndicate and the hotly-anticipated romantic comedy What's Love Got To Do With It starring Lily James and Emma Thompson, Atwal spent much of the pandemic cooped up at home like the rest of us. And, when she wasn't marathoning The Marvellous Mrs Maisel, she utilised any free time to pen the early drafts of "a kind of biography."
"I'm a writer, so I would just sit and write. It felt like work to me and I'd set myself a full working day to give myself some structure. But, I didn't put pressure on myself or anything," she says.
One benefit of lockdown for Atwal has been the opportunity to reflect on the characters and genres she'd like to explore next. "I'd definitely like to try action and really push my body," she continues, "I'd also like to play a real-life person, like a biography of someone. I think that would be pretty cool." Offering specifics, she names prominent suffragette Princess Sophia Alexandrovna Duleep Singh. "I just think she would be absolutely fascinating to play."
Get to know more about Taj Atwal in her Bustle Booth below.
In The Bustle Booth
What's your coffee order?
It's hands down my pal Vivienne's coffee that she makes me in the coffee shop she works in. Soyboy Latte with lots of honey — decaf otherwise, OOOF, I'll be bouncing off the walls! It's the ONE!
What are the saved weather locations on your phone?
London, York, Nice, Las Vegas (even though I've never been!)
What's your sign?
Sagittarius sun, Aries moon, Virgo rising. Fire, fire and a little bit of earth to balance me out.
Favourite overused movie quote?
I don't know who started it or where it came from (or if it's even from a film) but me and my best mate Danny can't start or finish a conversation without saying "Er RUUUUUUDDDE" — it's not funny unless you hear us YELL it at each other.
What was your favourite cartoon as a kid?
The Flintstones. My brother and I once watched every single episode in one week as children on Cartoon Network.
What's one movie or TV show you're currently obsessed with?
The Marvellous Mrs Maisel!
Who is your celeb idol?
I don't tend to idolise anyone but I do admire Kathy Burke!
If you had to be on a reality TV show, what would it be?
Antiques Roadshow — does that count?
Go-to karaoke song?
I'm happy to murder any song at karaoke truthfully.
What's something that's inspiring you lately?
My siblings. My brother is a paramedic and I think he's a genuine hero while my little sister is just the most incredible young woman — I wish I was one-tenth like her when I was her age!
What is something you would want people to say about you?
"She's growing old disgracefully."