Taylor Swift's Full Fearless Tracklist Includes 6 New Song Titles
She made Swifties work for them first, though.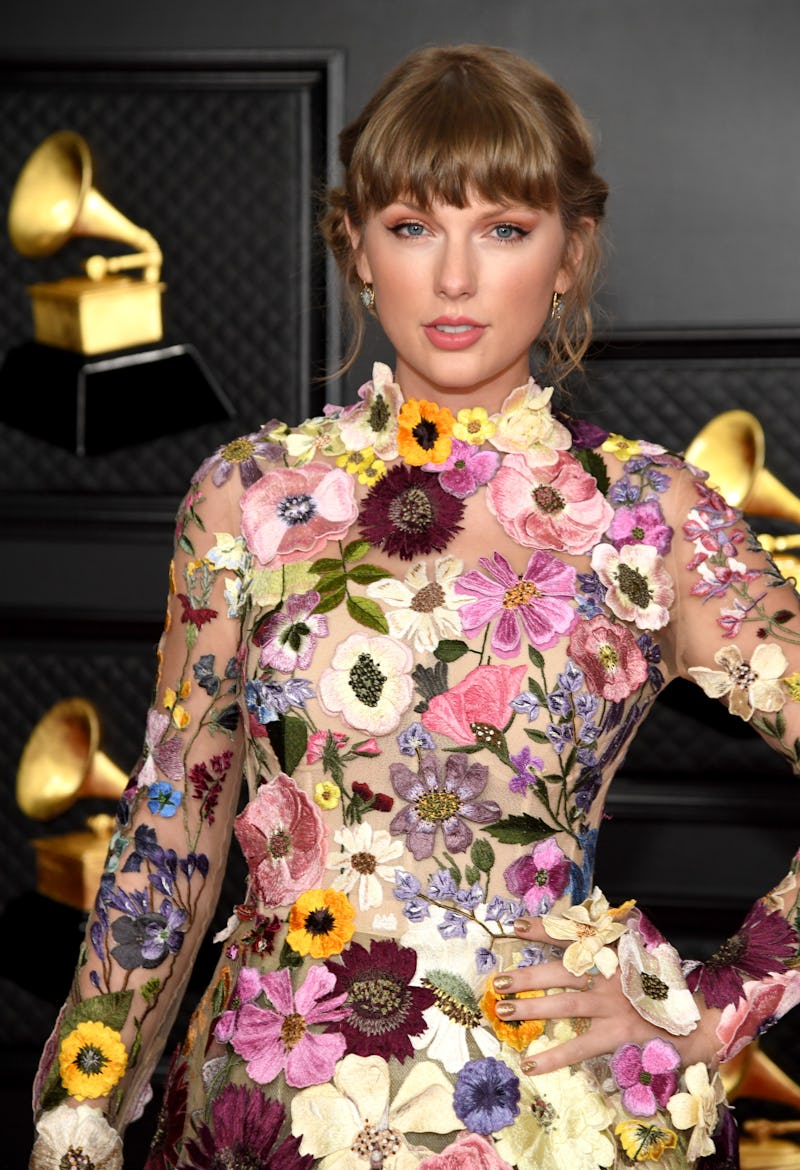 Kevin Mazur/Getty Images Entertainment/Getty Images
Getting a leg up on the Easter Bunny this year, Taylor Swift announced the Fearless (Taylor's Version) tracklist on Saturday, April 3 — but not before sending fans on an Easter egg hunt for the bonus track titles that appear on the re-recording of her 2008 album. Exactly 24 hours after the 11-time Grammy winner tweeted an expert-level decoding challenge ahead of new Fearless album's April 9 release, she confirmed that Swifties had "cracked the codes and guessed all the From The Vault titles."
In addition to the original 20 Fearless tracks (plus a "Love Story" remix bonus), the six new song titles are: "You All Over Me," featuring Maren Morris, "Mr. Perfectly Fine," "We Were Happy," "That's When," featuring Keith Urban, "Don't You," and "Bye Bye Baby." Many fans had already guessed that Swift collaborated with Urban, and the singer tweeted that she was "honored" to have the country star duet with her on "That's When" and also sing harmonies on "We Were Happy." As she further explained via Twitter, "I was his opening act during the Fearless album era and his music has inspired me endlessly."
"I'm counting down the minutes til we can all jump into this brave world together, filled with equal parts nostalgia and brand newness," she added in a third tweet, signing off with, "Head first, Fearless."
In announcing her Fearless decoding challenge on April 2, Swift tweeted, "The vault door is about to be as unhinged as you'll think I am after you watch this video," along with an anagram-filled video with scrambled song titles. As an added bonus, the singer also used a previously unheard track (playing backward, naturally) as the background music. Playing the 30-second video in reverse revealed a song with these lyrics: "'I ran into you somewhere / I didn't mean to stare / I hope she's never like me / I'm sure she'll make you happy."
The challenge was no match for her sleuthing fans, however. Swifties wasted no time putting on their detective hats, unscrambling the jumbled letters into the six bonus tracks' within mere minutes of her tweet. They did get one small head start, though: Swift already released "You All Over Me," featuring Maren Morris, making "EMNRA" (for Maren) a virtual freebie. Even so, one fan solved the entire puzzle, posting his handwritten code-cracking, within nine minutes. While one user opined that "Sherlock Holmes could never," others suggested Swifties should work for the FBI.
Swift had previously announced that the re-recording of Fearless was complete on Feb. 11, also unveiling the album's updated cover art. At the time, she included yet another of her secret messages to fans, capitalizing "random" letters throughout a lengthy note about how much the project means to her. "when i think bAck on the fearless album and all you turned it into, a completely voluntary smile creeps across my face," she began, later adding that "this process has been more fulfilling and emoTional" than she could've imagined. The capitalized letters, all together, spelled out "APRIL NINTH," the album's release date.
By now, Swifties have become pros at cracking Swift's not-so-hidden clues, and judging by this latest challenge, they're only getting better.