There's Still Reason To "Believe" In A Potential Ted Lasso Season 4
Here's what Jason Sudeikis and the rest of the cast have said about the show's future.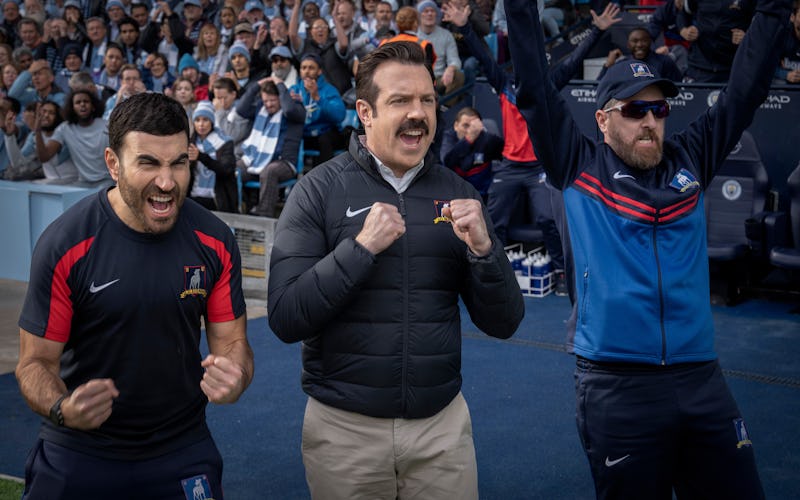 Apple TV+
The title of the Ted Lasso Season 3 finale — "So Long, Farewell" — might have revealed a "truth bomb" about the show's future. With AFC Richmond playing their final football match of the season, Ted could actually accomplish what he crossed the pond to do: "win the whole thing." That might also leave a natural opening for him to return to Kansas to reunite with his son, Henry. Either way, titular star Jason Sudeikis has said that the Emmy-winning Apple TV+ series was only ever meant to be three seasons. However, a potential Ted Lasso Season 4 doesn't seem to be totally off the table either.
"This is the end of this story that we wanted to tell, that we were hoping to tell, that we loved to tell," Sudeikis, who also produces the show, told Deadline in March. "The fact that folks will want more and are curious beyond more than what they don't even know yet — that being Season 3 — it's flattering. Maybe by May 31, once all 12 episodes of the season [have been released], they're like, 'Man, you know what, we get it, we're fine. We don't need anymore, we got it.' But until that time comes, I will appreciate the curiosity beyond what we've come up with so far."
Notably, the streamer never billed Season 3 as a series finale, but Sudeikis hinted that Ted Lasso could continue in the form of spinoffs. "I think that we've set the table for all sorts of folks to get to watch the further telling of these stories," he added. "Again, I can't help but take the question as flattery for what all of us that were working on the show has tried to do. It's really kind of folks to even consider that because you never know what's gonna happen when you make things. The fact that people want more, even if it's a different avenue is lovely."
In another March interview with E!, Sudeikis similarly seemed to be open to the possibilities beyond Season 3. "I think we have a talented enough writing staff, an incredible cast, tremendous production and post-production crew. They definitely have the ability and there's plenty of water left in that sponge to squeeze out," the actor said on March 7. "What happens beyond this, I won't know until this is all done." If a Ted Lasso spinoff is in the works, co-star Toheeb Jimoh, who plays Sam Obisanya, already has an idea, telling the outlet, "I want a show with Sam in the restaurant on Apple TV+. Let's make it happen."
Meanwhile, Nick Mohammed (Nate Shelley) noted that there's "no reason why it couldn't continue," and Hannah Waddingham (Rebecca Welton) joked about her tactic to make a fourth season happen. Admitting to E! at the 2022 Emmys that she didn't know if Ted Lasso was really ending, she joked, "Who knows? We'll put Jason in a darkened room with a notepad and paper and go, 'Do it!'"
Fellow cast members and writers Brett Goldstein (Roy Kent) and Brendan Hunt (Coach Beard) each previously confirmed that Ted Lasso was always intended to have a three-season run. While Goldstein joked to the Sunday Times, "Spoiler alert: Everyone dies," Hunt told Entertainment Weekly that he wasn't necessarily opposed to the idea of the show ending either.
"I think it would be pretty cool if, in the face of how much everyone likes this show, that we stick to our guns and really just do three seasons," he said in June 2021. "But even as committed to that idea as Jason may have been, none of us were prepared to the degree to which people love this show. Usually shows don't have that kind of effect if they say the word 'f*ck' so many times. We're kind of in no man's land here, still being discombobulated by the response and I think that could make hard-hearted old Sudeikis soften up a little bit. I will say that, whatever he decides, I will happily abide."
Don't stop believing, Ted Lasso fans.