The Bold Type Has Been Renewed For A Fifth & Final Season
The announcement comes months after star Aisha Dee criticized the show's lack of diversity.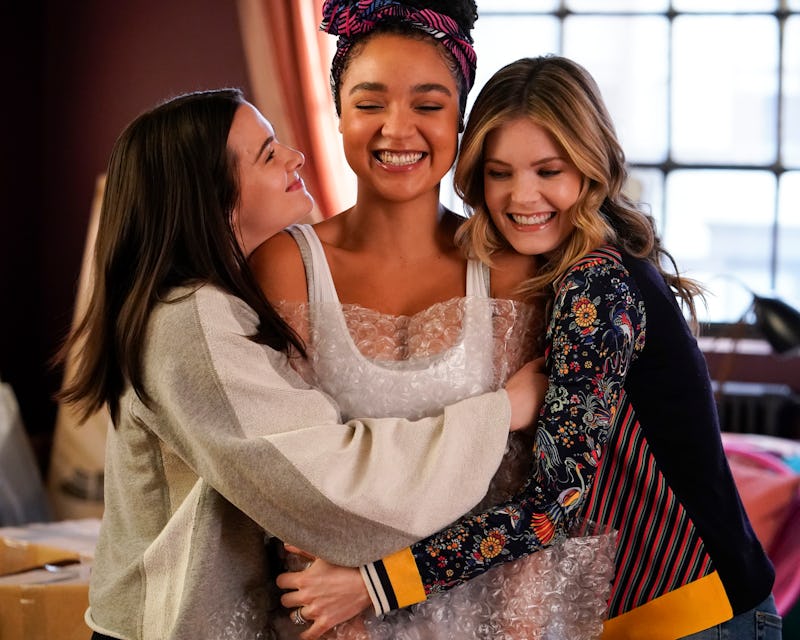 Jonathan Wenk/Freeform
Finally, the women of Scarlet will get the answers they've been looking for. The Bold Type has been renewed for Season 5, per Variety, which will also be the Freeform show's final season. The announcement comes months after Season 4 ended on a cliffhanger, as production was shut down due to the coronavirus pandemic with just 16 episodes completed, rather than 18, as originally planned.
While details about the final season — including its premiere date — are scarce, Variety states that Season 5 will pick up their story with Jane, Sutton, and Kat "on the brink of defining who they really are and how best to leave their mark on the world." According to Katie Stevens, who plays Jane, that will involve exploring some "heavier stuff life-wise," especially in the wake of the controversial Season 4 finale.
"You're definitely going to see them continue to battle up against their own deal breakers and figure out actually what they want and to have to listen to what's going on in their hearts," Stevens told Entertainment Tonight in July. "I think it's hard because these are all difficult conversations they're having to have and it's all really relevant to what we're going through right now in the world."
One particularly relevant conversation is about representation and ensuring that the show is just as diverse behind-the-scenes as it is onscreen. Aisha Dee, who plays Kat, called the show out ahead of the Season 4 finale for its lack of diverse voices in the writers' room and the way it affected the show's mission and storylines.
In a lengthy Instagram post, Dee called on the show to get more people of color and queer people in the writers' room and directing episodes. "The diversity we see in front of the camera needs to be reflected in the diversity of the creative team behind the camera," she wrote. "It took two seasons to get a single BIPOC in the writers' room for The Bold Type. And even then, the responsibility to speak for the entire Black experience cannot and should not fall on one person." She added, "In four seasons (48 episodes) we've had one Black woman direct two episodes."
Freeform and Universal Television responded to Dee's concerns in a statement to People. "We applaud Aisha for raising her hand and starting conversations around these important issues. We look forward to continuing that dialogue and enacting positive change. Our goal on The Bold Type is and has always been to tell entertaining, authentic stories that are representative of the world that Kat, Jane and Sutton live in — we can only do that if we listen."
In addition to their statement, Freeform made a last-minute change to the Season 4 finale to address Dee's criticism of Kat's new love interest, conservative pundit Eva (Alex Paxton-Beesley.) It remains to be seen how much Dee's callout will affect the show going forward, but hopefully the final season will bring more balanced representation behind the lens.
Additional reporting by Julia Emmanuele
This article was originally published on