The Devil All The Time Trailer Is Here To Unite Twilight & Spider-Man Fans
Netflix's new drama stars Tom Holland, Robert Pattinson, and Sebastian Stan.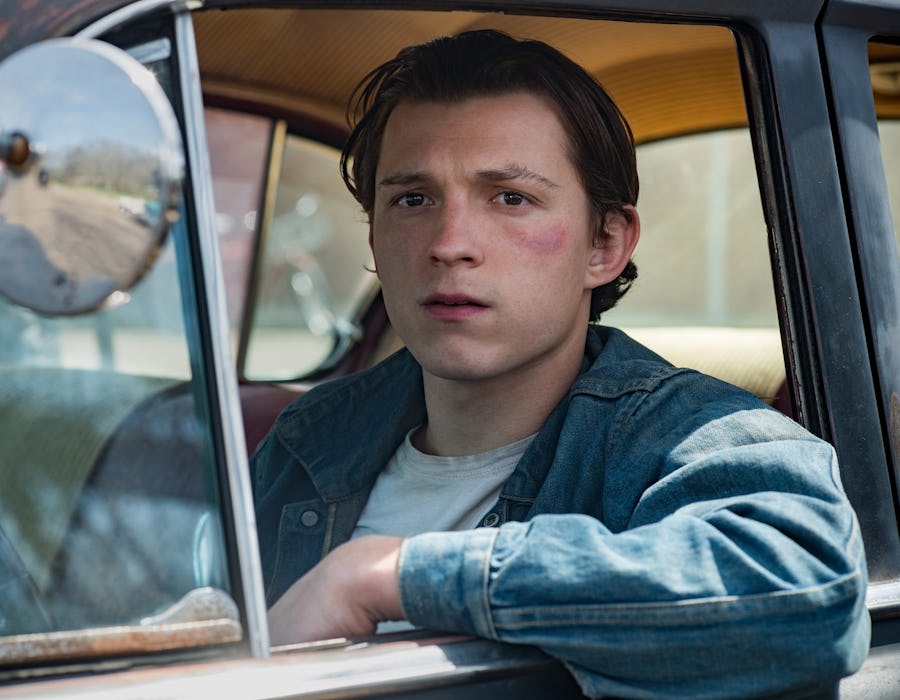 Glen Wilson/Netflix
Marvel stans and Twihards rise up: your time has come. On Thursday, Aug. 13, Netflix dropped the Devil All The Time trailer, bringing together Tom Holland, Robert Pattinson, and Sebastian Stan in a thirst-worthy drama. The film, based on the novel by Donald Ray Pollock, also features an A-list cast including Jason Clarke, Riley Keough, Mia Wasikowska, Bill Skarsgård, and Haley Bennett, among others, and will be available to stream on Sept. 16.
The Devil All The Time might star a dream-worthy cast, but based on the trailer, it might just inspire a few nightmares. The film follows Arvin Russell (Holland), a young man whose life has been marked by tragedy and death, and who becomes fixated on a sinister priest (Pattinson). There's also a creepy couple (Clarke and Keough) and flashbacks to Arvin's clearly traumatized father (Skarsgård) that hint at violent, twisted stories. Speaking to Entertainment Weekly, director Antonio Campos described the film as "a multi-strand narrative set between the end of World War II and the beginning of America's involvement in Vietnam in which a motley group of characters' lives all intersect."
So, no, this isn't another Marvel movie (though, it does reunite Spider-Man and The Winter Soldier). And while fans might be overjoyed at seeing heartthrobs Holland and Pattinson, they might also want to take a breath and remember that this movie is far from a thirst trap. It's just an intense drama — that happens to make the internet very, very thirsty.
Of course, that hasn't stopped fans on Twitter from thirsting away. This is one of the only movies coming out right now (thanks, coronavirus), and it does feature an incredible cast, so, really, who can judge?
So, thirst away, audiences, for soon, thanks to coronavirus delays, we will all live in a reality where the next Tom Holland or Robert Pattinson movie is months, if not years, away. We might not get Tenet, but Devil All The Time will do just fine, thanks.