Invincible Has Tricks For Its "Savvy, Superhero-Literate" Viewers
Amazon Prime's new animated superhero series comes from one of the comics' co-creators, and he planned some surprises.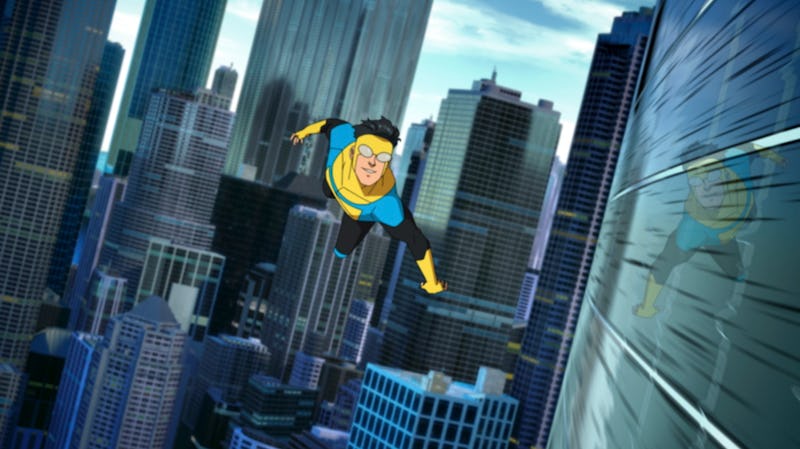 Courtesy of Amazon Studios
Amazon Prime's new animated superhero series Invincible tells the coming-of-age story of a teen named Mark Grayson (voiced by Steven Yeun) who is thrown into the world of super-powered heroes and villains — and of course, things aren't as they first seem. Although the cartoony visual style of Invincible may lead some viewers to believe that the series will be some classic family-friendly superhero fun, be sure to prepare yourself for plenty of violence, guts, and gore a la The Boys, not to mention surprises.
In both the comics and the television adaptation, Mark is the son of Deborah and Nolan Grayson — who also happens to be Omni-Man, one of Earth's most powerful and beloved superheroes. On Mark's seventh birthday, his father reveals his secret identity to him, telling Mark that he is a member of a super-strong alien race fighting to protect innocents across the universe. Although Mark worries he won't inherit his father's abilities or live up to his legacy, his own superpowers of super-strength and speed, the ability to fly, and general invulnerability, among other things, finally start to appear once he turns 17, leading him to eventually take on the alias Invincible. Unsurprisingly, Mark soon gets into the family business, attempting to balance the angst of regular teenage life with learning how to use his powers and fight evil — whatever form it might take.
According to Robert Kirkman — the man responsible for co-creating and writing the Invincible comics that the Amazon adaptation is based on — the series relies on the general public's awareness of more traditional superhero tropes and storylines in order to subvert expectations. "We have a very, very savvy, superhero-literate audience that exists in this world today," Kirkman told Syfy Wire in a recent interview. "And Invincible is going to be able to trick them into thinking certain things are going to happen in this show that absolutely do not happen in this show. We wouldn't be able to do that if the audience wasn't so superhero-literate. So it's really a great time for the show to exist."
Kirkman, who was also responsible for creating The Walking Dead comics (as well as producing the television adaptation), is a writer and executive producer on the Invincible adaptation — a choice that will likely soothe the anxieties of fans of comic fans worried that the series won't be faithful to the source material. "When [executive producer Simon Racioppa] and I sat down to map out the season, it was very much a process of, 'Here is the starting point issue and here's the ending point issue and this is the final moment of the season. And we're going to build to that moment the same way we did my comic, but we're going to change it here, here, here, here and here,'" Kirkman explained. "But at the same time, there are other elements from the series that are pulled in, so we're rearranging things a little bit. There's some slight editing going on here, so if you're a fan of the comic books, you're gonna get a lot more than you may expect."
The Invincible comics ran from 2003 and 2018, and during that time produced 144 issues, giving the creators of the series plenty of material to work with while developing the first season — and leaving room for the possibility of more seasons in the future.
The first three episodes of Invincible premiere March 26 on Prime Video, and more will follow weekly through April 30.