The Irregulars' Royce Pierreson Had The Worst Pre-Audition Experience
But still went on to be cast as Dr. Watson in Netflix's upcoming Sherlock Holmes adaptation.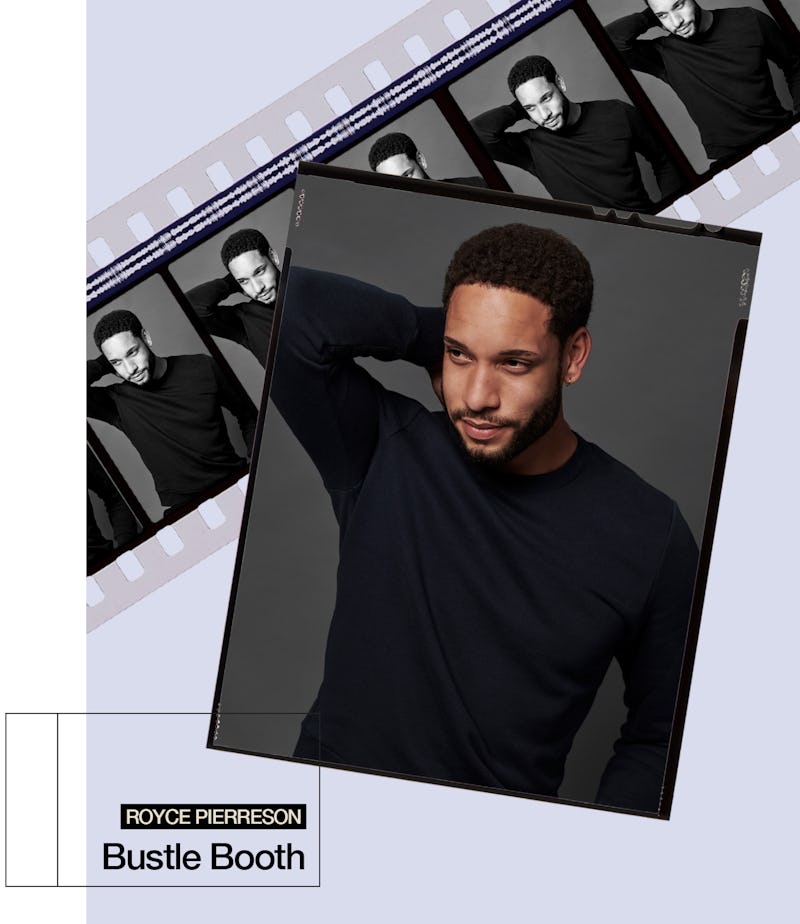 Like many kids in the UK, Royce Pierreson grew up with Arthur Conan Doyle's Sherlock Holmes on his mum's bookshelf. He loved the stories as a child so, when he got the phone call to say he might have the chance to play Doctor Watson, the pressure was on.
But in the run up to his audition for Netflix's Sherlock adaptation, The Irregulars, Pierreson remembers being strangely calm.
"As the days pass and you're waiting for your audition, you're also waiting for the nerves to hit. They always do. But they didn't hit me and I woke up on the day of the audition feeling really good," Pierreson tells me over zoom a few days before The Irregulars' premieres on March 26.
"I got to the audition [and] for the first time ever I had no nerves. I was so confident." Unfortunately, this good feeling was about to run out.
"I had two minutes to go and then I was sick in the hall," Pierreson recalls, laughing. "There were the nerves. And I had a minute to get it together!"
Clearly, Pierreson more than got it together. He seriously impressed and went on to be cast as Sherlock's most loyal companion, stepping into shoes previously filled by the likes of Martin Freeman, Jude Law, and Lucy Lui. Pierreson says it's an honour to stand alongside these actors but he also wanted to find his own version of the doctor. It all started with the voice.
"I knew the voice straight off. I based it on Roger Lloyd Pack, who plays Barty Crouch Senior in Harry Potter and Albert Finney's Scrooge," Pierresson says, "My Watson is a guy who had to adapt to his situation so his accent is almost not his own. When you hear him, something doesn't quite add up."
Voice has alway been a tool Pierreson uses to get into character and was particularly helpful when he took on the role of Reece in BBC Three's Murdered By My Boyfriend, in 2014.
"When I did Murdered By My Boyfriend I'd never done a Nottingham accent before and as soon as I got it, I was in that guy's head," he says. Speaking about this importance of this project, he says: "I knew this story needed to be told in the right way. I remember getting an email from the police afterwards to say someone had come into the station covered in bruises. She'd watched the show and found the strength to leave. That's the power of art."
Pierreson says he makes a conscious decision to take on roles and projects that mean something to him or get him excited in some way. In 2016 he played Dr. Jamie Cole in Our Girl and he's also starred in Line of Duty, Wanderlust, and The Witcher.
Alongside acting, Pierreson's established his own production company TKTK to tell the stories that are meaningful to him. "There's a project we've been working on for a couple of months. The character is a forgotten hero and it deals with race, football, and the war. It's been on my radar for seven months and I can't wait to tell that story," he says.
It'd seem that in a time when things have come to a stop, Pierreson has got a lot of exciting things in the pipeline.
Get to know more about The Irregulars star below.
In The Bustle Booth
What's your coffee order?
I don't like the taste so don't really drink it. Nut first time I ordered in Starbucks I asked for "a double cortado" the guy said, "um, do you know a cortado is a double. You really want a quadruple cortado?" So now I just order a double espresso, no milk, hold my nose, toss it back and try not to think about the taste.
What are the saved weather locations on your phone?
Didn't know I could do that.
Favorite overused movie quote?
All The President's Men – "As usual, that keen mind of yours has pegged the situation perfectly. Except (a) it wasn't local Democratic Headquarters, it was National Democratic Headquarters and (b) these weren't just any idiots, these were special idiots, seeing as when they were arrested at 2:30 this morning, they were all wearing business suits and Playtex gloves and were carrying a walkie-talkie, forty rolls of film, cameras, lock picks, pen-sized tear gas guns, plus various bugging devices. Not to mention over two thousand dollars, mostly in sequenced hundred dollar bills."
I'm kidding! It's "That'll do donkey...that'll do" from Shrek.
What was your favourite cartoon as a kid?
The Simpsons. To this day it's still one of my favourite shows. It has so many nuances so many brilliantly observed cultural references. As a kid I remember enjoying the surface humour, but as I grew up I realised the level of detail and complexity throughout the show. Theres a reason it's the best show of all time!
What's one movie or TV show you're currently obsessed with?
There's two. When They See Us has some of the most unbelievable acting you will see. The Painted Bird is a Czech film shot in black and white film negative. Incredible cinematography but be prepared to witness something!
Who is your celeb idol?
Denzel Washington because he's the GOAT.
If you had to be on a reality TV show, what would it be?
Um.......
Go-to karaoke song?
"Crazy" by Gnarls Barkley.
What's something that's inspiring you lately?
The work thats going in to roll out the COVID-19 vaccine. Since the pandemic started, it's been set back after set back with no end in sight, the news was a constant reminder how far away we were from nearing the end of it all. I've spent many, many months in hotels this past year for work, so I've watched a lot of news and it's been depressing and sad, the anxiety has been through the roof. But now seeing how efficiently the vaccine has been rolled out and seeing genuine light at the end of the tunnel, its definitely inspiring. Massive thank you to everybody on the front line for everything they've done. You're all heroes.
What is something you would want people to say about you?
Honestly nothing, I don't want for that. I want people to talk about the work I do and be moved by that. That's why I act. To try to understand the complexity of the human mind and portray that as truthfully as I can. When I see acting like that, it affects me. That's what I'd hope people saw in me.