The Office Left Netflix & There's A Catch If You Want To Watch It For Free
Anyone have a Peacock login I can borrow?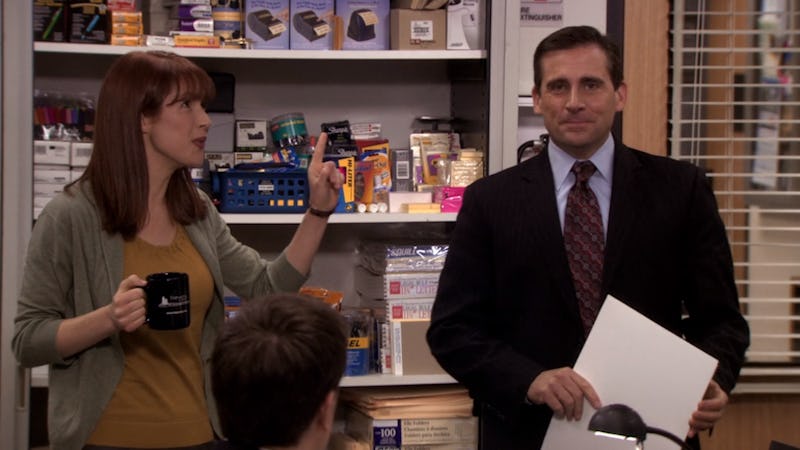 NBC
As Michael Scott once said, "All I can do right now is put on a brave face." But at the moment, the aforementioned feels less feasible than listening to James Blunt's "Goodbye My Lover" on repeat to cope with the following unnerving news: The Office officially left Netflix on Jan. 1, 2021. Of course, the initial news of our beloved Dunder Mifflin Paper Company's employees' move to NBC's newest streaming platform had been discussed several months back, to the heartbreak and dismay of Netflix users. But it's not going far. Beginning this month, all nine seasons of NBC's cult-favorite workplace comedy will leave Netflix and be exclusively available on Peacock, NBCUniversal's streaming service.
In April 2019, Netflix had originally announced that the series would remain until 2021 "at least!" Given the new solidified time frame, it appears as though NBC couldn't wait to pick up the TV classic. In NBC's official press release on the move, Bonnie Hammer, chairman of NBCUniversal DTC and digital enterprises, said of the decision, "The Office has become a staple of pop culture and is a rare gem whose relevance continues to grow at a time when fans have more entertainment choices than ever before. We can't wait to welcome the gang from Dunder Mifflin to NBCUniversal's new streaming service."
According to findings from The Wall Street Journal, The Office served as Netflix's most-watched show in a 2018 list, so this is a major loss for the popular service. While its departure is more solemn than the death of Angela's beloved cat Sprinkles, fans can take solace in the fact that our beloved Dunder Mifflin employees will still be available to stream.
We know you're wondering, so here's exactly how to watch The Office online now: If you're willing to pay, you can sign up for a Peacock subscription. As Decider noted, Peacock Premium will set you back $4.99 per month and includes access to every The Office episode as well as bonus content. If you don't want to be bombarded with ads, Peacock Premium Plus, which costs $9.99 per month, may be a better fit. If you're on the fence about paying to watch The Office, you can watch the first two seasons for free as long as you sign up for Peacock with your email. It's a tough choice, but what are you gonna do? Not watch the rest of The Office or wait for it to come on live TV? Decisions, decisions...
This article was originally published on