The Queen's Marking The Late Prince Philip's 100th Birthday In The Sweetest Way
June 10, 2021, would have marked Phillip's 100th year.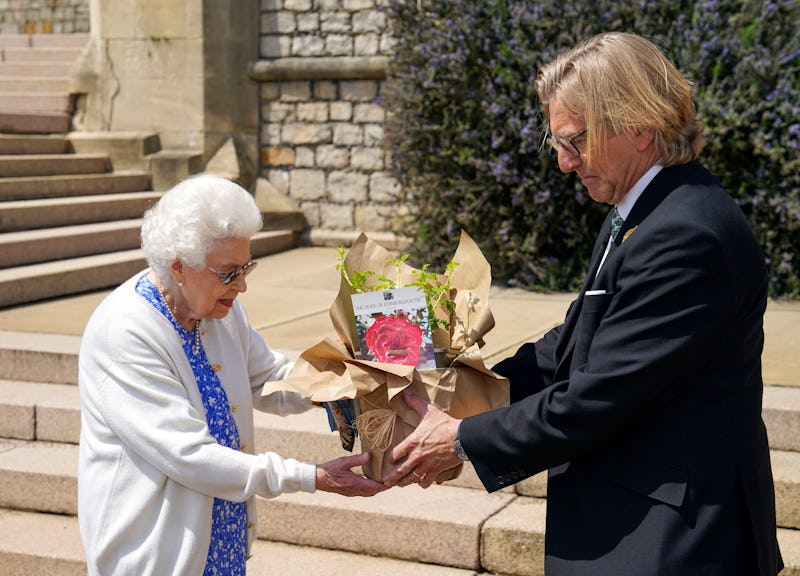 STEVE PARSONS/AFP/Getty Images
The Queen has been given a special rose to mark what would have been Prince Philip's 100th birthday today. Two months after the death of The Duke Of Edinburgh, the Royal Horticultural Society and Harkness Roses have created a rose in honour of his birthday, which has now been planted within the grounds of The Queen's home at Windsor Castle.
The rose was presented to The Queen by Keith Weed, the president of the Royal Horticultural Society, before being planted in the East Terrace Garden at Windsor Castle, as HRH looked on. She commented that the rose "looks lovely" and that it was a "very kind" tribute.
The rose — which is a dark pink hue, is double flowered, and has delicate, dappled white lines —is "a commemorative rose for all the marvellous things that he [Prince Philip] did over his lifetime and for everyone to remember so much that he did," according to Weed.
The rose now lives on at The Queen's home, and is expected to reach around 70cm as it grows.
Members of the public can buy their own version of the special flower online at Harkness Roses, either potted for £14.99, potted, gift wrapped for £18.74, or in a Gardeners Pack for £60. From every sale of the rose, £2.50 will be donated to the Duke of Edinburgh's Award Living Legacy Fund.
Prince Philip died on April 9, 2021. He was later laid to rest on April 17 after a socially distanced funeral attended by immediate family members such as Prince Charles, Prince, William, Prince Harry, and of course, the Queen herself, who sat alone in the front row during the service.