The Haunting Song From Them Has A Long History
It was first published in 1860.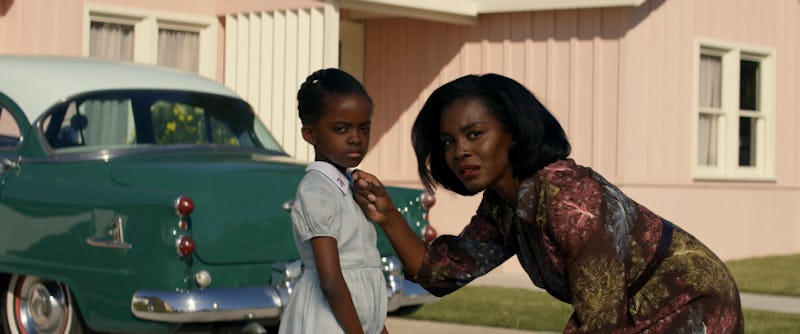 Amazon Studios
In the opening scene of Amazon's new thriller Them, Livia "Lucky" Emory (Deborah Ayorinde) steps onto her porch to find a white woman wandering up the dirt road. After the stranger explains she was "just out walkin' around" when she saw the Emorys' "beautiful home," she inexplicably begins singing a song: "Gone are the days when my heart was young and gay. Gone are my friends from the cotton fields away..."
The woman explains that her "daddy used to sing that" to her, asking if Lucky loves the song as much as she does. But Lucky has never heard it. So the woman continues: "Gone from the Earth to a better land I know, I hear their gentle voices calling "Old Black Joe." (Yes, she puts extra emphasis on the word "Black.") After a sinister grin appears on the stranger's face, the mood quickly shifts, sending Lucky inside to tend to her crying baby while telling the visitor to leave immediately.
Though viewers don't find out what horrors occurred in the following moments for several more episodes, the song is heard again on the family's second day in their new home in Los Angeles. While in her bedroom, Lucky's youngest daughter, Gracie Jean (Melody Hurd), tells her that a fictional literary character named Miss Vera taught her a song, and she begins singing "Old Black Joe." The music triggers Lucky, and sweet Gracie even appears possessed. An agitated Lucky demands that Gracie tell her who taught her "that terrible song," but she insists it was Miss Vera.
The song Gracie is singing is "Old Black Joe" by Stephen C. Foster, a controversial figure who the Library of Congress dubbed "one of America's principal and most influential songwriters." According to The Washington Post, Foster built his career writing music for blackface acts and minstrel shows, and many of his songs contained racist ideas. Though he eventually eliminated Black dialect from the lyrics of his works, some — like "My Old Kentucky Home" and "Uncle Tom's Cabin" — became "vehicles for virulently derogatory images" of Black people, according to the University of Pittsburgh.
"Old Black Joe," in particular, was published in 1860. According to The Minnesota Heritage Songbook, though it sounds like a plantation song — and has been treated as one — Foster "wrote it in proper English, not dialect" and there "is no direct reference to slavery." Foster reportedly based Joe on a servant who worked in the Pennsylvania home of his wife Jane McDowell's father. The real Joe died before the song was released, but Foster made good on his promise to "put him into a song" anyway, Joanne O'Connell wrote in her dissertation for the University of Pittsburgh.
Decades later, such musicians as Bing Crosby and Jerry Lee Lewis re-recorded "Old Black Joe," which appeared on TV as recently as a 2000 episode of Comedy Central's Strangers with Candy. The painful era the song evokes, however, adds a much darker chapter to its long legacy.