Everything We Know About A Possible Season 2 Of The Summoner
More misadventures could be ahead for Rory and The Summoner.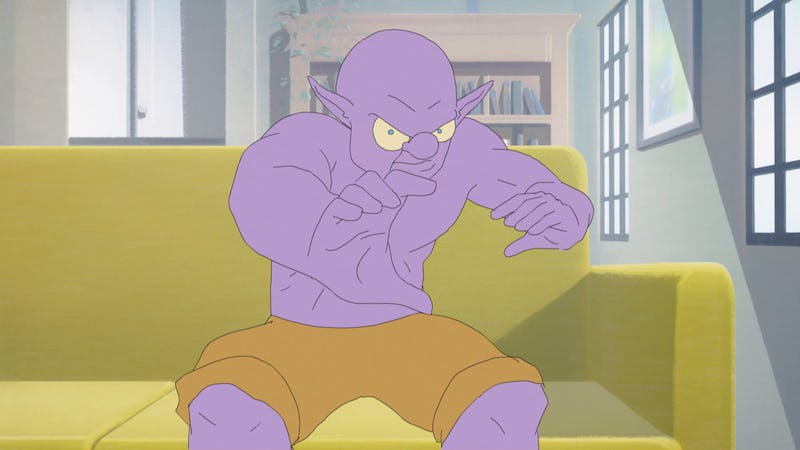 SYFY
Now that Rory and the titular "planet's best worst roommate" have wrapped their first installment of all-too-brief misadventures, fans are naturally eager to know if The Summoner Season 2 will become a reality. Although Syfy has yet to make either a renewal or cancellation announcement, creator Charlie Hankin, who also voices both main characters, called Season 1's 10-episode, five-minute-long batch of episodes "a massive labor of love," and thanked his collaborators and the network for "building this crazy thing" with him.
Based on Hankin's 2017 short film of the same name, the series centers on twenty-something Rory, who's living on his own for the first time in a small two-bedroom apartment with The Summoner, a magical alien that has the ability to well, summon any object to his present location — though he never uses his power for anything useful. The Summoner, which also stars Cree Summers, began production in Summer 2020 before premiering on March 17.
Finding the show a home on Syfy's TZGZ late-night animation block ultimately allowed Hankin, who's also an illustrator for The New Yorker, to expand upon what he'd created in his original short. "Being able to do 10 episodes and sort of chaining them together like that does give you something that's more than the sum of its parts," he explained during a recent Bubbleblabber interview. "So hopefully when people watch the show they are rewarded for sticking with it and going through all 10 episodes and seeing characters who grow and evolve in a way that you can't necessarily pull off on one quick-hit short video that's just designed to live on social [media]."
Hankin further admitted that it was "a challenge trying to fit so much story into such short episodes," which could bode well for a potential second season, at least from a creative standpoint. Regardless of The Summoner's future, however, he added that he's continued "doing animation for fun" and has some personal projects, including a new short that's currently in the works.
Robot Chicken creators Matthew Senreich and Seth Green's Stoopid Buddy Stoodios produced the series. In a statement, Senreich expressed admiration for Hankin when Syfy greenlit a straight-to-series order last August. "We've been a fan of Charlie's work for The New Yorker for quite some time," he said. "We love the offbeat, observational humor of his comics, and can't wait to bring his singular voice and design sensibilities into the world of animation as part of the [SYFY] lineup."
Similarly, the network seemed to be fans of both the show and its producers. "The Summoner is a perfect example of how we're experimenting with content for TZGZ by continuing to add smart stories from unique voices, but also playing with different formats and new animation styles, like Charlie's distinctive hand-drawn look," Syfy exec Jon Cotton added in a separate statement. "Working with Stoopid Buddy Stoodios on this project was a no-brainer, given their track record for creating some of the buzziest adult animation out there."
Only time will tell if they decide to summon the show for a Season 2.