Tina Turner Still Has Nightmares About Her Marriage To Ike Turner
The icon revisits their tumultuous relationship in HBO's Tina.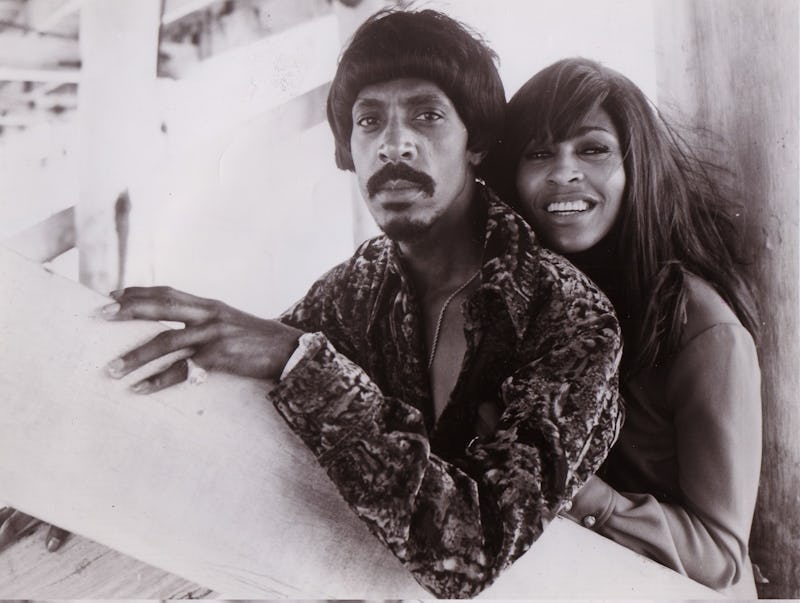 Gilles Petard/Redferns/Getty Images
Content warning: This article discusses domestic abuse and suicide. Through new and old interviews, HBO's new documentary Tina puts Tina Turner's marriage to Ike Turner back at center stage. In the film, the Queen of Rock 'n' Roll — now 81 — describes how Ike would beat her before sex and then force her to go out on stage and perform. "I was living a life of death," Tina says in the film, admitting she attempted suicide in 1968.
Before the couple became a famous R&B duo, Tina started her career with Ike, who died in 2007, in his Kings of Rhythm band in the 1950s. They married in 1962, but in lieu of a fancy wedding, Ike drove them from California to Tijuana in order to find "the Mexican version of a justice of the peace," according to the BBC. Tina later told the Mail on Sunday that Ike took her to a brothel on their wedding night. "People can't imagine the kind of man he was — a man who takes his brand new wife to a live, pornographic sex show right after their marriage ceremony," she said.
Before Tina left Ike in 1976, their marriage had been rife with allegations of abuse. While struggling to establish herself as a solo artist in 1981, Tina spoke publicly about her ex-husband and manager's control over her personal and professional life in a tell-all interview with People magazine. After Ike discovered her as a teenager, Tina claimed he later withheld her finances, beat her with a shoe stretcher while she was pregnant, and burned her with scalding coffee. "I wanted to stop people from thinking that Ike & Tina was so positive, that we were such a great team," she tells Oscar winners Dan Lindsay and T.J. Martin in Tina of the candid interview. "So I thought, if nothing else, at least people know."
While making the HBO doc, Lindsay's curiosity was piqued by the fact that Tina's People interview pre-dated her time as a "real public figure" in the media. "We realized that the motivation on Tina's side was that she was having trouble getting the record industry to disassociate her from Ike," Lindsay recently told Vanity Fair. "So she thought this would be an opportunity to tell the truth of her relationship with Ike as a means to kind of separate from him. The irony, obviously, being that that decision, in some ways, cemented her identity with Ike in a way that she was never able to really detach from."
Wanting to be sensitive to Tina's trauma, Lindsay and Martin relied heavily on archival footage and audio of the singer talking about Ike. "In meeting Tina early on, we kind of became aware of the complicated relationship she has to her own story…. What is clear in talking to her is that she is making an active choice every day to continue to survive," Lindsay explained. "Revisiting that time can be very traumatic for her. And it oftentimes comes up in dreams or nightmares, and it's like she's reliving that stuff for the first time again…. We were very aware that that is something that she is still dealing with."
As Lindsay pointed out, many people saw Tina's "What's Love Got to Do With It" single going No. 1 in 1984 as a triumphant ending to her story, "as if everything [was] solved as a result of that." As Tina shows, however, in many ways it was only the beginning of her journey toward healing.
If you or someone you know is experiencing domestic abuse, call 911 or the National Domestic Violence Hotline at 1(800) 799-SAFE (7233) or visit thehotline.org.
If you or someone you know is experiencing suicidal thoughts, call the National Suicide Prevention Hotline at 1-800-273-8255 or text HOME to the Crisis Text Line at 741741. You can also reach out to the Trans Lifeline at 877-565-8860 or the Trevor Lifeline at 1-866-488-7386, or to your local suicide crisis center.