Add Some Meaning To Your Halloweening™
Trick-or-Treat for UNICEF Just Got A Digital Makeover. Here's Why That's A Good Thing.
The history, impact and makeover of one of Halloween's most cherished traditions.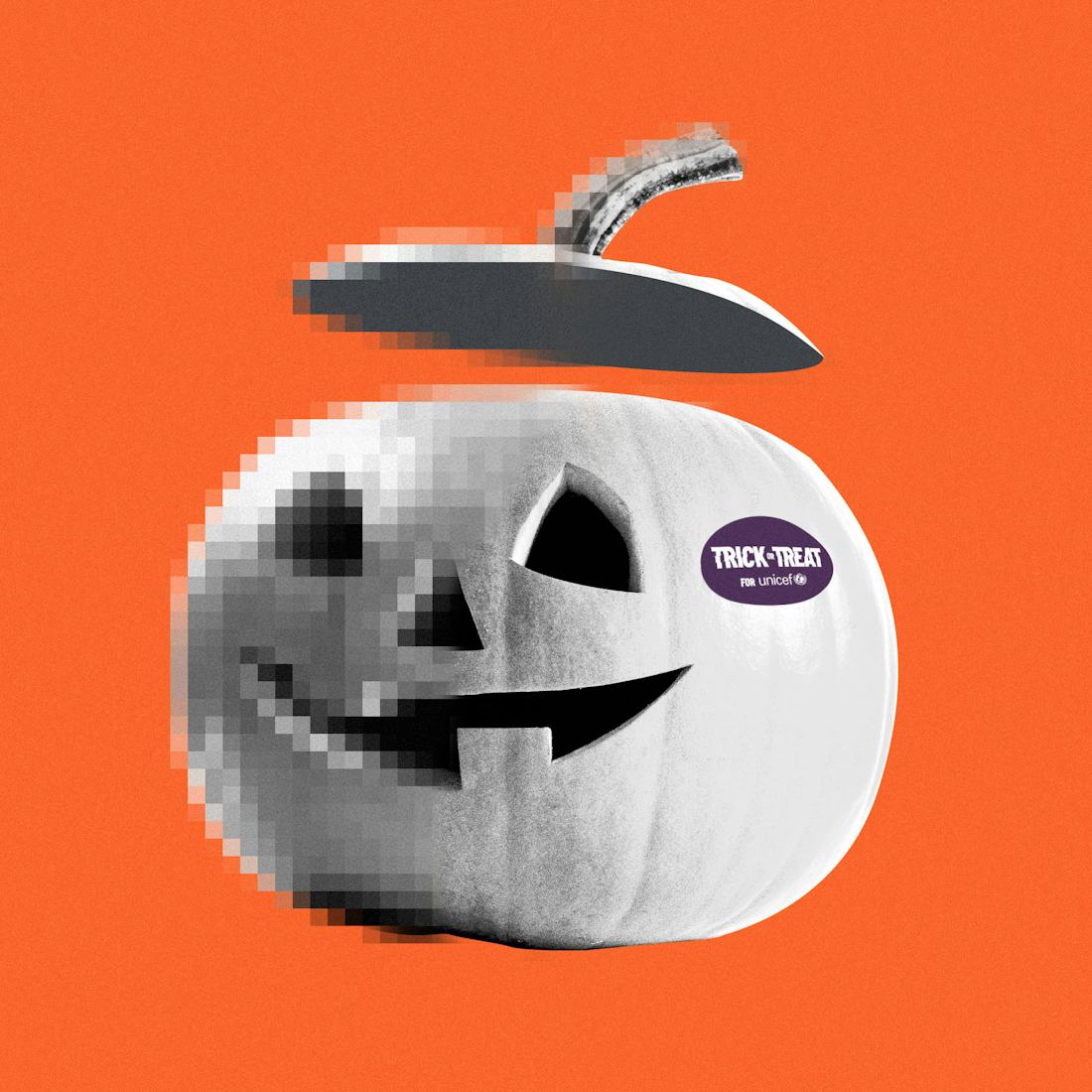 In 2022, Trick-or-Treat for UNICEF is going to look a bit different.
You may recall the campaign from your own childhood, when you proudly touted orange boxes — in addition to your own stellar costumes and accessories — and traveled around the neighborhood to collect donations for children in need. Well, modern times call for modern solutions, and now, UNICEF's iconic philanthropic movement is getting a sleek digital transformation.
What's Different?
What does this mean? Out with the orange boxes of yore and in with Trick-or-Treat for UNICEF's spooky new QR codes. These codes offer a simple-to-use and beneficial way to collect donations in an increasingly cashless economy. With parental consent, trick-or-treating children can use QR coded items like canister wrappers and color-in posters when they go door to door on Halloween night. When you pull up to the house of a festive neighbor, simply have them scan these codes with any smartphone or tablet and voila! An instant connection and a chance to seriously help out kids around the world.
There's more! This year, you don't even have to wait until Halloween to start paying it forward for UNICEF – and you don't have to be a kid! Starting in early October, the spooky QR code can have a role in any Halloween celebration, whether you want to try your best at fundraising during fall festivals, apple picking, haunted hayrides, bonfires, spooktacular socials — you name it. Bringing the Halloween festivities to your home? Participate in social media activations around UNICEF USA's campaign by sharing the ghoulish filter on your Instagram and tagging your friends to let them know you support UNICEF this Halloween season!
When explaining the fundraiser to family and friends, feel free to break down for them how far their contributions will do:
A $19 donation can give a tarp of heavy-duty plastic for protection from harsh cold winter wind.
A $32 donation can buy five thermal fleece blankets to warm five children.
A $55 donation can provide a month-long emergency hygiene kit for a family in Ukraine.
A $60 donation can provide a child in need of nutrients with healthy, ready-to-use therapeutic food.
To date, UNICEF USA has raised over $195 million with their Trick-or-Treat initiative alone. By engaging a new, digital-savvy generation of change-makers, the sky's the limit for how much goodwill and resources can be raised for those children who really need it. With a few smartphone taps, UNICEF USA's QR code is the gift that keeps on giving.
The Heritage
Over nearly eight decades, UNICEF has been a leading global humanitarian aid organization for children. With the support of monetary donations, UNICEF's efforts provide essentials including health care and immunizations, safe water and sanitation, nutrition, education, emergency relief and more to ensure the well-being of all children. Relentless in their mission, UNICEF is a trusted organization in 190 countries and territories.
Although Halloween is traditionally a time for scares and scarfing down candy, UNICEF uses this time of year to truly make a difference in the world. The Halloween movement began in 1950, as the original kids-helping-kids fundraising drive and longest-running youth engagement campaign in the United States. Its first donations went towards distributing powdered milk to hungry children in post World War II Europe. As the program gained speed, its little orange collection boxes – taken door to door Halloween night – became familiar to kids across the U.S. As a precursor to UNICEF's long-running now-iconic orange Trick-or-Treat boxes, the initiative soon turned charitable kids into young leaders.
The Impact
Currently, UNICEF is working to provide more than 3 million kids in Ukraine with essentials in health care, hygiene supplies and safe drinking water. As droughts and supply chain woes exacerbate famine in the Horn of Africa, UNICEF is providing safe water and Ready to Use Therapeutic Food (RUTF) – a nut paste that is highly effective at treating malnutrition – to those in need in countries like Ethiopia, Kenya and Somalia. As October nights turn chilly in Lebanon, Afghanistan and Ukraine, UNICEF's yearly winterization campaign distributes winter clothing to children and shelter-insulating materials to families. UNICEF won't stop until every child is healthy, educated, protected and respected, and this October, you can do your part and helping them to achieve their mission.
Learn more about how you can get involved at UNICEF USA today.