Vanessa Hudgens Just Debuted A Very Unexpected Ankle Tattoo
The Princess Switch star's new ink slithers from the back of her ankle toward her calf.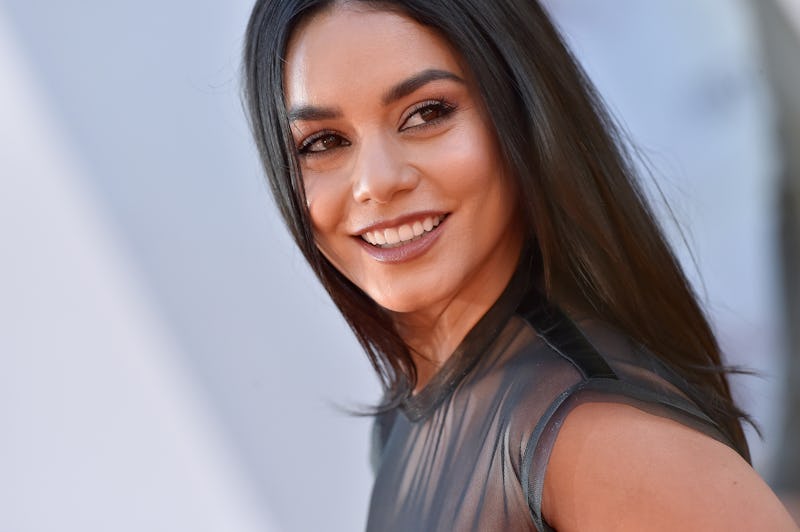 Axelle/Bauer-Griffin/FilmMagic/Getty Images
Over one year after debuting an angel on the right side of her ribcage, Vanessa Hudgens returned to the tattoo parlor for one of her largest tattoos yet. "'ANOTHER ONE!" the Princess Switch star wrote on Instagram on Sunday, June 13. "Lol lucky #10 @drag_ink." The tattoo, a boa constrictor located on the inside of her left ankle, is just the latest addition to her already impressive ink collection, which includes a butterfly, a sunflower, and many finger tats.
To commemorate her tenth tattoo, Hudgens shared a slideshow of photos on Instagram. In the first picture, both the snake and the angel were visible. In the second, she offered her 41.2 million followers a close-up of the boa constrictor, which slithers from her ankle toward the back of her calf. The former Disney Channel star also shared a video of the process. "'I love the feeling of a tattoo," she said as the camera panned to her ankle while her tattoo artist was working on the piece.
Hudgens is clearly a seasoned veteran when it comes to tattoos, and this isn't the first time she's showed them off on social media. In March 2020, the 32-year-old shared an image of her angel tattoo for the first time on Instagram. "Divine feminine angel," she wrote in the caption. "Not me.... my tat. But you can call me that, if you want to #thirstythursday @drag_ink."
Much like her angel tattoo, Hudgens had the boa constrictor done by Bang Bang Tattoos artist Dragon. This shouldn't come as much of a surprise, especially considering how excited she was about his work last year. "'Lol this was the first time I saw it," she said in a reaction video on Instagram after seeing the angel for the first time. "I never peeked. Hilarious. I love @drag_ink so damn much. What. A. Legend."
It's worth noting that between the angel and snake tattoos, Hudgens actually got several others. This past May, for example, the actor revealed several new tats on social media, including a star on the inside of her ear, the number "22" on her wrist, a tiny heart on her left index finger, and a cross on top of a steeple on her right middle finger. "@mr.k_tattoo did his thing once again," Hudgens wrote on Instagram, shouting out another Bang Bang Tattoos artist.
Before her most recent tattoos, Hudgens already had several. Her first was a butterfly, which she debuted in 2011. "It was very last minute, but I've actually wanted it for years," she said on The Late Show with David Letterman at the time. "A butterfly landed on my mom's stomach a week before I was born and that's how I got my name, because Vanessa means butterfly — it's a Latin derivative. It's my very first tattoo, and I kind of feel like a badass now!"