VINCINT Embraces What Makes Him Stand Out: "Fitting In Is Boring"
"If I knew who I was [at 16], then I would've stood tall in who I was. I would have been as great as I am now, then."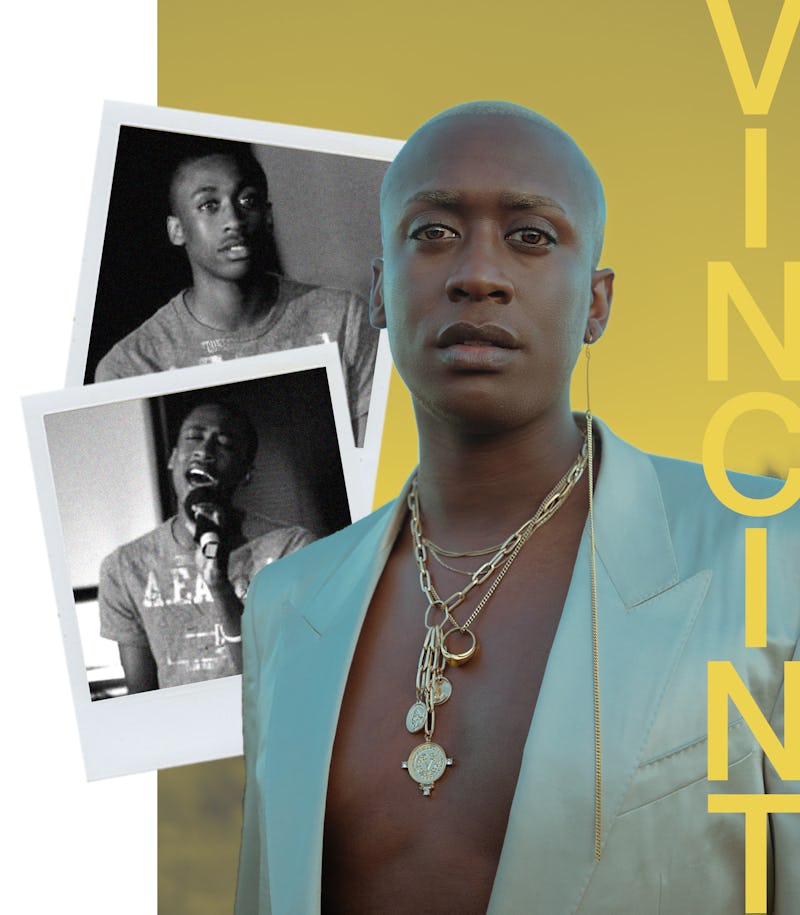 Singer-songwriter VINCINT knows how to use his voice. That point is made crystal clear in the gospel vibrato he employs in his surging dance-pop track "Higher" while singing "where have you been all my life, and boy, don't stop taking me high." The single, which features Alex Newell and Princess Precious, recently received Billboard's well-earned designation of top "20 LGBTQ Love Songs to Help You Feel the Romance This Pride Month." The song has become synonymous with Pride this year, and from the looks of his busy schedule, so has VINCINT. "Yeah, it's exciting, but my head is all over the place, what's new?" he tells Bustle with a laugh.
He started June by sharing "Kill My Heart," a song he wrote "for every bad b*tch who was ever made to feel less than they are." Then, on June 6, he took the stage in Los Angeles, kicking off Pride events as one of the performers at OUTLOUD: Raising Voices, a festival curated by American Idol alum Adam Lambert, to showcase LGBTQ+ artists in support of Pride Live's Stonewall Day. From being featured in LogoTV's #Logo30 campaign for "extraordinary people who show pride in unique and provocative ways," to modeling for queer-founded cannabis beverage brand Cann on billboards lining the Sunset Strip, VINCINT is not just known for using his voice to sing but also for what he believes in.
Fans may have first been introduced to the Philadelphia-born singer as a contestant on Fox's The Four, whose show-stopping performance of Radiohead's "Creep" amassed tens of millions of views on YouTube, or fans may know him as the writer and voice behind the powerful Queer Eye theme song "Be Me." He admits that despite those connections to television, he used to have an aversion to reality-singing competitions until the opportunity to be an example changed his mind.
"I had never seen anyone who looked like me, was as dark as me, who was as gay as me be on a TV show like that and not be made fun of, not be the butt of the joke. I was like, that's bullsh*t," VINCINT says. "There are people out here who are like me, who can sing their ass off who are artists and have ideas and have thoughts and feelings, and they want to be seen in that space." That type of inclusivity and representation has been integral in his career, and he hopes others will follow in that path, adding, "Don't be so grand that you can't see yourself changing something."
If I look into my future and my shiny little crystal ball, it would show me onstage singing somewhere, with my husband and my kids backstage dancing around, and it would be lovely.
VINCINT just released his debut album, There Will Be Tears, a collection of 11 triumphant tracks featuring collaborations with Tegan and Sara ("Getaway"), Alex Newell ("Higher"), Qveen Herby, and Parson James ("Kill My Heart"). VINCINT, who will perform some of the songs for the first time during HBO Max's virtual Pride 2021, has certainly been taking chances on himself his whole career and he's hoping to inspire others to do the same. "The best advice I could give is if you feel like you're really good at something, go after it. And if someone tells you to be hesitant or that you're not great at it don't listen to that. That's not their decision to make. It's about you and how you feel. If you feel like you can really make this happen, make it happen for yourself."
In our Q&A with the rising star, VINCINT offers advice to his younger self, talks about his hopes for the future, and shares the work he's doing within the LGBTQ+ community.
VINCINT Q&A
What advice would you give to your 16-year-old self?
I would tell myself not to worry. I worried a lot and I didn't need to. Have a bit more confidence in yourself. I was confident then, but I needed to have just a little bit more and tell myself, "The people who really, really matter don't mind, and the people who mind don't really matter at all." I went to an all-boys Catholic high school, so that was what was going on in my life and that was kind of my universe at the time. [I] was just me being myself, being flamboyant and being outspoken and singing everything that came to mind and being very self-conscious about how people would perceive me when, in reality, me being myself was probably the greatest gift I could have ever given myself.
At a young age I knew who I wanted to be. I knew what I wanted to say. But I mean, you're a kid and you want to be liked and you want to be just a part of something when, if you're meant to stand out, you should probably just do that. Standing out was the best thing I could have possibly done for myself because fitting in is boring. If I knew who I was, then I would've stood tall in who I was. I would have been as great as I am now, then, but you live and you learn.
Where do you see yourself 16 years from now?
If I look into my future and my shiny little crystal ball, it would show me onstage singing somewhere, with my husband and my kids backstage dancing around, and it would be lovely. I hope to be working and to have a company where I can bring people on to help LGBTQ youth and do something with them in terms of college, entertainment, or something along the lines of an entertainment professional life, bring that out of them. I want to be a part of that, I want to be a mogul at that point.
What are your proudest moments as a member of the LGBTQ+ community?
I'm part of an organization called LOVELOUD. I'm on the board for that organization and it was started by Dan Reynolds of Imagine Dragons. We do a bunch of work in Utah and other cities and other states to help LGBTQ youth [because suicide rates for LGBTQ youth are still high], and so it's highly, highly, problematic. That's one of my proudest work, being able to go to the Encircle houses in the different cities and meet with the kids and sing with them and be a part of their lives is something that's really nice. I haven't gotten to go a lot obviously in the last year, but what's really great is just knowing how much it means to have someone be there, and just to literally sit with you or just say something nice to you, say something affirming to you that could change your entire outlook on how you look at the world and yourself.
And I think that's so important for these kids who don't have that, whose parents have put them out of their homes and they don't know what real love and real confidence and empowerment sounds and feels like. And I think being able to do that has made me so proud because I didn't set out to be on anyone's board or like be a part of any organization because I'm like the weirdest person in the world. But I've been thrust into this lifestyle, and I'm so grateful for it. It's such a beautiful thing that I get to be a part of.
Where and how are you celebrating Pride in 2021?
Apparently, I'm celebrating it everywhere. I'm literally gonna be jumping all over. I'm doing New York and I'm definitely doing two shows in LA. I'm doing something in Chicago. It's like, it's kind of all over. It's kind of random, but like, welcome to Pride, having a random schedule. I cannot wait to be back onstage and seeing people and hugging people and crying, which is very on-brand for me. I just can't wait to be around people again. I miss connecting and singing to people and seeing them be moved, that will probably be the greatest Pride moment of my 2021. ... I'm sure someone's going to see someone they haven't seen in a year — that they did not like before the pandemic — and they're going to run up and give them a hug, and it's going to be a moment and they're going to freak out, and I think that's so beautiful. And that's going to be like the vibe for all of this. Just realizing life could be snatched away from you any second and you don't know what to do and you should be grateful for the moment.
Who inspires you in the LGBTQ+ community?
I have to say my friends. My friends do. I have a bunch of friends who are in my community, thank God ... like Parson James and Shea Diamond and Tyler Oakley and Ty Sunderland, and so many people who do so much and speak out when the time comes for them to speak out and aren't afraid, aren't ashamed of who they are and what they feel and how they want to say it. And they just kind of move me, watching them be so proud and watching them stand up and be like, "Hi, this is who I am, and whether you like it or not, I'm going to speak because I have something to say."