Viola Davis Just Confirmed The Margot Robbie & Jared Leto Pet Rat Story
All three actors starred in Suicide Squad.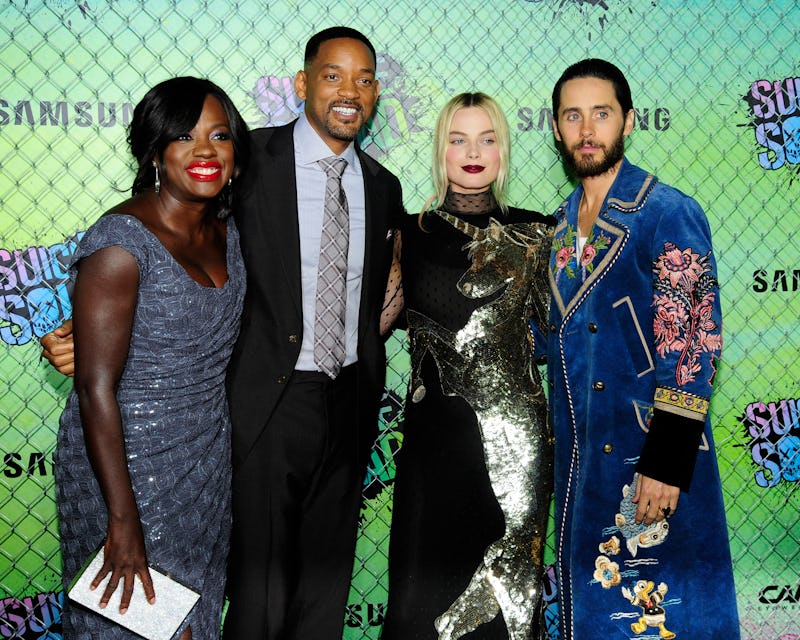 Paul Bruinooge/Getty
Academy Award-winner Viola Davis has confirmed a long-standing rumour from the set of the 2016 superhero flick Suicide Squad. As NME reports, the rumour in question is that actor Jared Leto, who portrayed The Joker in the DC Comics film, gifted his co-star Margot Robbie a pet rat while on set. Although Leto has previously denied the reports, his Suicide Squad co-star Davis recently confirmed the story is in fact true during an interview with British Vogue.
"I was saying loudly, 'Don't open the box!' I was halfway out the door when [Robbie] opened the box," Davis revealed to the publication. "And saw the biggest black rat you could imagine. Then … she cooed at it. No fear. Open. Receptive. Full of joy," she added.
As mentioned, Leto has previously denied rumours of the bizarre on-set gift. Speaking to GQ in February 2021, he explained, "It's also interesting how this stuff all takes on a life of its own. I never gave Margot Robbie a dead rat. That's just, that's not true." The actor continued, "I actually gave her a lot of – I found this place in Toronto that had great vegan cinnamon buns, and that was a very common thing."
Per NME, Robbie, who played the character of Harley Quinn in Suicide Squad, also previously claimed the rumour is true during an interview with Jimmy Fallon, revealing she decided to keep the rat as a pet.
"At first I thought this was disgusting. But then after that … I was like, I'm not going to kill him," the actor revealed on The Tonight Show Starring Jimmy Fallon. "So I ended up keeping him as a pet. I ended up getting him like a sweet little playpen, a slide, a hammock, and a leash because I wanted to take him to set and walk him around. But then our landlord at the place I was staying found out," she added.