These '90s Music Videos Are Way Weirder Than You Remember
Twenty-five delightfully bizarre videos, from Missy Elliott to the Backstreet Boys.
by Kristie Rohwedder and Katherine J. Igoe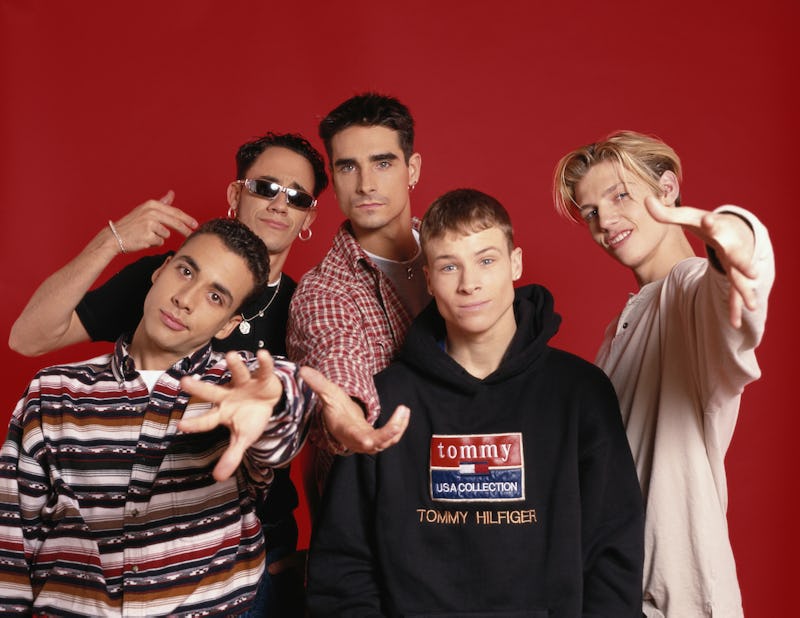 Tim Roney/Hulton Archive/Getty Images
The final decade of the 1900s gave popular culture some very special things, and one of those very special things is a seemingly endless stream of strange music videos. Cast your mind back to when MTV was all about that particular medium, and each new song release promised a corresponding visual component, with intense visual creativity (and probably some bad acting). Among the strangest? "Schism" by Tool. And "Paranoid Android" by Radiohead. And the nightmare inducing "Come to Daddy" by Aphex Twin. And there's "Breathe" by the Prodigy. Oh, and let's not forget about "Dragula" by Rob Zombie! But those only scratch the surface of the weird '90s music video waters; if you spend enough time dragging Lake Internet, you will stumble upon an embarrassment of bizarre riches.
To be honest, you probably don't remember just how bonkers these videos are — it had been 30 years since I'd some of these, and I absolutely did not fully grasp their peculiarities the first time around. Some are surreal from start to finish, whereas others just give us brief flashes of wackiness — and all are worth a watch. Throw on your spelunking helmets, flip on your flashlights, and grab your rappel gear, because we're about to climb down into deep recesses of our collective memory and revisit some wonderfully weird music videos from the '90s.
1. "Sock It 2 Me" By Missy Elliott & Da Brat
Hype Williams's video for the Missy Elliott and Da Brat track is Mega Man perfection (with some truly terrible-slash-amazing CGI).
2. "Blue (Da Ba Dee)" By Eiffel 65
Putting this one in the "terrible '90s graphics" category as well; this creepy blue alien hellscape will haunt me forever.
3. "Hunter" By Björk
Care to watch the Icelandic chanteuse morph into a polar bear martian? If your answer is anything other than a resounding "YES," maybe change your answer? This video proves that Björk was absolutely ahead of her time.
4. "Gimme Some More" By Busta Rhymes
May that yellow-eyed blue goblin haunt your dreams tonight! This is bonkers — and a prime example of the extra-wild fish-eye view that was all the rage back in the day.
5. "Shady Lane" By Pavement
Lose your head? That's no excuse. The show must go on. You keep on singing, like a freaking professional.
6. "No Surprises" By Radiohead
Aquaphobes, this one's for you! In this unsettling, hypnotic clip, astronaut Thom Yorke sings as his helmet fills up with water. Also, since digital effects were still in their infancy, it genuinely looks like Yorke submerging his head underwater for much longer than you expect.
7. "Brain Stew/Jaded" By Green Day
In the sepia-toned first half of this video, the band posts up on a couch in a landfill, only to be dragged around by a bulldozer. And just when you're like, "I think I might understand what's going on here," the video cuts to images of hula dancers and a chalkboard.
8. "Mmm Mmm Mmm Mmm" By Crash Test Dummies
Ok, there's a girl with polka dots. And a dancing church service. And a lot of humming? I get it now.
9. "Sleeping Satellite" By Tasmin Archer
I need to have words with that sweet baby angel as to what, exactly, is going on here.
10. "Everybody (Backstreet's Back)" By Backstreet Boys
In hindsight, the strangest thing about this video is that it has absolutely nothing to do with the song lyrics. There are scary monster costumes. There are some pretty hilarious mugging for the camera. There are ... cartwheels. Wait, is that Antonio Fargas from Starsky and Hutch?
11. "You Don't Know" By 702
Those dance moves are my sun, moon, and stars. It's basically an extended version of the robot, which is honestly much, much funnier.
12. "Losing My Religion" By R.E.M.
This winner of six MTV Music Video awards is also a literal art student project filled with Michael Stipe's strange dancing and some "freak angels." You've definitely forgotten how off-kilter it is.
13. "Coffee & TV" By Blur
Isn't that anthropomorphic milk carton just the most heroic bipedal dairy product you've ever seen?
14. "Give It Away" By The Red Hot Chili Peppers
My biggest question for this video: how long did it take to scrub off that silver body paint?
15. "Miserable" By Lit
Is Pam Anderson a giant, or are the members of Lit just especially tiny? We may never know.
16. "No Diggity" By Blackstreet Feat. Dr. Dre & Queen Pen
True story: I gasped out loud the first time the "No Diggity" music video cut to that puppet plunking away at the piano.
17. "Comin' On" By The Shamen
Two words: Jason. Statham. Actually, just kidding, I need nine: Jason Statham in a teeny tiny leopard print bikini.
18. "Learn To Fly" By The Foo Fighters
In this Airplane! parody, literally everybody (accidentally) takes drugs and goes haywire. But in hindsight, the most hilarious part is how sweetly and earnestly the bandmates are committing to the bit. Oh yeah, and Jack Black is there, too.
19. "I Miss You" By Björk
Director-animator John Kricfalusi serves up Ren & Stimpy realness.
20. "Dr. Jones" By Aqua
I know Barbie Girl is the Aqua music video that's burned into your brain, but I'd actually argue this one is trippier. There's weird, and then there's Aqua-meets-Indiana Jones weird.
21. "Black Hole Sun" By Soundgarden
OK, I remembered this being freaky, but I was not ready to revisit that cockroach. I've spent the last two decades putting that cockroach horror show from my mind. And now it's back.
22. "Sex And Candy" By Marcy Playground
Oh, and this one has a big old spider.
23. "Here Comes Your Man" By The Pixies
It's a masterclass in the art of lip-syncing. And it also might make you feel like you just got off a roller-coaster.
24. "Last Night" By Az Yet
This is a masterclass in the art of green screen ... are they standing on the air? Or does gravity simply not apply to Az Yet?
25. "Hooked On A Feeling" By David Hasselhoff
In 1997, the Hoff released a cover of B.J. Thomas's classic. And perhaps the weirdest video of the decade. (He flies like a bird!)
This article was originally published on