A Day With The Dogs
I went to the Westminster dog show and met a wide mix of competitors — each a treasure, in their own special way.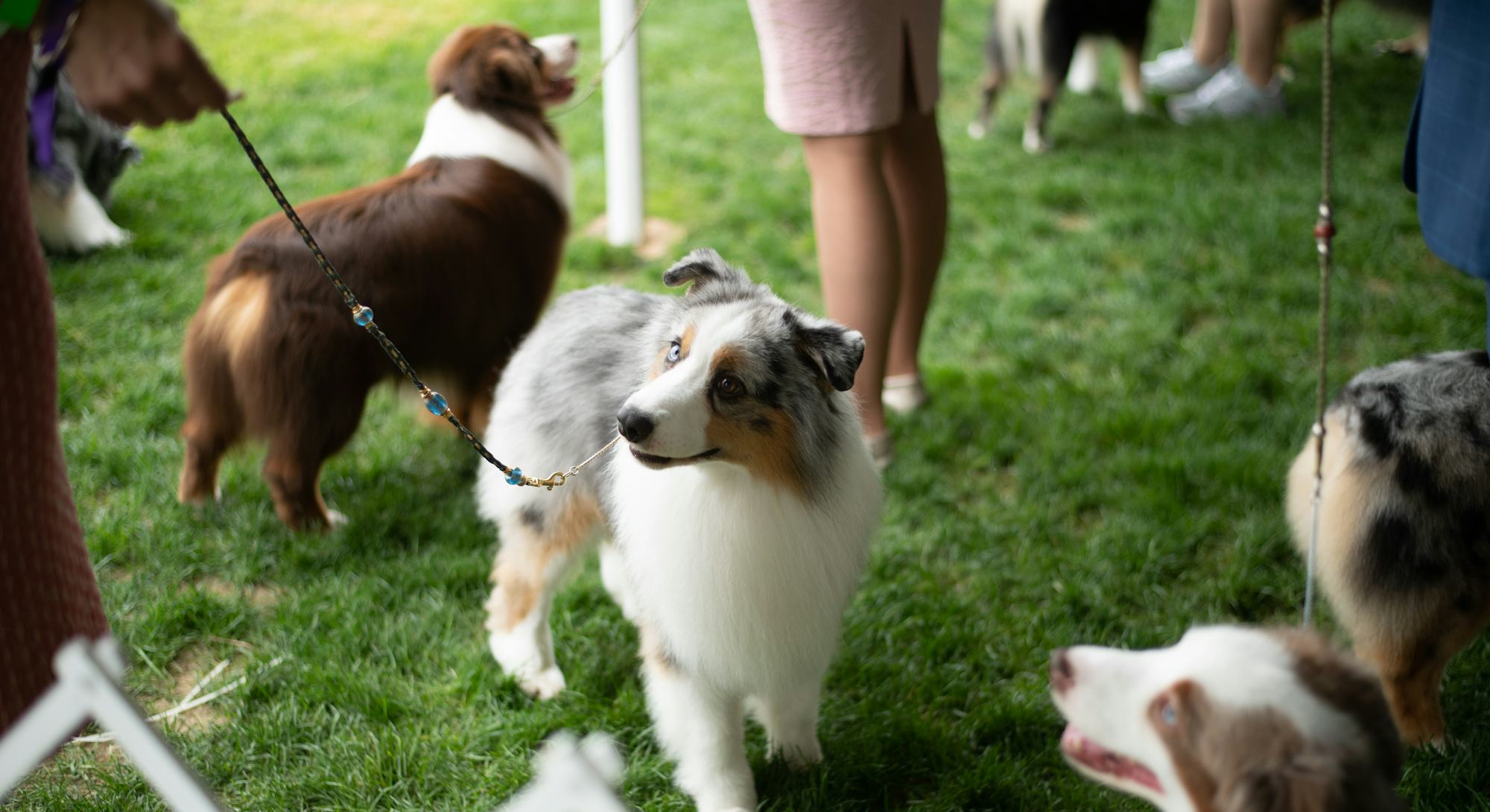 Chloe Foussianes
I am with my people. Not the actual humans — a curious mix of middle-aged women in tweed, gay couples in suits, and the odd neo-goth — but the small, furry angels they're escorting: a scattered herd of impeccably groomed pups, each lead by beaded leash around the dog show. On a verdant expanse just outside a castle, they are lounging, greeting one another, begging for treats. All, I am assured, are having a great time.
I meet dogs in a dizzying array of shapes and sizes — a testament to the power of unnatural selection — and with varied personalities. Some, like the Chow Chow Chocho, hold court from atop their grooming stands, looking down on any subjects foolish enough to approach. (His handler tells me excitedly that Chocho is rearing to get in the ring, as his eyelids droop and his head slumps to rest.) Others, like London the Briard, give off an "honor just to be nominated" vibe, and seem content to stand still as their hair is continuously brushed. (London is also putting up with the wind from a fan placed at his feet, lest he get too hot and start panting. "His face gets wet, and it ruins the whole look of him," his handler says, as she happily continues her Sisyphean combing.)
We are all gathered for the 145th annual Westminster Kennel Club Dog Show, and aside from the competitors, who are as glorious as I could've imagined, the event isn't exactly as I expected. With all the tents and haphazardly parked vehicles, it's giving more middle school soccer tournament than hoity-toity award ceremony. Fretting dog mothers are scurrying around with brushes and snacks, and occupying the little ones with toys; there's a dedicated tent to purchase Westminster merch.
Because of the pandemic, the show been moved from its usual home at Madison Square Garden — this is a primetime sporting event, after all — to the grounds of New York's Lyndhurst Castle. Gail Miller Bisher, an expert who is extremely tolerant of all my inane, ignorant questions, tells me that the location was selected not only because it's hosted smaller dog shows in the past, but also because the children of its original owner, robber baron Jay Gould, were devoted to breeding dogs. Now, we pay tribute to the relatively benign way in which these heirs and heiresses spent their (likely jobless) days.
The Bergamasco has been here for forever but still likes meeting new people.
London the Briard has a personal fan.
The dogs do not know this — that the grass they're peeing on was once planted by a railroad tycoon, or that they're at the most prestigious canine competition in America. They don't even know they're in America. Many of these breeds predate such vagaries anyways; the Bergamesco, for instance, has been around or a millennium or two. They're considered Italian in origin, but existed long "before Italy was Italy," the owner of Valto, a friendly, overlarge mop, tells me.
Indeed, the owner of Lily, a regal and mysterious Saluki, says that living with his chosen breed makes him feel "a little bit like an archaeologist all the time" — that and a talent manager, as Lily looks "like a supermodel" when in repose. Lily appears to take herself very seriously, and I am utterly unsurprised to hear that she doesn't think she's in "a beauty contest," but rather a "performance event." She likes the challenge — but even more, she likes the social aspect. "She's never met a Saluki she didn't like," her owner says.
This Puli is a friend waiting to be made.
Jula likes making friends.
It's the same for Jula, an eager and amiable Puli whose eyes are almost entirely buried under a pile of dreadlocks. (Between Jula, Valto, and Wasabi — the waddling fur ball who will take home the big prize tomorrow — I'm all about the mops.) "He doesn't get to see a lot of the Pulis," his owner explains, and the shows allow him to meet his own kind. Off to the side, a fellow Puli has settled down into the grass, morphing into fuzzy gray pancake. He is magnificent: a sublime physical specimen, a patron saint of sloth. And he is at peace, at home among his kind.
I get it. They like to be with their people.
Photography by Chloe Foussianes